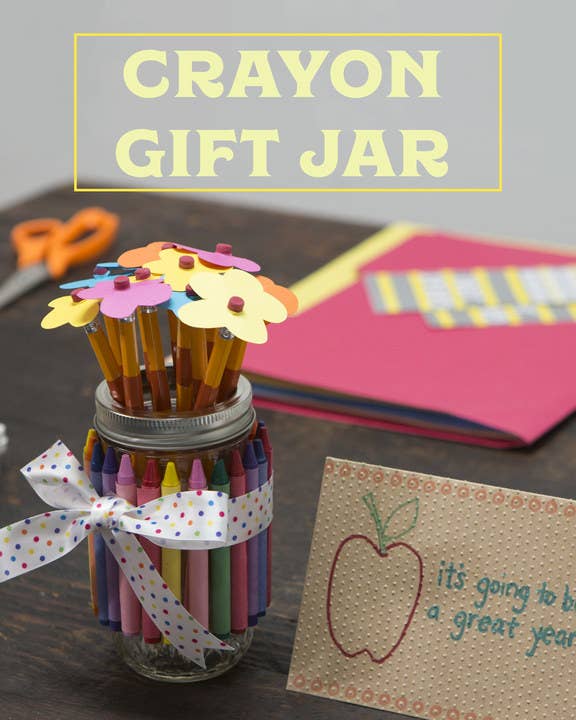 What You Need:
Mason jar (we used 12 oz crystal jelly jar)
24 crayons
3M Scotch® Magic Tape
3M Scotch® Double Sided Tape
12 No. 2 pencils
Colorful construction paper
Single hole punch
Scissors
12 inches of ribbon
Instructions:
1. Lay out the crayons next to each other in a horizontal line.
2. Use 2 strips of 3M Scotch® Magic™ Tape across the length of the crayons, one across the top and one across the bottom.
3. Use a strip of 3M Scotch® Double Sided Tape across the length of the crayons, this strip in the center.
4. Unscrew the band from the mason jar and remove the lid. Replace the band on the jar.
5. Lay your mason jar over one end of the line of crayons, and roll along the length. The strip of crayons should attach to the jar. Trim any excess tape. Set the jar aside.
6. Use your scissors to cut small flowers out of the colorful construction paper, about 2 inches in diameter.
7. Use the single hole punch to make a hole in the center of each flower. Push eraser on No. 2 pencil through this hole. Repeat until you have 12 pencil flowers.
8. Place the pencil flowers in your mason jar. Attach a piece of 3M Scotch® Double Sided Tape to the front and center of your jar. Tie the ribbon around the jar, using the tape to keep the bow in place.
9. Gift to a teacher with wishes for a wonderful new school year.
10. Enjoy!