1. Returns from holding either bonds or equities (or most other things) are likely to be low:
* Jonathan Wilmot of Credit Suisse suggests that, over the next decade, real bond returns will be close to zero with real equity returns close to 4−6% p.a.
* To put this into context, in the latest Credit Suisse 2016 Yearbook, Professors Elroy Dimson and Paul Marsh and Dr Mike Staunton of London Business School reveals that over the last 115 years, equities worldwide have produced real returns of just 5% pa and bonds 1.8% pa: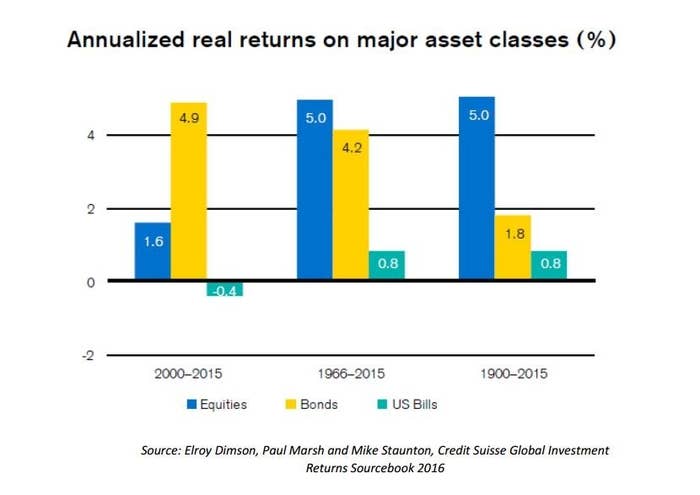 2. Fees - The average hedge fund charged a 1.7% annual management fee and took 19.13% of performance gains in 2014:
- Let's assume that inflation is 2% long term.
- Let's assume that the average hedge fund (before fees) produces 68% of equity returns (between January 2006 and June 2012, the average correlation of hedge fund returns to equity returns was 0.68)
- This produces an average (before fees) return of 5% + inflation = 7% * 68% = 4.8%
- The fees are 1.7% + (19.1%*4.8%) = 1.7% + 0.9% = 2.6%
This means that the average hedge fund after fees would produce 4.8% - 2.6% = 2.2% pa. It also means the average hedge fund is taking out 54% of the underlying fees in just their own reported charges, before any hidden fees - significant dealing costs, administration costs etc. Therefore, even this 2.2% return is likely to be optimistic.
3. Information – the information edge of hedge fund managers has in the main gone
* There will always be pockets where an 'information edge' can be gleamed because the market does not have access to key pieces of information, or maybe due to special factors is choosing to ignore such available information, but these opportunities must be getting less as information is disseminated more widely and more quickly.
* In 2013 it was reported that 90% of the world's data had been produced in the last two years. This must mean that much of the data that might have been private to hedge fund managers in the past is now known much more widely.
* The twin peaks of technology and regulation means companies have to report information to all stakeholders and the public at the same time; reducing the hedge fund manager's saucy 'edge'.
* Using HFR, a leading expert in analysing hedge fund returns, the chart below shows their various Hedge Fund GBP indexes in one chart – the average annual return of these four indexes over 10 years is just 1.2% pa.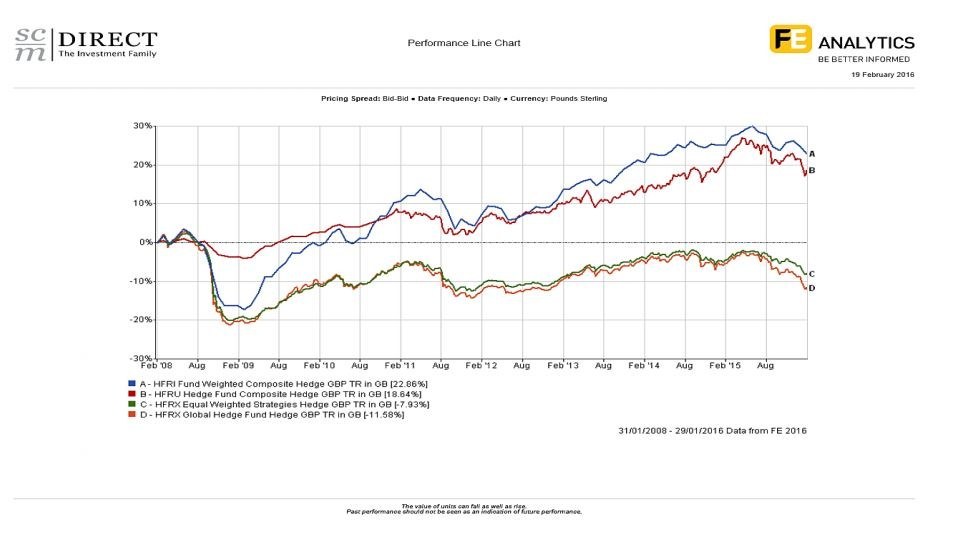 Conclusion
Many of the hedge fund stars know the odds have changed and are collecting their spoils and heading for the door. The last people with their heads in the sand, as ever, are the pension funds and their even more laggard advisers, who are still advising their clients to put money into the hedge fund asset class. Of course they are incentivised to invest in a high fee, low return asset class as it helps to justify their own fees.