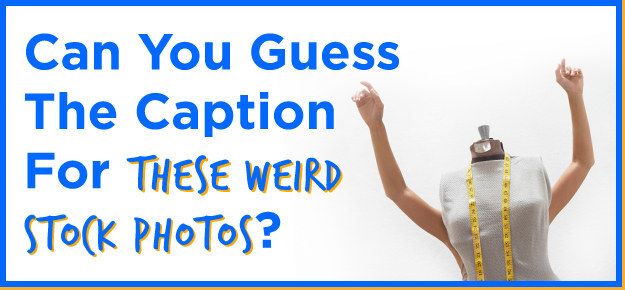 Woman laughing and eating salad... Frustrated businessman... Old woman using computer... We recognize bizarre stock photography, but can you correctly match the weird stock photo with its official caption? Let the games begin!
1.

Man standing awkwardly with bobble

Awkward man standing with necklace

Man holds jewelery waiting

2.

Magical figures battle for victory

Holiday mascots capture Halloween Man

Halloween Man's valiant escape

Santa and Easter Bunny's Revenge

3.

4.

Excited young man holds vegetable

Delighted boy won the big prize

Rustic fellow and his happy gourd

Happy young farmer holding squash

5.

Aliens abduct man on beach

Businessman levitates in beam of light near beautiful woman

Young man floating toward the light with woman reaching

6.

Man in orange cone scares work associates

7.

8.

Confused Man On Roof Woke Up A Princess

Young Man Sitting On Rooftop Wearing Wedding Dress

It Was All An Impossible Dream

9.

Girl delighted by man in scary mask

Woman loves her hairy werewolf

Wolfman professes love to human girl

Man wearing werewolf mask to bed

10.

Flirty couple in the kitchen

Expressive woman disciplines scared Boyfriend

11.

Beautiful angels in heaven
All images via Thinkstock.