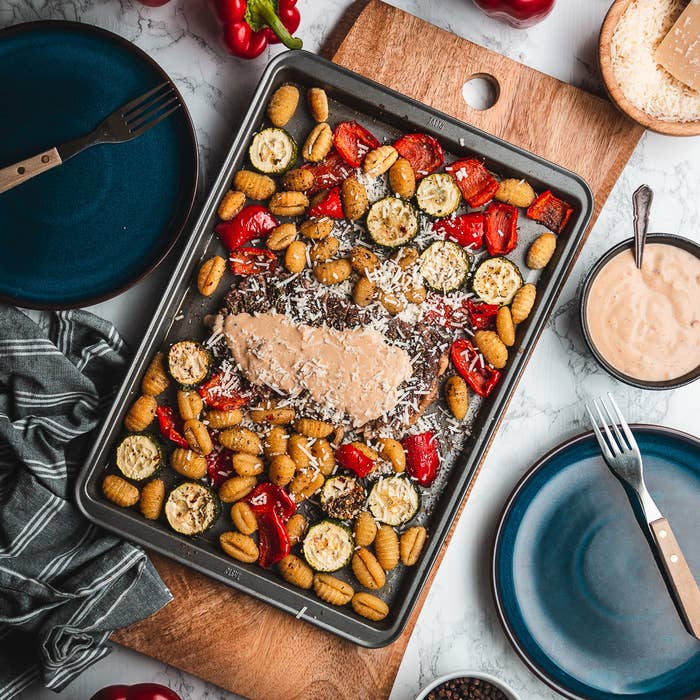 Ingredients
300g packaged gnocchi
1 red pepper, chopped into 1-inch pieces
1 courgette, sliced into ½ inch rounds
2 tbsp olive oil
¼ tsp Schwartz Crushed Chillies
2 tsp Schwartz Mixed Herbs, divided
Pinch Schwartz Sea Salt
Pinch Schwartz Black Pepper
200g sirloin steak, ½ inch thickness
1 packet Schwartz Creamy Pepper Sauce Mix
300ml milk
50g Parmesan, grated
Preparations
1. Preheat oven to 220˚C. Lightly oil a baking tray.
2. Place gnocchi, pepper, and courgette on the baking tray. Drizzle with olive oil, chilli, 1 teaspoon Schwartz Mixed Herbs, salt, and pepper, toss to coat.
3. Bake vegetables for 10–12 minutes, or until the gnocchi begins to turn golden brown.
4. Take the tray from the oven, and push the vegetables and gnocchi to either side of the tray.
5. Place the steak in the middle of the tray, season with salt, pepper, and remaining 1 teaspoon of Schwartz Mixed Herbs.
6. Put baking tray back in the oven, and cook for 8–10 minutes, or until steak is cooked to your preference.
7. Meanwhile, make the sauce: combine milk and Schwartz creamy pepper sauce mix in a small saucepan.