Spiced Spatchcock Chicken
Indulge your senses in this juicy spatchcock chicken and roasted autumn veggies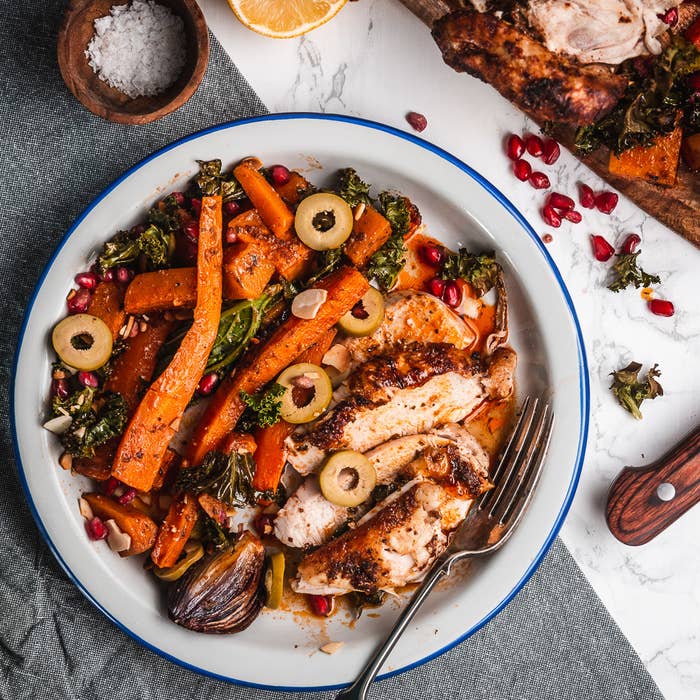 Ingredients
1.6kg Chicken
Moroccan Spice Butter
130g Salted Butter, room temperature
1½ tsp Schwartz Smoked Paprika
1 tsp Schwartz Ground Cinnamon
1 tsp Schwartz Garlic Powder
1 tsp Schwartz Oregano
1 tsp Ginger
½ tsp Cumin
½ tsp Black Pepper
½ tsp Salt
1 tbsp Honey
Zest of 1 Lemon
Seasoned veggies
550g Sweet Potatoes, peeled and roughly chopped
3 Large Carrots, peeled and sliced lengthways in half
1 Red Onion, peeled and quartered
½ tsp Salt
½ tsp Schwartz Garlic Powder
½ tsp Schwartz Smoked Paprika
¼ tsp Schwartz Ground Cinnamon
½ tsp Schwartz Dried Oregano
2 tbsp Olive Oil
80g Kale
To serve
30g Toasted Almond Flakes
50g Green Olives, sliced
40g Pomegranate
Preparations
1. Start by spatchcocking the chicken. Turn the chicken over so it's breast side down. Using kitchen scissors, cut along one side of the backbone. Then repeat on the other side. (This doesn't need to go to waste! Why not use it for a tasty chicken stock!)
2. Turn the chicken over. Using the palm of your hand, push down on the top of the breast to flatten down the breastbone. Twist the chicken legs round into place and tuck the wings under the breast to prevent them from burning.
3. Using kitchen roll, pat the bird dry all over. This will help the marinade stick better to your tasty bird! Set aside.
4. Next prepare your spiced butter. To a large bowl, add the butter, smoked paprika, cinnamon, garlic powder, oregano, ginger, cumin, black pepper, salt, honey, and lemon zest. Stir until fully combined.
5. Rub your butter all over the bird. Make sure you get it all covered in that delicious butter!
6. Cover and marinade for at least 30 minutes or overnight.
7. Preheat the oven to 170ºC.
8. Next, it's time to prepare those veggies. To a large bowl, add the sweet potatoes, carrots, onion, salt, garlic powder, smoked paprika, cinnamon, dried oregano, and oil. Stir until all the veggies are evenly coated.
9. Pour onto a large baking tray and top with your spatchcock chicken.
10. Roast for 35 minutes. After this point, add the kale over the top of the veggies and toss together so they get coated in the amazing juices.
11. Return to the oven for a further 15 minutes.
12. Once cooked, ensure the thickest part of the breast reaches 70ºC and rest for 10 minutes.
13. Portion the chicken up and serve with the homemade gravy that will have developed in the bottom of the tray. Top with toasted almond flakes, olives, and pomegranate. Enjoy!