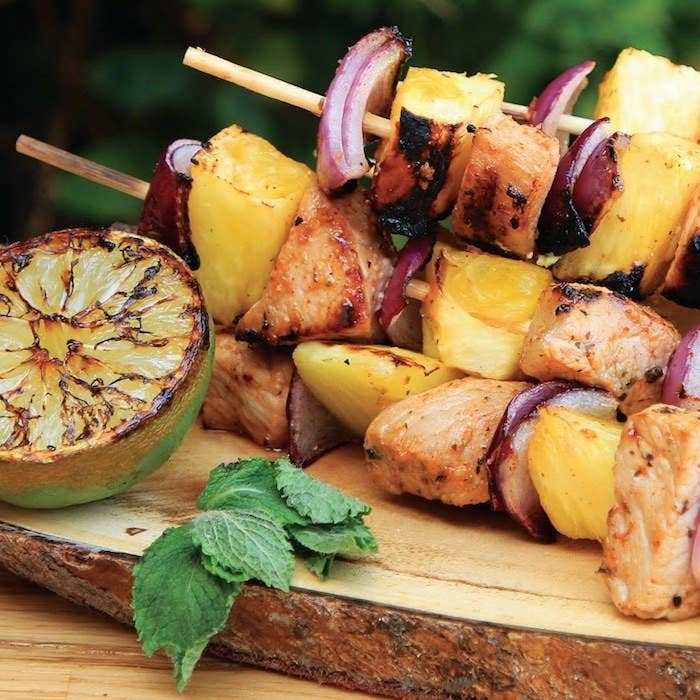 Serves: 4
INGREDIENTS
1 sachet Schwartz Grill Mates Mojito Lime
50 millilitres oil
50 millilitres white rum
2 limes, juiced
1 tablespoon honey
500 grams pork loin, cut into 1 inch cubes
½ pineapple, cut into 1 inch pieces
1 red onion, chopped
10 grams fresh mint, chopped
Oil, for frying
Lime wedges, to serve
4 skewers bamboo skewer, soaked in water for 20 minutes
PREPARATION
Heat a griddle pan on medium high heat.

In a medium bowl, combine Schwartz Grill Mates Mojito Lime, oil, white rum, lime juice, and honey.

Add pork to marinade, stir well to coat. Cover and let marinate in the refrigerator for 10 minutes.

Slide a piece of red onion, pineapple and pork, alternating until there is a 1-inch gap on the top of the skewer. Repeat with remaining pork, pineapple, and skewers.

Add a little oil to the griddle pan and cook the skewers for 10 minutes, flipping them halfway, or until fully cooked.

Transfer skewers to a serving dish.

Top with chopped mint.

Enjoy!