Reva Seth remembers exactly where she was when the news broke. "It was the International Festival of Authors," she says. "I went to a book party at the Gardiner [Museum] and that was the Sunday he posted the Facebook thing."

Seth is the author of The MomShift and a Toronto-based lawyer. She's talking about the Facebook post written by then-CBC Radio host Jian Ghomeshi on October 26, 2014, explaining that the CBC had fired him due to what he said were false allegations "pursued by a jilted ex girlfriend and a freelance writer."
There are a few moments in Canadian history where almost anyone can tell you where they were when it happened. The shootings on Parliament Hill or the breaking of the Rob Ford crack scandal—stories big enough that they shake the collective country into stopping, just for a second, to make sense of what the hell just happened.
The Jian Ghomeshi allegations, which came to public conscious just over a year ago, is one of those kinds of events for a lot of people — especially those in media.
That night at the Gardiner, Seth drifted through the crowd, making idle chit chat at a publishing party. What the rest of us didn't know then was Seth had her own set of assault allegations against Ghomeshi, ones she would write about for The Huffington Post Canada. "From random group to random group, the bias was so totally surely 'beloved CBC Jian can't have done that,'" she says. "I remember leaving with my husband and thinking, Interesting."
Even if you don't remember what the specific allegations were, you know the end result: Ghomeshi no longer works at the CBC, and the CBC faced deserved public and internal scrutiny for how they handled the initial complaints of sexual abuse and workplace harassment. Ghomeshi now faces five criminal charges for sexual assault and one for choking.
For years, women in media used backchannels to talk about Ghomeshi's behavior amongst ourselves. These clandestine warnings helped keep each other safe, and kept us from suffering the professional punishment we might have faced if we had spoken up publicly.
There were always rumours about Ghomeshi, but when he posted on Facebook that the CBC fired him over these allegations, it opened the legal door for Jesse Brown and Kevin Donovan to make those allegations public. Allegations that said Ghomeshi choked, assaulted, and raped women.
The severity of the allegations and the fact that they were made against a public persona like Ghomeshi led many to declare this a watershed moment for how we talk about workplace harassment, sexual assault, and violence against women in this country. CBC's The Current debated whether we had reached a tipping point, as did Maclean's. (Others were calling bullshit. "I don't get what is known now that was a mystery yesterday—or why what was ignored yesterday is now so urgent to address," wrote Globe and Mail columnist Denise Balkissoon after the allegations were made public. "All that's different now is that we know one guy's name, and that guy happens to be famous.")
The case involved someone so beloved and considered so gentle by the general public, and the allegations were so brutal, so detailed, and so consistent that it seemed impossible for us to turn back. We said it to ourselves over and over in the weeks following: we weren't going to let this happen again.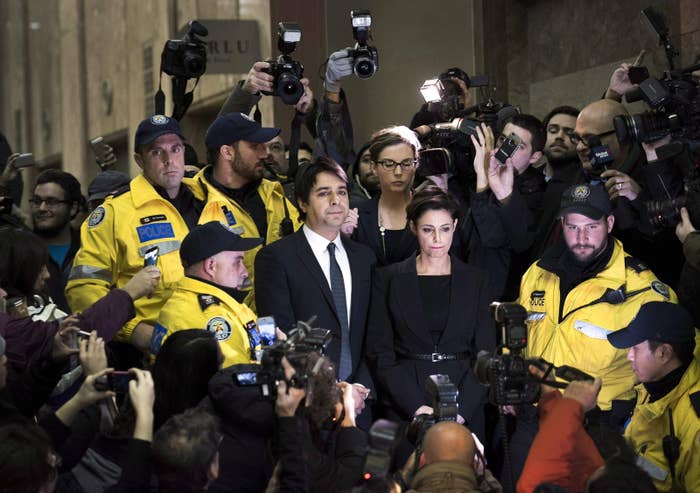 Twelve months have passed. Was this tipping point really a tipping point? Or is it another example of women being abused, the world paying attention momentarily, and turning its back again because some things are too hard to look directly in the eye.`
Wherever you were at the time, the Ghomeshi case felt like the big one—this was the thing that would make us talk about workplace harassment and sexual assault differently. "He was not Rob Ford. He was not a nameless, faceless CEO," says Marc Lafrance, Assistant Professor of Sociology and Anthropology at Concordia University. "He was none of those things that we might more typically associate with a culture of sexual corruption."
Indeed, Ghomeshi came from the hallowed CBC, not necessarily known for its aggressive personalities, and he himself was your prototypical Public Male Feminist, all dulcet tones and liberal talking points. But for the people within the industry—namely the women—one of the most pressing conversation amongst female journalists was how expected this actually was.

"When Jian Ghomeshi lost his job because of alleged sexual misconduct in the workplace, I was not at all surprised," says Kelli Korducki, co-editor of Torontoist. In the aftermath of the Ghomeshi allegations, she wrote a piece for ChartAttack outlining Canadian media's quiet awareness of his misconduct. "I think because jobs are so scarce in journalism right now, there's an inclination, even more than in the past, to try to put on a happy face and not complain."
Workplace harassment isn't necessarily more of an issue in the media industry than it is in other industries, but it does come with unique challenges: long work hours, little pay, few jobs, and many journalists in the country are actually on contracts, making their employment precarious at best.
Jesse Brown, founder of media-watchdog Canadaland and one of two reporters who broke the Ghomeshi allegations last fall, says that changes within the industry may be more about protecting institutions than employees.
"Purely from an ass-covering point of view, managers don't want to be in a position the CBC found themselves in of having ignored obvious warning signs," he says.
Nothing scares management more than watching a company's biggest star be torn down, and fair enough: the CBC was indeed forced to make plenty of changes.
"I think that across the country, men in media organizations, chills ran down their spines as they've considered every shitty thing that they've said or done to women they work with," Brown says.
In addition to Ghomeshi's dismissal, a report was commissioned from employment law firm Rubin Tomlinson to determine what the CBC needed to do better. Two key people were fired: Chris Boyce, executive director of radio and audio, and Todd Spencer, executive director of human resources and industrial relations. It was suggested that they likely both knew, or should have known, about Ghomeshi's behavior in the workplace, and that they should have done something about it. (It took until April of this year for them to be fired, after being on leave since January.)
The Rubin report also put forth nine recommendations, from familiarizing the staff with CBC policies on bullying and harassment, and establishing a confidential workplace hotline, to better employee surveys and "spot audits." Susan Marjetti, Executive Director of Radio and Audio, was put in charge of implementing the recommendations. "Everything is in process," she says of all nine recommendations, citing specifically the active helpline and a completed employee survey. (Full disclosure: I'm a regular guest on the new iteration of q, as well as other CBC programs.)

Marjetti didn't directly answer whether the Ghomeshi allegations would have been dealt with by the CBC had a third party not reported on them, but says that it isn't an indication of a larger issue.
"I don't think harassment is either a part of media culture or particularly a part of the CBC's culture," Marjetti says. "I think that whenever you have people, you need clear guidelines and you need to deal with problems swiftly."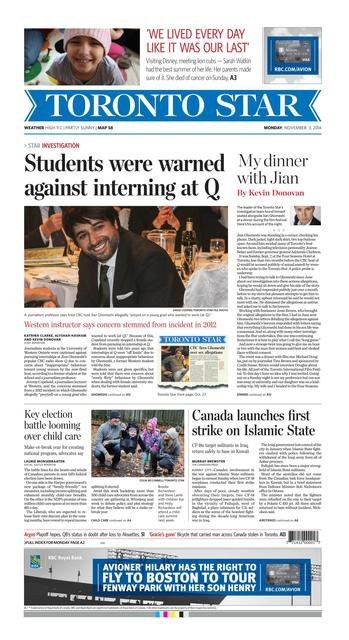 CBC employees I spoke to all said their work-life has improved since the allegations were made public. One woman working in radio at the time of the allegations suggests that men at the office may have learned some greater awareness; she recalls that after the allegations, a co-worker made a passing comment about another woman being a "bitch." Later, he emailed to apologize for it, citing the Ghomeshi case as his learning curve. (The employees all asked that their names not be used for this article.)
Some journalism schools were forced to make changes too. Carleton University reviewed its records to see which students had internships at Q under Ghomeshi, and did some student outreach, including an optional "information session" on harassment. (Two people came.) Carleton paid particular attention, perhaps, because the @bigearsteddy Twitter account that accused Ghomeshi of physical assault in a series of tweets was linked to the school in one tweet. Susan Harada, associate director of the School of Journalism, sent an email to students reminding them about the school's sexual assault services and counselling services. Female students at Carleton say they did notice the school react to the allegations, and more than that, it was appreciated.
Students at Ryerson and Western, however, said they didn't hear anything from the administration at their schools. Some students recall their teachers talking about how the reporting of the case was handled, but none said they heard anything from the program itself. Across the board—even at Carleton—female students said they were hoping to hear more from their school about how to handle workplace harassment.
At its very least, though, the Ghomeshi case did make people more aware of their behavior. "I think probably what it's done has helped people become more responsive to complaints," Korducki says. "Has it magically made people who lack self-awareness become self-aware? I doubt it."
At least they're talking. And in the last year, the public—and fellow media members—have learned plenty about how their press works. How celebrity can blind responsibility, how abuse can fester in even the most wholesome-looking places, how icons are not infallible. Internally, though, the biggest lesson may have been about how we report on these issues, particularly when they pertain to ourselves.
"I think the idea that this was some sort of turning point neglects the fact that it was a complete fluke," Brown says. The Star, according to Brown, was unable or unwilling to publish the story he and Donovan had been working on, largely due to legal issues. It was Ghomeshi's Facebook post that actually let the story come out. (Libel laws in Canada are far more stringent on the accusers than the one being accused.)
"If the next person who's accused by multiple people of terrible things also makes the mistake of writing a defense on Facebook, then we'll see," Brown says.
Last year after the allegations, I wrote a piece for Hazlitt about why predators can fester in the journalism industry. I mentioned an anecdote about a former coworker who kissed me on the forehead in the newsroom. It bothered me—it still bothers me—but he was far from the worst tormentor I've had to encounter. The thing that actually made me angry was that after the piece went up, he tweeted about it, completely unaware that I was talking about him. He mentioned it so many times, in fact, that my then-boss asked me if I wanted him to intervene somehow. I said no—I didn't want to get involved any further. (A handful of women messaged me privately asking if it was odd that someone who was clearly a harasser had no clue while talking about my story on harassment).
The last time I saw him, he was close-talking to a female journalism student at an industry event. She was alone.
We call major events like this "watershed moments" or "tipping points," because they're so impossibly big that it feels like an injustice to refer to them as anything else. But culturally, on a broader scale, it's almost impossible to pin down what change has actually occurred.
In the last year, there have been more public, open, and vibrant conversations on the topic of workplace harassment and sexual assault. It's been a year since the #BeenRapedNeverReported hashtag trended, though the creators think we're still having conversations about it but not enough tangible solutions. Music critic Jessica Hopper asked her Twitter followers to tweet stories about being harassed when working in the industry. In return, she got countless stories about being ignored, maligned, abused, assaulted, and raped. After Toronto pastry chef Kate Burnham accused her bosses at Weslodge restaurant of sexually harassing her at work, Black Hoof owner Jen Agg launched Kitchen Bitches, a forum to discuss the pervasive issue of abuse in kitchens.
Then, there was the "shit list" that circulated at an L7 show in Toronto: a single page with the names of local men in the music scene, and allegations against them of acts ranging from rape to harassment. It's difficult to even fully grasp the allegations, because even reporting on the list—as Carly Lewis wrote in Maclean's—can be considered libelous.
Seth is optimistic that we're at least having these conversations. "My dad, an older Indian man, has a whole other understanding on an issue he didn't have before," she says. "People [have talked to me] about business trips, recently, where the boss is trying to break down the door to come in. We are having those conversations."
For women who work on the frontlines of assault and harassment outreach and resources, the issues are maybe more deeply felt, and the changes more deeply noticed, and maybe more complicated.
"I want to see more of an intersectionality of this conversation," says Farrah Khan, a violence-against-women counsellor and educator, and the Coordinator for Sexual Violence Support at Ryerson University. There's still a conversation to be had about how different kinds of women are affected by this kind of violence, she said. Racialized and queer women, just as a few examples, face completely different struggles when it comes to getting justice or access to resources after an assault or harassment. The Ghomeshi discourse didn't exactly touch on these issues.
"I think the amplification helps," Khan says. "It's so disappointing that the time we write about these things is when an act of violence happens."
But still, the conversation alone can be powerful, even on a one-on-one level. Khan recalls an interview she did with an international journalist after the Ghomeshi allegations. In the course of their discussion, he realized he had sexually violated someone years earlier. "It was this really kind of beautiful, I thought, moment of being able to have that conversation," she says.
So maybe, as Khan suggests, it's best to not look at this as a watershed, but as a ripple: the first wave in what is hopefully many more that make it easier, maybe expected, that we should talk about the issue in times of non-immediate crisis.
Beyond conversation, one small improvement would be women feeling more confident with coming forward when they are assaulted or harassment. Brown, for example, says he is hearing from more women who have stories of harassment in media workplaces.
Julie Lalonde, manager of Draw-The-Line.ca, a campaign promoting dialogue about sexual violence in Ontario, also says things have shifted in a tangible way when it comes to her work. "I work for the Ontario Coalition of Rape Crisis Centres, so I'm connected to every sexual call centre in the province of Ontario," Lalonde says. "I can tell you that every single one of them got an increase of calls, got an increase of women in their community talking [after the Ghomeshi news broke]."
Determining change feels insurmountable when there are so many barriers to it. We thought there was change when Bill Cosby was called out for allegedly abusing so many women, but it only came after a man started talking about it in public. (Even so, more than 40 schools still haven't rescinded his honourary degrees.) We thought there was progress when the man who defended the practice of yelling "fuck her right in the pussy" at female journalists was fired, but just recently, Hydro One rehired him after arbitration. We thought there was progress when ex-senator Patrick Brazeau pleaded guilty to cocaine charges and assaulting a woman, but he was granted an absolute discharge, and plans on getting back to the Senate.
We thought there was progress when the Ghomeshi allegations were made public, but now that we wait for a trial, articles are written glorifying his lawyer, or about his courtroom fashion, or whether despite everything we know (or think we know), he could someday make a comeback.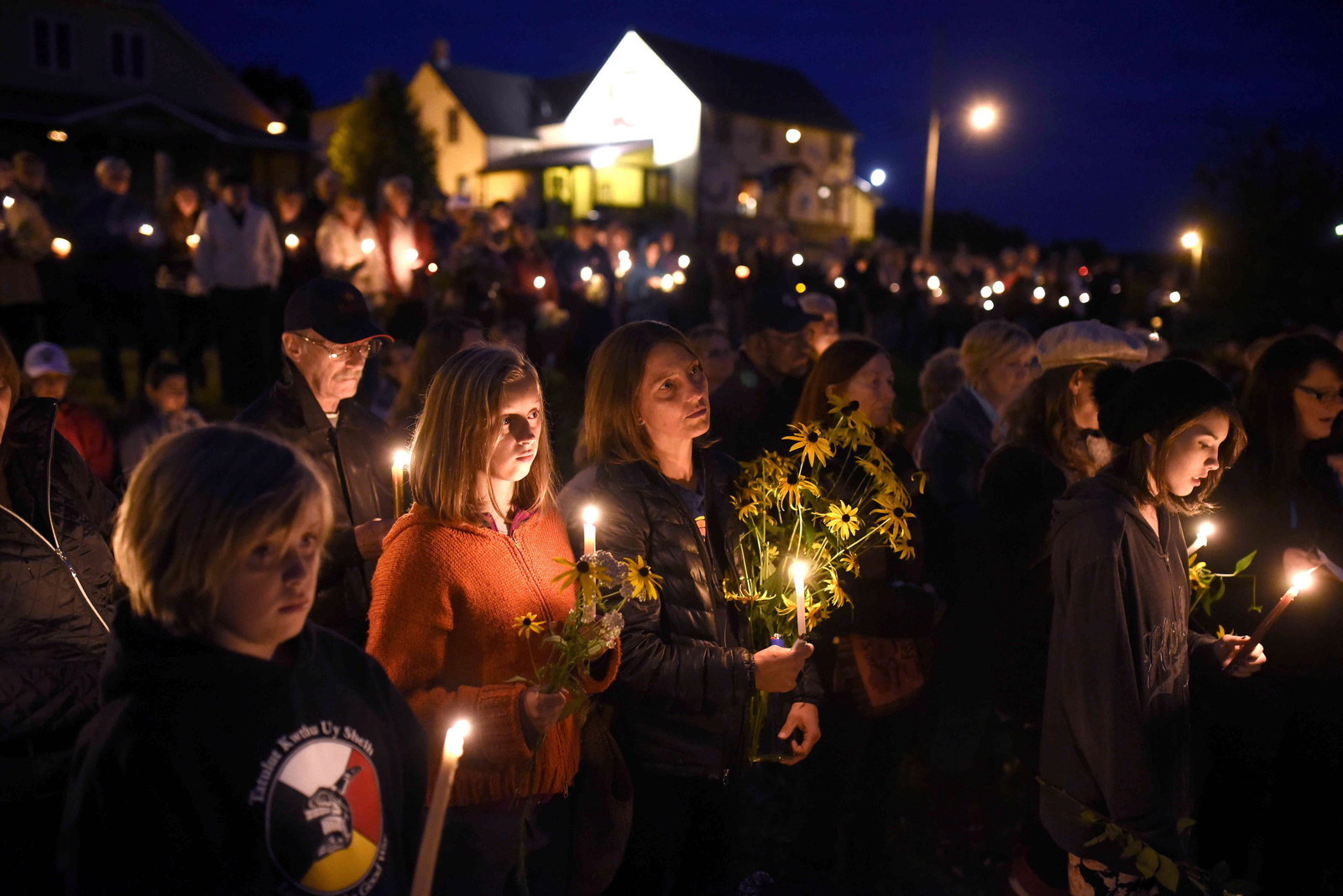 Khan speaks with remarkable speed over the phone but her voice slows down when talking about the women in Wilno, Ontario. In September, Basil Joseph Borutski was charged with first-degree murder for the separate murders of Carol Culleton, Anastasia Kuzyk, and Nathalie Warmerdam. It appears that he had relationships with all the women in the past.
She wonders why the case hadn't somehow become a huge election issue. "My god. Three women were hunted and murdered. I wept knowing the impact of violence, how is it that their bodies not matter? That kind of thing makes me go, We have a lot of work to do."
In fact, nearly all the women I spoke to for this piece brought up the women in Wilno: how it rattled them, how they didn't understand the lack of outrage or attention for the women allegedly murdered by a partner. How deeply common it still felt.
Where do we get off thinking things are better?
"There's always more to do," Khan says. "[Ghomeshi] is one of many moments, and we as a society have to treat it as such, because how many more women have to be assaulted for it to be taken seriously? How many more women have to be raped for it to be taken seriously? How many more women have to be killed for it to be taken seriously?"
In February, Ghomeshi will return to court. His trial will be long, the coverage will be unrelenting, and it's unlikely he'll ever be able to work in this country the way he did before. But we've forgiven and forgotten before. Mike Tyson is a convicted rapist and he's still on TV lip syncing to Salt-N-Pepa.
"People we know do horrible things," Khan says. "It is not the man behind the bush, it is not the scary guy that nobody knows in the community. We all know people who do bad things."