Taco Zucchini Boats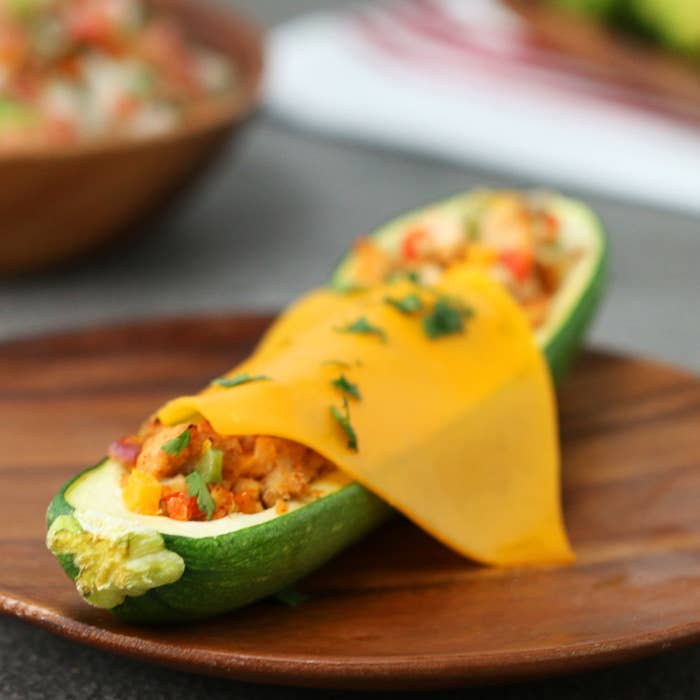 INGREDIENTS
Servings: 6
3 large zucchinis
¼ cup chopped red onion
¼ cup chopped red pepper
¼ cup chopped yellow pepper
¼ cup chopped green pepper
1 tablespoon olive oil
1 pound lean ground turkey
¼ teaspoon chili powder
¼ teaspoon cayenne
½ teaspoon cumin
¼ teaspoon salt
6 slices Sargento® Ultra Thin® Sharp Cheddar
1 tablespoon chopped cilantro
Salsa (optional)
PREPARATION
1. Preheat oven to 375°F/190°C.

2. Carefully split zucchini down the center, scooping out seeds. Set aside.

3. In a frying pan, heat olive oil over medium-high heat and cook turkey. After about 3 minutes, add onions, peppers, and seasonings. Combine. Cook until turkey is browned but vegetables are still crunchy (do not overcook).

4. Carefully place turkey mixture into zucchini boats, do not overfill. Bake for about 10-12 minutes or until zucchini is soft, being careful not to burn the turkey.

5. Place a slice of cheese across each zucchini boat and top with chopped cilantro. Serve with fresh salsa.