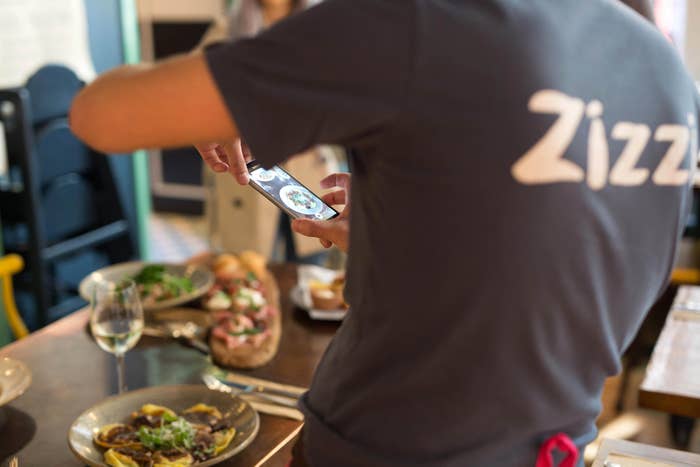 Zizzi has a policy that enables managers to make waiting staff foot the bill if customers leave without paying and for a catalogue of other "mistakes", usually out of cash tips, current and former employees have told BuzzFeed News.

Several staff have alleged that the 149-branch restaurant chain, which is part of the Azzurri Group (annual turnover £262.8 million), has a policy that leaves them essentially "financially responsible" for tables in the restaurant.
They claim that "mistakes" include accidentally undercharging a customer, allowing a table to leave without paying, taking an invalid voucher or gift card as payment, failing to complete a card payment – for example, if the card is declined – and losing a card payment receipt.
It is legal for an employer to deduct up to 10% pay from a staff member to make up for shortfalls and it can also come from tips, meaning such practices could be widespread across the hospitality industry.
Zizzi told BuzzFeed News that it did have a cash-handling policy in place, and that it was "transparent". It said staff were "comfortable with the processes in place".

It declined to provide a breakdown of what mistakes the policy covered, but a contract seen by BuzzFeed News shows there is a clause that covers "deductions".
In it, the document says waiting staff are "accountable" for the cash they handle.
The contract states: "You hereby authorise the Company to deduct from your pay any sums which you may at any time owe to the company. These include, without limitations, cash shortages, from from waiter banking...or any costs owed by you to the Company for any losses in the restaurant that you are accountable for."
BuzzFeed News understands that Zizzi operates a system called "waiter banking", which sees staff bring their own float of money in to pay customers' change.

At the end of a shift, staff said, the waiter, who is allowed to keep their own cash tips, cashes up with a manager. At this point if any mistakes are identified the manager can require them to make it up out of their own cash at their discretion. BuzzFeed News was told by staff that this usually comes from their tips, or their "own pocket".
BuzzFeed News asked more than a dozen current and former Zizzi staff, from a variety of restaurant locations, about the chain's deductions policy.
We were told this policy can be enforced at the discretion of management, leaving it up to individual managers to decide how to use it. Staff said sometimes managers would "help out to sort the mistake" but other times require contributions.
Some current and former staff said they had not heard of the policy or had never seen it implemented, but several told BuzzFeed News staff were responsible for taking payments accurately, and claimed they had been charged when a table had walked out, had been made to pay a bill if they'd lost a card receipt, or had been made to pay if a voucher or gift card failed.
Some waiting staff said they had paid in excess of £100 for such errors, usually out of the cash tips paid to them by customers, or "out of their own pocket".

"We paid it there and then, usually from our cash tips if we had them. If we didn't have enough, we definitely used our own money," said one former staff member who claimed to have been charged "a significant amount of money" to cover the bill of an entire table when the customers left without paying.
"[It was] practically impossible in such a busy environment to be constantly watching everyone," they said, and "it was a lot of money and I was upset since it felt really unjust".

"I recognise that we need to be careful and make sure that customers do pay for their meal, but to be honest, walkouts were such a rare occurrence that this kind of deterrent seemed ridiculous to me.
"All that happens in the end is floor staff – who work really hard for their money – end up paying a lot of money for a mistake that could happen to anyone... Given the size of the company, it always seemed like a real slap in the face."
Another former staff member claimed they were made to pay a bill after misplacing a card payment receipt, only to be reimbursed the following day after finding it "in the split lining" of their cash bag. Two said they had paid for failed gift cards.

One person, who did a trial shift for Zizzi, decided not to return after the chain told them they would be responsible for any payment mistakes on their section. They told BuzzFeed News this left them feeling "very uncomfortable" that "all the risk and responsibilities are handed to the front of house staff who are on the lowest wages" and they were concerned they would not have enough money should they ever be asked to cover a bill.
"It seemed like the risks outweighed the benefits of working there," they added.
Not everyone who spoke to BuzzFeed News thought the policy was unfair, however. One current staffer said it would be "stupidity" if a waiter "didn't notice a card payment was declined and basically the customer left without paying".

Another current staffer, who said they had not heard of the policy, said their restaurant was run by "experienced and reasonable management".

Unions told BuzzFeed News they believed the practice was unacceptable.

Frances O'Grady, general secretary at the Trades Union Congress, said: "Docking workers' pay isn't normal or acceptable practice. We don't know exactly how many bosses are doing this sort of thing, but even one is too many.
"Zizzi are trying to shift a standard business risk on to the backs of already low-paid workers. If a customer dines and dashes, that's not the fault of the waiter, and they shouldn't be forced to pay up."

Dave Turnbull, from Unite's hotel workers' branch, told BuzzFeed News that in the way "a supermarket would not expect a checkout operator to pay for such errors out of their own pocket", a restaurant should not.

He said any deductions should only be made if wrongdoing was found after an investigation. "Restaurants need to bring themselves into the 21st century," he said.
Zizzi told BuzzFeed News that its cash-handling policy was "transparent", that it was read and signed by waiting staff every six months, and that it was designed to drive "respect and accountability".

Most staff, it said, welcomed the opportunity to handle their own payments.
"Our cash handling policy is transparent and our waiting staff read and sign it every six months to ensure they are clear on all processes, including waiter banking," the company said in a statement.
"Waiter banking develops the cash handling skills of our front of house staff and drives respect and accountability for the cash that they are responsible for. [It] also supports our tipping policy whereby all cash tips go to the waiters and waitresses concerned.
"We have found that our staff welcome this opportunity and are comfortable with the processes in place. We will be reviewing our policies to ensure that they continue to serve both the business and our staff."

Zizzi also said it paid over the minimum wage and that 100% of tips went to its staff in recognition that they are "an essential part of its business who should be rewarded fairly".