Women Are Coming Forward In Increasing Numbers To Say They've Been Sexually Assaulted On The Tube
Exclusive data from the British Transport Police indicates there has been an increase in reports of sexual assault on the London underground.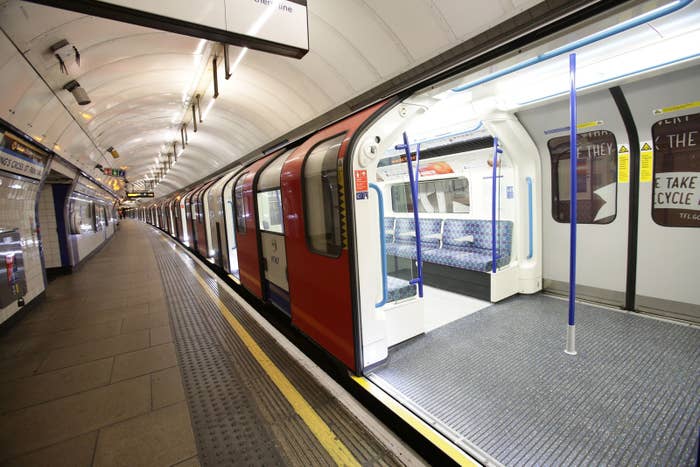 There has been a surge in reports of sexual assault on London Underground, data obtained via the Freedom of Information Act has revealed.
The data shows the British Transport Police recorded 1,773 reports of sexual assault on the London underground network between 1 January 2015 and 4 September 2017.
That figure is greater than the number of assaults recorded in the four previous years put together, when police logged 1,276 incidents.

Up to September 2017, police had logged 520 sexual assaults as having taken place on tube trains, platforms, escalators, and stairs. In 2016, they logged 697 incidents of assault, and in 2015 they logged 556.

In the whole of 2010, they logged 198.
The data shows most claims of sexual assault on the tube were from women (97%), though police also recorded a small number of reports involved men and children.
The vast majority of offenders were recorded as men.
Assaults can include groping and other indecent acts, including in a small number of cases serious sexual assault. Of the incidents reported between 2015 and 2017, 10 were rape and two were assaults involving penetration.
Police told BuzzFeed News they had made 39 arrests related to unwanted sexual behaviour on the London underground in the last six months, and urged more victims to come forward to assist in investigations.

The BTP, which estimates 90% of incidents go unreported, attributed the rise not to an increase in crime but to greater numbers of victims of sexual assault coming forward. A spokesperson for the force said the figures were an "encouraging" sign more people were reporting the crimes and said the force was "absolutely committed to tackling all forms of unwanted sexual behaviour on the rail and underground network".
The Central, Victoria, Northern, and Jubilee lines, all of which see millions of journeys each year, were the tube lines where most alleged incidents took place.
The figures highlight the scale of the challenge faced in preventing abuse by those who stalk the network for victims.
BTP Chief Inspector Glen Alderson told BuzzFeed News In an interview last year that these attacks were "probably not opportunistic" but carried out by "creatures of habit" who have "worked out a method" to take advantage of the busy network.

The BTP's spokesperson said the force had "worked hard in recent years to send a clear message to victims of sexual offences that they will be taken seriously and we will investigate offences.
"It is really important that people report any kind of unwanted sexual behaviour to us as soon as possible – time is of the essence so we can exploit all evidence gathering opportunities. Every report, with as much detail as possible helps to build a picture of the offender."

Siwan Hayward, Transport for London's head of transport policing, added: "The transport network is a safe, low-crime environment with very few people ever experiencing or witnessing crime.

"Our passengers and staff have the right to be safe and feel safe and crime will not be tolerated. We are working with the police to actively encourage anyone who experiences any sexual behaviour that makes them feel uncomfortable to come forward and report it, with the confidence that the police will take it seriously and it will be investigated.

"Every single report matters, it helps police build a picture so the offender can be tracked down, caught and brought to justice."
Last year, after BuzzFeed News revealed there had been a steady rise in reports of sex attacks over five years, Laura Bates, campaign founder of the Everyday Sexism Project, said the high number of female victims is a consequence of society "normalising" abuse against women.
"One of the biggest [issues] is that women don't realise they can report it," she said.