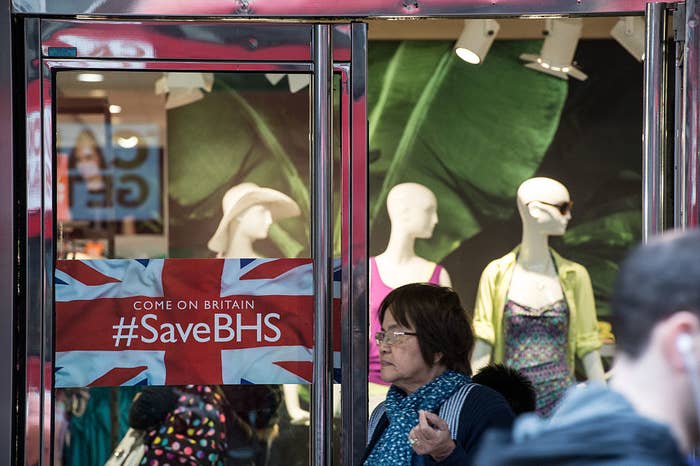 Less than 24 hours after it was announced that BHS, employer to thousands of people in the UK, was to be shut down and sold off, there was an eerily calm atmosphere in its Oxford Street store – which, it is understood, could be closed within eight weeks.
The chain fell into administration in April after being sold by Sir Philip Green – whose retail empire, Arcadia Group, includes Topshop, Miss Selfridge, and Dorothy Perkins – to former racing driver Dominic Chappell and his company Retail Acquisitions for £1 last year. It will now be wound down, with 11,000 jobs expected to go.
A bid to save the business failed on Thursday, marking the end of 88 years of BHS, which will now disappear from the high street once all 163 of its stores are closed.
The shop floor was well-stocked and tidy when BuzzFeed News visited its flagship store on Friday, with mannequins showcasing the latest lines. The cafe was populated by a handful of staff drinking coffee. But the atmosphere was one of quiet resignation, save for some hushed conversations between employees.
At 10am, customers were few and far between, and the shop was almost empty. It will be business as usual until all stock is sold off, but staff expect things to get far busier as shoppers snap up heavily discounted bargains in the coming weeks.
It didn't take long to discover that staff have been told there is a "no media" policy. Almost everyone we spoke to turned away.
"I"m not allowed to speak to you," said one worker. "Try someone else but keep it on the hush-hush."
Those who did speak said they were worried for their future, and sad to watch a once successful business collapse. With 11,000 jobs now on the line it will be the second-largest high street failure since Woolworths crumbled into obscurity, dragging 30,000 workers down with it.
Another employee, busy organising a shelf, said she knew yesterday's announcement was possible, but had still held out hope for a different outcome.
"It is what it is," said another. "You've just got to put your head down and find another job."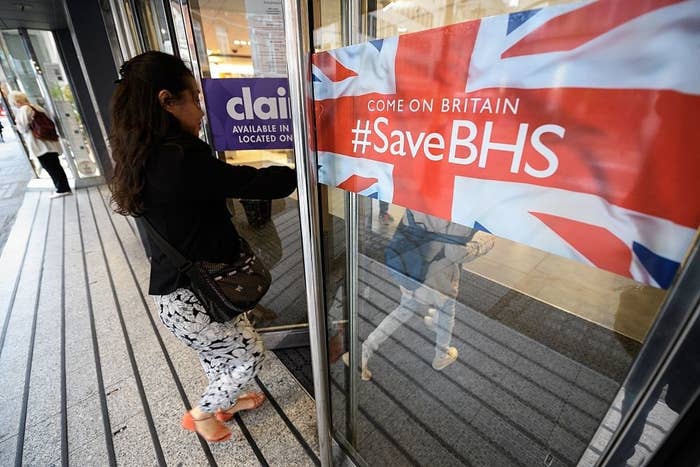 "We've known something was going to happen for such a long time, and now we can breathe and go 'Right, now we can carry on with our lives,'" one employee told us.
"Some of us have been here for 30 years. I've been here for eight years and it's been good," another staff member said.
"We all care for each other, we all care for what's going to happen for each other. This morning's been really quite funny. We've just been taking it in our stride."
She has been following the joint inquiry by the business, innovation, and skills and work and pensions committees into the sale of BHS. The inquiry has so far seen several BHS and Retail Acquisitions advisers, as well as the BHS pension trustees and the Pensions Regulator, hauled to parliament for questioning. Chappell and Green will both face a grilling this month.
Questions loom over the £571 million pension deficit and the sale of the business to the then little-known businessman, who had been bankrupt three times.
But on the shop floor, the same worker said the mood had been one of sadness rather than anger.
"I don't think any of us that were still here would speak badly [of BHS], as we have rapport for the company and our colleagues. I think people are more upset about it than angry."
She has secured another job, but it is going to be tough for some: "People will be very worried when they have only one income coming in, when they have mortgages, they have bills, they have rent. When they have children – it's going to be tough."
Older colleagues, in particular, may struggle, she said. "It's going to be very difficult because the market out there is not for people of a certain age, it really isn't."
"I will be keeping in touch with friends here," she added. "It's been an amazing experience, which I'll never forget."