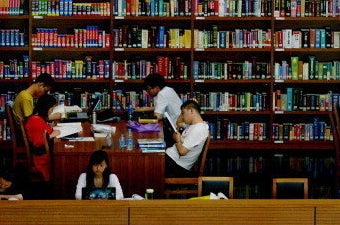 The stereotype of "sticky bars filled with beer-swilling students" could be going out of fashion, according to the National Union of Students (NUS).
The number of students drinking in student bars has fallen over the past decade by between 5-10%, the NUS said.
A survey by the body found drinking in student unions is becoming less popular.
With the average annual fee of study now costing £9,000, concerns over finances were cited as a major factor in the decline.
Worries over the job market were also a contributing factor, with students increasingly focusing their energies on ensuring their career prospects were as strong as possible, rather than on partying and "avoiding lectures".
Richard Brooks, NUS vice president for union development, told BuzzFeed News that "diversification" of students from different backgrounds, including ones where binge-drinking, for example, might not be not common, also meant students were shunning university bars in favour of other services.
Brooks said student unions had evolved to keep pace with the changing needs of students, with many now setting up "social enterprises" and focusing on the sale of ethical produce rather than cheap alcohol.
Students were more likely to be found at a university café than the union bar, the study said. Sales of beer had also tumbled over past three years at union bars and shops.
Of the 1,000 undergraduates surveyed, 60% said clubs and societies were the most important student union service for students and 43% said coffee-shop facilities were most useful, compared with 37% citing bars.
At the same time, Brooks said, there had been a rise in demand for and use of 24-hour libraries.
"Our research shows students are flocking to their unions for shops, cafés, and other non-alcoholic spaces," he said.
"Student unions are not an outdated stereotype of sticky bars filled with beer-swilling students avoiding their lectures, this is the new face of student life: profitable enterprise with a social edge.
"Times have changed drastically since decision-makers in politics and the education sector where at university."
The NUS study follows a trajectory of decline in alcohol consumption.
According to statistics from the British Beer and Pub Association (BBPA), alcohol consumption peaked in 2004, and has been dropping ever since.
This decline, as BuzzFeed News reported, has been driven by young adults shunning binge-drinking and a rise in the number of 16- to 24-year-olds going teetotal.