Uber Has Lost An Appeal Against A Ruling That Gave Drivers Workers' Rights
A tribunal upheld a decision that drivers had the right to be classed as workers rather than as self-employed. Uber is expected to launch further appeals.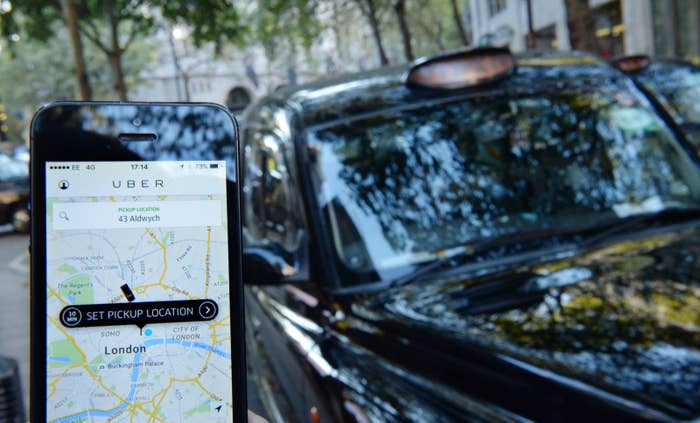 Uber has lost an appeal against a court ruling that found some drivers were entitled to holiday pay, sick pay, and the minimum wage.
The Employment Appeal Tribunal dismissed the company's appeal against the "landmark" ruling, made in 2016.
Uber has indicated it will proceed with further appeals, with the Court of Appeal and the Supreme Court two possible stages in the appeal process.
In September, Uber appealed the 2016 tribunal ruling, which found the firm had incorrectly classified two drivers as self-employed rather than as contracted "workers".
The case is central to arguments about whether gig economy companies are relying on genuinely self-employed labour or are misclassifying employment status. It is significant because "workers" under the law are entitled to rights like sick pay and the minimum wage, whereas the self-employed are not.
Responding to Friday's ruling, Tom Elvidge, Uber UK's acting general manager, said: "Almost all taxi and private hire drivers have been self-employed for decades, long before our app existed. The main reason why drivers use Uber is because they value the freedom to choose if, when and where they drive and so we intend to appeal.
"The tribunal relies on the assertion that drivers are required to take 80% of trips sent to them when logged into the app. As drivers who use Uber know, this has never been the case in the UK."
Uber has always denied its drivers are "workers" and has claimed it is like any other minicab company in London, simply acting as an an "agent" to connect self-employed drivers with customers rather than as an employer. It says its drivers enjoy the flexibility that self-employment brings.

But critics of Uber have argued that drivers are not genuinely self-employed, because they can be logged off for refusing trips, cannot set their own prices, and are subject to star ratings. In the original ruling, the judge reasoned Uber drivers were workers because of the degree of obligation placed on them by the company.

At the appeal hearing in September, the lawyer representing the drivers asked the judge to determine whether Uber truly was "a single business with 30,000 drivers" or, as Uber would claim, a platform with a "'mosaic" of 30,000 self-employed drivers.

Speaking outside the tribunal, Paul Jennings, a partner at the law firm Bates Wells Braithwaite, which represented the drivers at the appeal, told BuzzFeed News it was a "very significant" finding from a senior judge. He said the finding could mean more drivers making claims.
"The two drivers are test claimants – they are not in isolation, they are a bellwether, so there is waiting in the wings, we suspect, a very significant class action against Uber," he said.
Uber, he anticipated, would have a further appeal at the Supreme Court in February, alongside a similar appeal by Pimlico Plumbers, because they raise "common principles of law". Pimlico Plumbers is appealing against a tribunal that found one of its plumbers was entitled to worker rights earlier this year.
James Farrar, the co-claimant in the case, a former Uber driver, said he felt "relieved and delighted" but was "disappointed" to hear Uber may appeal again.
"It's an unreasonable route to remedy to take two years to secure the right to the minimum wage," he told BuzzFeed News. "I've always felt that our case was rock-solid. All of these cases that have been going in front of the courts have been winning because the law is clear.
"The problem is the law is not being enforced – why should it be down to low-paid workers to struggle to get the law enforced?"
Jason Moyer-Lee, the head of the union IWGB, which represented the drivers, said companies had been "choosing to unlawfully deprive workers of rights".
"This reinforces what we've known all along, that these guys are workers," he said. "Uber is keen to run this line [that] there is a lot of confusion [over employment status law], but if that were the case we'd see a mixed bag – sometimes that a worker would win, sometimes that a company would win – but we haven't seen that.
"Uber will probably appeal. That is unfortunate, because instead of appealing they should be focusing on how to give drivers pensions and the minimum wage."

Responding to the ruling, Jack Dromey, shadow minister for labour, said Uber drivers should be treated as workers.
"No British worker should be denied basic employment rights which we have worked so hard to secure. The National Minimum Wage, holiday and sick pay should be enjoyed by all," he said in a statement.

"They are not 30,000 individual businesses. They rely on Uber to provide them a decent living and they should enjoy the same employment rights as any other worker. ... Uber is a 21st century company behaving like a 19th century mill owner."