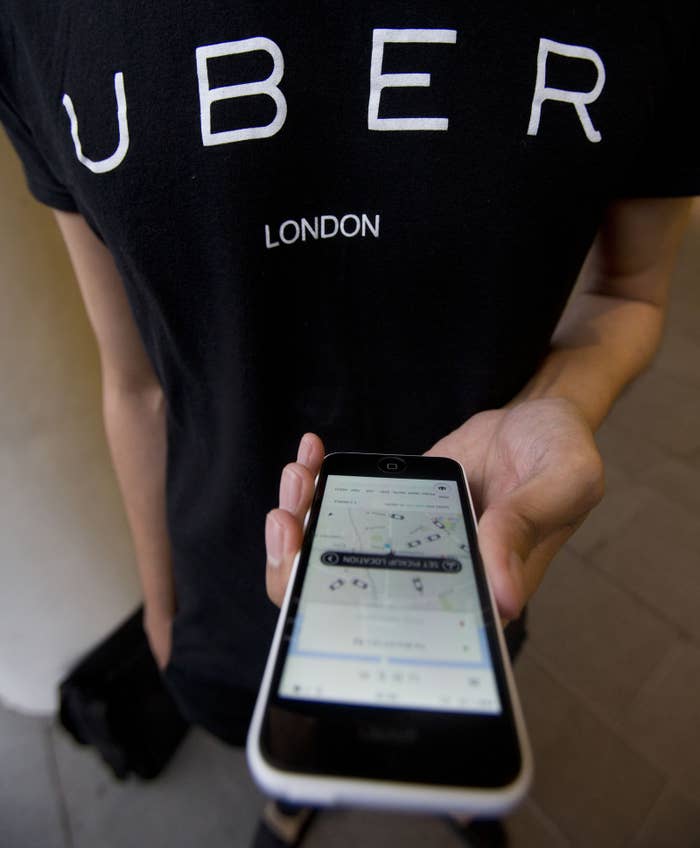 Uber has lost a "landmark" case after an employment tribunal in the UK ruled that a group of drivers are not self-employed and are actually employed as workers, and are therefore entitled to rights including the national minimum wage and holiday pay.
The case relates to a group of 19 drivers but could have wide ramifications for the status of Uber's other 40,000 UK drivers, and workers in the wider "gig economy".
The solicitor who represented the drivers told BuzzFeed News the ruling meant Uber could face claims from other drivers.
Uber had argued that it is a technology company that connects drivers with customers rather than a taxi firm, and that drivers are self-employed partners who can set their own hours and are not required to work exclusively for the app.
The company said it would appeal the ruling.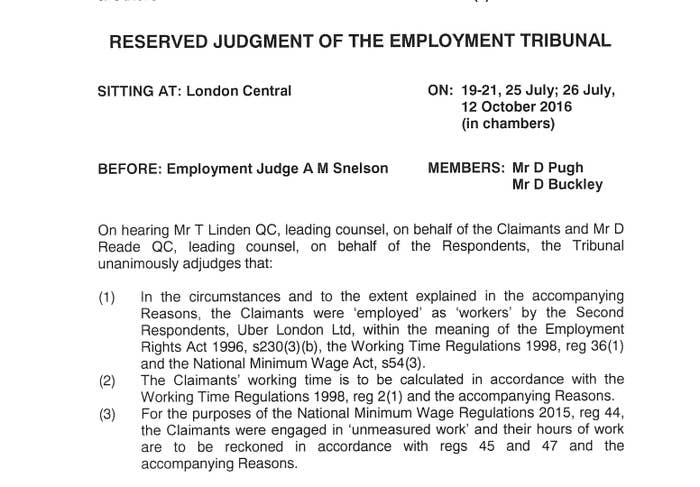 Annie Powell, a lawyer in the employment team at Leigh Day who worked on the case on behalf of the workers, said the ruling was a "groundbreaking decision".
"It will impact not just on the thousands of Uber drivers working in this country, but on all workers in the so-called gig economy whose employers wrongly classify them as self-employed and deny them the rights to which they are entitled," she said.
Powell said the 19 drivers represented in the case would now be entitled to compensation stretching back two years for holiday pay and any instances where they had not been paid the minimum wage.
But she added the ruling would not automatically change the status of Uber's other drivers. It could, however, make it harder for Uber to win future cases of its kind, she said.
The drivers' claims were brought by the GMB union, and were heard in the London Central Tribunal in July 2016.
In a statement, Jo Bertram, regional general manager of Uber in the UK, said: "Tens of thousands of people in London drive with Uber precisely because they want to be self-employed and their own boss.
"The overwhelming majority of drivers who use the Uber app want to keep the freedom and flexibility of being able to drive when and where they want."
Yaseen Aslam, one of the lead claimants in the case, told BuzzFeed News he hoped the decision would benefit other drivers and workers in the gig economy.
"It's a huge relief to know we've won a hard battle, we've been campaigning for two years," he said. "It was a nightmare, we're just normal people – luckily we had GMB funding it otherwise it would not be possible."
He said he pursued the case not for the potential compensation but because he wanted to "make sure something happened".
"The bottom line is I knew we were right," he said. "What's going to happen now is a lot more drivers will speak out.
"Put it this way: We've won and a lot of good things are going to come out of it."
Though the case relates to just 19 drivers, the decision is another sign that pressure is building on companies that use flexible working contracts.
Should the ruling be upheld and Uber face further successful tribunal cases, it could cost the company substantially, experts have warned. Sean Nesbitt, an employment lawyer at Taylor Wessing, said the ruling could prove "economically significant".
"If the judgment is upheld, Uber's options are limited," he said. "It can pass costs to drivers taking its commission above 20%, it can swallow them, or it can pass them to riders."
It's unclear whether the ruling will have any bearing or ripple effects outside the UK. In the US — where Uber is facing dozens of lawsuits over the classification of its drivers as independent contractors rather than employees entitled to benefits — lawyers could point to the UK ruling to bolster their arguments.
"I was very pleased to see this," Shannon Liss-Riordan, an attorney who negotiated a $100 million settlement for drivers in a class action case against Uber in California, told BuzzFeed News. (Drivers criticized that settlement and a judge later rejected it as well.) "This ruling adds additional momentum to our argument that Uber drivers are employees and should have the rights of employees."
Labor rulings tend to be piecemeal. The UK case involves only 19 of the 40,000 drivers there. UK law also includes a classification called "worker" – the one at hand here – which falls between the US classifications of employee and independent contractor. Plus, in the US, labor departments in New York and California have supported Uber's claim that certain drivers independent contractors. Uber is also facing a National Labor Relations Board probe into its labor practices.
"I expect this issue for Uber drivers will be resolved over time, little by little, as more decision-makers weigh in on the question. No single decision will necessarily decide the issue once and for all," Liss-Riordan told BuzzFeed. "In the US, the standard for who is an employee and who is an independent contractor varies somewhat among the states as well as the federal government, and the outcomes often depend on how the decision-maker weighs the factors."
Companies like Uber have come under increasing pressure in recent months.
Following investigations into conditions at Deliveroo and Hermes by BuzzFeed News and other publications, MPs this week launched an inquiry into the status and rights of workers in the UK and the use of flexible working arrangements.
The committee has not revealed what witnesses it will call to answer MPs when evidence sessions begin in the new year.
The inquiry also follows calls by unions and charities including Citizens Advice for changes to employment status rules to balance the needs of both individuals and employers.