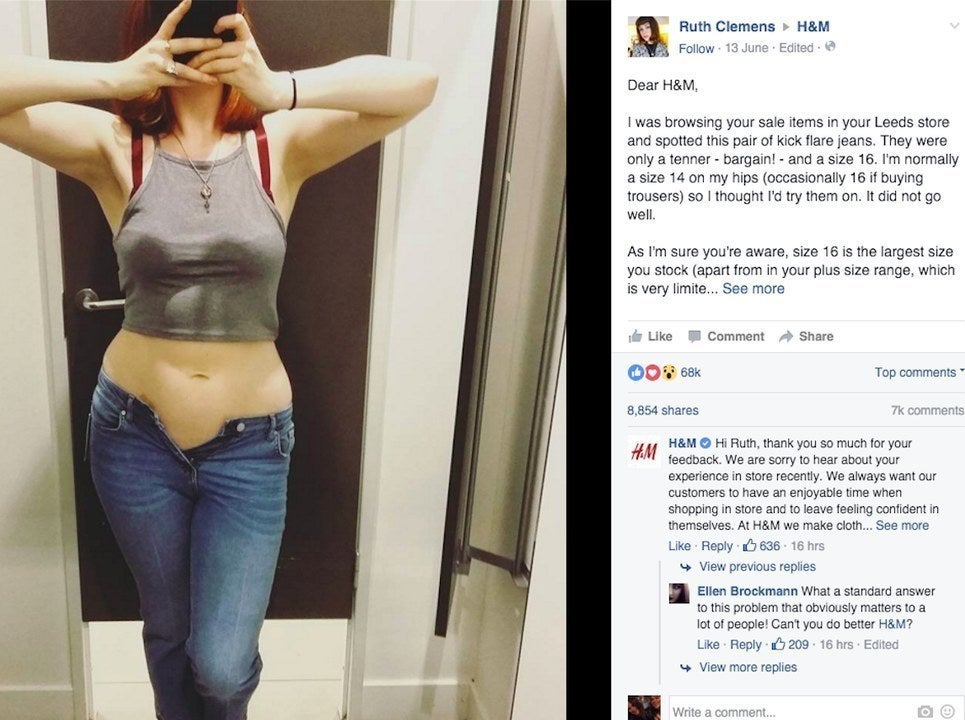 Clothing sizes have hit the headlines in recent weeks, thanks to viral social media posts about "laughably" small jeans at H&M and a petition calling for plus-size clothes at Zara.
For a long time people have been complaining online that clothes of the same size can be different depending on where you shop.
BuzzFeed News put this theory to the test by collating the measurements of high street and online favourites including Zara, H&M, Urban Outfitters, New Look, Boohoo.com, Asos, and Topshop and comparing them. Where retailers did not have a standard size guide, we used their guides for dresses because they gave bust, waist, and hip measurements.
We found that almost no two sizes had the same measurements, with some retailers defining a large as size 12-14 and others as a size 16-18.
While in most cases the difference in actual measurements of the same size was marginal, in some instances it was a matter of up to two inches.
To give a snapshot of the differences, we created this tool to compare a size 12 at the different retailers.
Tom Phillips / Via BuzzFeed
H&M, followed by Topshop, Urban Outfitters, and Boohoo, was found to have the smallest size 12 compared to the other retailers we checked, according to their publicly available size guides.
We calculated an average for each size from the bust, waist, and hip specifications to make a comparison of the other sizes and found that H&M's next size up, a 14, was marginally smaller than a size 12 at Asos and Zara. It was just slightly larger than a 12 at New Look.
H&M's size 16 was smaller than that of all the other retailers we tested (not including Urban Outfitters, which does not list that size).
Meanwhile, New Look's measurements for this size were found to be comparatively the most generous, with its size 16 made with a 44-inch hip measurement, the largest of all we tested.
New Look's size guide shows the different measurements: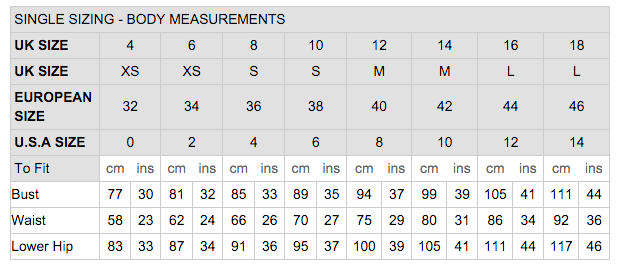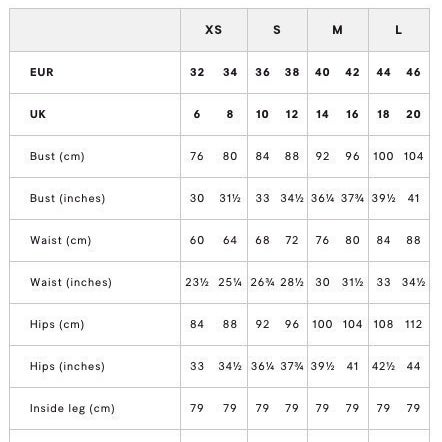 There was also wide variation between what different brands classed as small, medium, and large.
Which makes it all a bit more complicated.
At most of the brands, we found a size small was made to a UK size 8-10, except for at H&M where it is 10-12.
Medium was also found to be size 12-14 across all brands, except for Zara where it is a size 10 and H&M where it is a size 14-16.
It was large that varied most widely when we checked.
Zara confirmed to BuzzFeed News its large is, in fact, just marginally larger than a UK size 12, while Urban Outfitters' UK style guide shows its large is a size 14.
Meanwhile, at Topshop, large is made to size 16, at New Look a large is a size 16-18, and at H&M a large is a size 18-20.
Taking into account that each of these brands makes the numerical sizing to different specifications, there appears to be little consistency across brands.
Confused?
Size 14 student Ruth Clemens from Leeds posted this picture of her trying on size 16 jeans to H&M's Facebook page last week. It has received 94,000 reactions.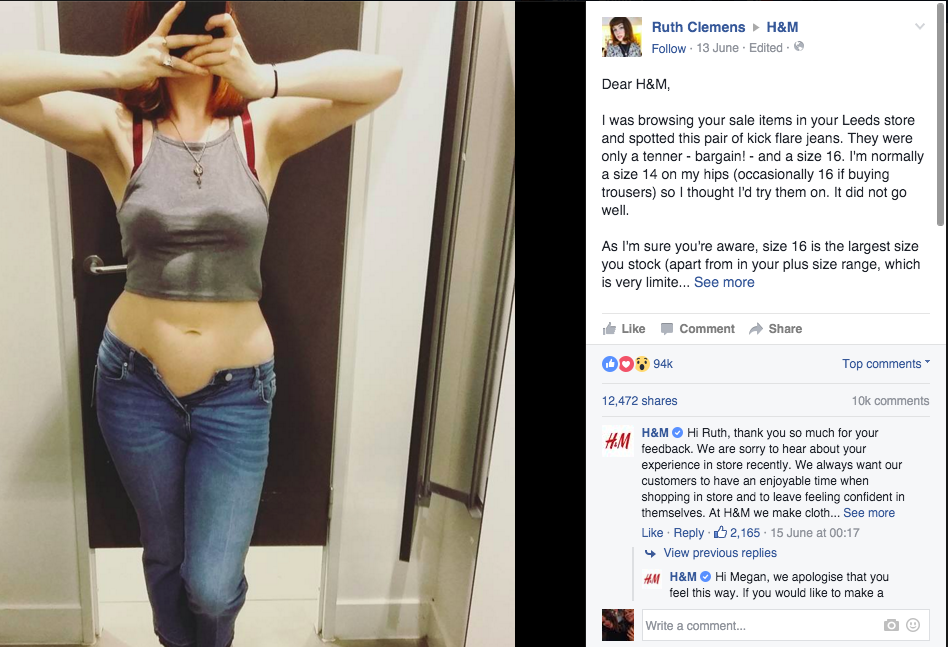 She says H&M jeans come up "laughably" small. "I'm normally a size 14 on my hips (occasionally 16 if buying trousers) so I thought I'd try them on. It did not go well," she wrote on the brand's Facebook wall.
A fashion industry analyst from research company Mintel said people are becoming increasingly frustrated with the broad variation in sizing on the high street.
Tamara Sender, a senior fashion analyst, said Mintel's own research found that 83% of women want to see size standardisation across different brands.
This is because retailers in the UK do not need to adhere to a strict set of guidelines on sizing. There is also, many have argued, a trend towards retailers investing in "vanity sizing" – making clothes with a little extra room to encourage people to feel good about themselves and purchase them.
Mintel research also shows that with the average size in the UK now a 16, fashion brands would do well to invest in developing plus-size clothing, which is a "significant area of growth".
"There are currently huge variances between retailers, with a size 12 for example fitting differently depending which retailer or brand it is purchased from," Sender told BuzzFeed News.
For this reason, the most common reason for returns tend to be poorly fitting clothes, she said, especially online, where customers "cannot automatically know whether a garment will fit them without trying it on".
"There is a real need for retailers to more accurately manufacture clothes so that there is consistency in sizing across all retailers and brands," she said.
BuzzFeed News reached out to all of the brands to give them the opportunity to comment but just one, H&M, responded with a statement.
A spokesperson said: "Everyone is welcome at H&M and we value all feedback.
"H&M works with the same measurements and sizes within all concepts, across all 62 markets and online – however, the fit of a garment may vary depending on the style, cut, and fabric."