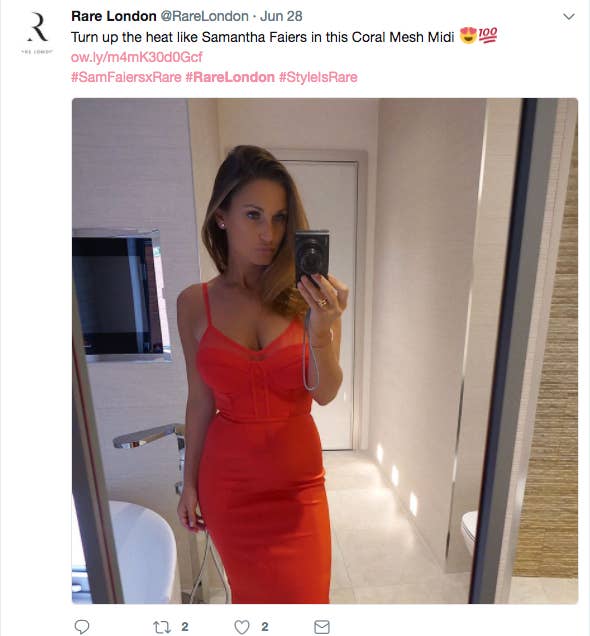 Rare London, an online fashion brand popular with reality and Instagram stars, has ceased trading and made all of its 56 its staff redundant.

The company, founded in 2013, confirmed on Facebook it had called in administrators who had taken the "unfortunate decision to cease to trade the Company with immediate effect making all staff redundant".

Former The Only Way Is Essex star Sam Faiers, who now has her own reality show, The Mummy Diaries, claims she is owed money by the company after signing a deal to promote its spring/summer collection. She has "now instructed her lawyers on this matter", her spokesperson told BuzzFeed News.

"Samantha was contracted by Rare London to promote a Spring Summer capsule collection and as yet has not been paid for the work she carried out," the spokesperson said. "Her management team have made repeated attempts to contact the brand following feedback on social media however they have been unresponsive.

"We would like to highlight that Samantha has no other affiliation with Rare London or its associated companies."
Dozens of shoppers also claim to be out of pocket, saying they have not received orders or refunds.
On social media, shoppers claimed to have been unable to contact the company after purchasing items during a 50% sale only to not receive them.
Rare London's website also appeared to have been taken down at the time of writing.
One person said she feared she would never get her money back. "I ordered £200 worth of clothes from the 50% off sale last week [I] am disgusted as [it] was part of a birthday present," she wrote.

Other customers claimed to have been waiting for refunds to be processed, in one instance for four weeks. "They've had my returned items since 26th June," another claimed.

On the brand's Facebook page, it recommended customers who have not received orders to "first make contact with their bank or credit card provider to check if a refund can be obtained through them".

BuzzFeed News contacted Rare London but it had not responded at the time of writing.