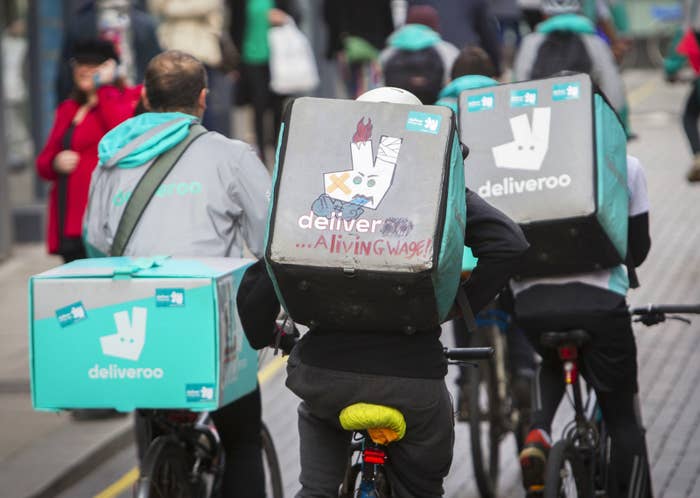 The gig economy has become an unlikely battleground in the general election, after the Conservative party made introducing "new protections" for gig economy workers a key part of its election manifesto on Thursday.
The pledge treads on the toes of the Labour party, which earlier this week pledged in its own manifesto to ban zero hours contracts, extend the rights of workers who are on insecure contracts, and "clamp down" on bogus self-employment.

The parties' promises come following a year in which the gig economy has been the subject of intense political focus. There have been growing discontent among workers about insecure contracts, a series of media exposes about life in the gig economy, and a growing number of legal challenges by unions and workers.

Last year Theresa May announced she had commissioned Matthew Taylor, a former Tony Blair adviser, to conduct a review into modern working. Taylor's report that will be published after the election.

As well as concerns about whether gig economy jobs dilute worker rights, there have also been concerns that the government and taxpayers are footing the bill for workers' benefits.
This is because there are three main terms that can define the relationship between a business and those who work for them under employment law:

An "employee" is afforded the most rights from a company, including protection against unfair dismissal, the right to holiday, maternity pay, sick pay, and a pension.

A "worker", such as an agency worker, is entitled to certain rights including holiday pay and the minimum wage, but typically no notice before dismissal, or entitlement to a pension or sick pay.

Meanwhile, a "self-employed contractor" – the classification favoured by gig economy companies – has the fewest rights, and is not entitled to the minimum wage, sick pay, holiday pay, or a pension. Businesses insist that those who work for them enjoy the freedom and flexibility this arrangement provides.
But some MPs and campaigners say the classification of self-employed is "bogus" and benefits businesses but costs workers, the government, and taxpayers.
In a report published earlier this month, the Commons work and pensions select committee accused companies of "free-riding" on the welfare state and urged the government to "close [the] loopholes" that enable them to do so.

Today's Tory manifesto pledges are detail-light.

BuzzFeed News asked workers who have been central to challenging gig economy companies in the courts what changes they would like to see, and whether they have confidence in a Conservative government to deliver.


Megan Brown, 25, a Deliveroo rider who is involved in a tribunal to determine employment status next week
Megan Brown has been working for Deliveroo for a year and a half.

She is also chair of the courier branch of the Independent Workers Union of Great Britain (IWGB), founded in 2015, which is taking Deliveroo to a tribunal next week and has played a central role in pushing the gig economy onto the public agenda.

She wants to see two things change: one, that "the burden of proof [about status] should be on the employer", and two, that government should dole out "punitive fines" to companies clearly found to be wrongly categorising workers.

"The whole thing about us being self-employed is a farce," she told BuzzFeed News. "I'm not an 'entrepreneur' operating my own business, which Deliveroo would like us to believe – I'm working for them, I wear their uniform, and I work in shifts."

"We should be classified as we are – an acknowledgment that we are not self-employed."
She claimed that at Deliveroo, and in other gig economy companies, for workers "there's little protection, [and] we don't have any employment rights".

"We could be dismissed at any time and we have no right to challenge that – it's a very precarious agreement," she said, one where people are often "on the cusp of minimum wage".

Could she see a Conservative government addressing these challenges?

"It's hard to tell – not from the Tories. I think they'll give any small concessions – teeny-tiny ones, just to say they've done something – but it remains to be seen [that] if these things are put into place, they can be enforced."

In response, a Deliveroo spokesperson said its riders "enjoy the flexibility that self-employment brings – being able to log in wherever and whenever they choose, and having the freedom to work with multiple companies at the same time".

They added that 10,000 people applied to work for Deliveroo each week, which made it "clear more and more people are attracted to the flexible well-paid work which Deliveroo provides".

"We are looking for ways to offer more flexibility and security," they added. "That is why we're engaging with the Taylor Review in order to find a solution which benefits everyone."

Deliveroo cofounder William Shu told BuzzFeed News last month he would like to offer riders more security but that it was up to government to "define" a status of worker that would enable that.
James Farrar and Yaseen Aslam, lead claimants in the "landmark" tribunal against Uber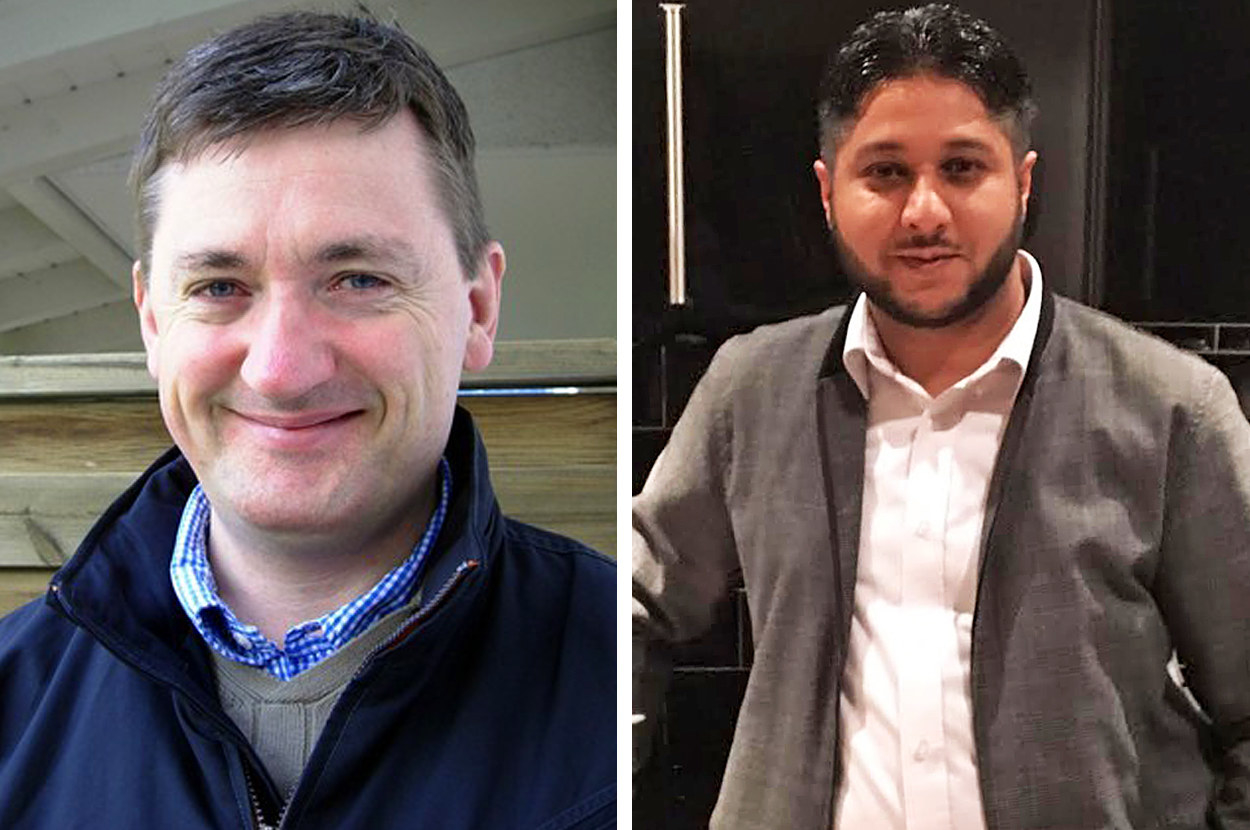 James Farrar, 48, and Yaseen Aslam, 36, kick-started a wave of legal challenges against gig economy businesses when they successfully took Uber to a "landmark" employment tribunal last year and won. Neither now actively work for Uber.

The case, which represented 19 of Uber's 40,000 drivers, was funded by union GMB and represented by law firm Leigh Day. It challenged whether the app giant was right to have classified the group workers as "self-employed".

The judge found that the drivers were "workers" in practice – and said they were entitled to be back-paid the minimum wage stretching back two years. Uber is appealing the decision.
"They'll distract with that [appealing] for years and years, and of course they can afford to and that's the system," Farrar, who claims to have earned just £5.03 per hour working for Uber, told BuzzFeed News.

Farrar wants to see the Conservatives reset the balance between workers and businesses – starting with addressing employment tribunal fees, which were introduced in 2013 and can cost a worker £1,200 to bring a claim against a company. The fees have led to a 70% reduction in cases being brought.

Coming up with the money to bring a claim can be a struggle. "And even then," Farrar, who estimates having spent "hundreds" of hours on the case, said, "the burden of the proof is upon you to prove the employer has not classified you correctly, rather than the other way round.
"What kind of application and enforcement of law is it when the poorest-paid workers in the country have to find a way into a tribunal system?"
Yaseen Aslam, a lifelong Tory voter who had worked in taxis since 2007 but now has a job in IT, told BuzzFeed News he did not have confidence in a Conservative government delivering on its manifesto pledge.

"I have zero confidence in the Tory government," he said "I am 36 years old and have always voted Tory in the past. Since I have been an Uber driver and [become] involved with workers' rights, my views have changed."
The flexibility that attracts workers to gig economy jobs is "a dream" sold to drivers "at a cost", he said. Government should ensure "simple basic rights are being given to workers".

"Most drivers I know are stuck and only work out of desperation as Uber has killed many local firms," he claimed.

Uber has recently introduced a raft of measures aimed at appeasing drivers, including injury and sick pay insurance, which drivers can pay for themselves as part of a scheme brokered by, and part-funded by, the company. It said almost all taxi and private hire drivers in the UK have been self-employed "for decades" and that with Uber "they have more control over what they do".
"Drivers who use Uber are totally free to choose if, when and where they drive with no shifts, minimum hours or uniforms," a spokesperson for the company said. "Last year drivers using Uber made average fares of £15 per hour and were logged into our app for an average of 30 hours per week.
"The vast majority of drivers who use Uber tell us they want to remain their own boss as that's the main reason why they signed up to us in the first place."
Mags Dewhurst, 29, a courier who took CitySprint to court and won the right to holiday pay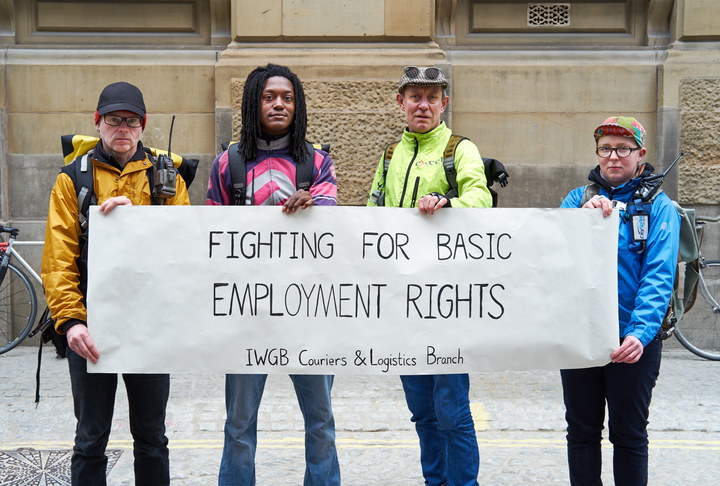 Maggie Dewhurst, a founding member of IWGB, has worked for CitySprint since 2011 delivering medical supplies to hospitals around London.

In a case in January, she won the right to back-paid holiday pay at a tribunal. The judge found that Dewhurst "was a worker" and said the company had "unlawfully failed to pay her two days' holiday".
The case – which is being appealed by CitySprint – was not about the holiday, Dewhurst said, but about seeking to prove she was a "worker" as a test case.
"In terms of the future, what governments should be doing is making it easier for us to access justice. For example, my tribunal fee cost £200, which in itself was the value of the claim," she told BuzzFeed News.

"We did it because we wanted to make a point about employment status. But if anyone else sees the tribunal cost will cost the same as what they're going to get, what's the point?

"Those need to be scrapped, number one. Number two: They need to create incentives for these companies to obey the law."

If companies are only made to pay back small amounts that are already owed under the law, it would continue to be "much more lucrative to operate in the way they do", she said.
"I want to see big fines put in place by an enforcement agency to deal with these things," she said.

Asked whether she had faith in the Conservatives to deliver on its promises, she added: "It's frankly insulting to people like me who are in this situation because the Tory government has systematically deprived people of rights year after year – and now they're going to claim to be the party of the working class?

"I don't think so, mate... Hell will freeze over quicker than that."

BuzzFeed News contacted CitySprint but it had not responded at the time of writing.