Marks & Spencer is consulting on changes to its pay structure that could mean a welcome pay rise for the majority of staff but, for others, a pay cut that they claim is nothing short of "catastrophic".
The business, which like many others took the chancellor George Osborne's new national living wage as an opportunity to review its pay structures, is in a period of consultation on changes to staff pay.
The consultation period began 25 May and will be completed before the end of August.
Under the proposals, M&S will raise the hourly wage for customer assistants from £7.41 to £8.50 outside London and £9.65 in Greater London. Section coordinators and section managers will also get a pay rise.
But under the same measures, thousands of staff who currently earn double pay for Sunday and bank holiday shifts, or a premium for working through the night, could be worse off. The MP Siobhain McDonagh has been campaigning against these changes and says they penalise the longest serving workers.
Up to 7,000 of its longest-serving shop floor staff will be impacted negatively, the company estimates, with 2,700 of them set to lose more than £1,000 a year.
These staff joined prior to 2010 on a now phased-out contract that entitles them to additional double Sunday and bank holiday pay and other premium benefits.
Under the new proposals, Sunday pay will be halved to a basic hourly rate and bank holiday pay will also be reduced.
M&S insists the changes, set to be implemented in April 2017 subject to consultation, will positively impact 90% of its 69,000 staff and "reward our people in a fair and consistent way".
But several employees, one of whom works in Osborne's Tatton constituency, told BuzzFeed News they felt "betrayed" by the changes, worried about their future, and as though M&S was "robbing Peter to pay Paul".
"I work every other Sunday and have worked on my own for the last five years, so calling it a worry is an understatement," said one shop worker.
"I start at 4am every day and work a 13-hour shift on Sundays. And when all this [the premium payments] goes I'm going to be really badly affected – it's probably going to be the equivalent of my mortgage," the woman, who did not wish to be named, told BuzzFeed News.
She lives alone and relies on just one income to pay her mortgage, and said she is now "very, very" worried about the future.
"I don't want to lose my job – I love my job," she said. "But I'll have to consider [another job] or I'll have to work [extra] part time or in the evening, which doesn't work when you go to bed at 7pm."
Marks & Spencer insists it is "listening carefully" to staff feedback, and has representatives at each store who colleagues can raise concerns with.
But some workers told BuzzFeed News that being in the minority makes them fear their voices will not be heard.
Another staff member believes the changes are being sought in response to the rise in the living wage. He said the business case for M&S, which already pays above the minimum wage rate, is to increase the base salary to ensure it is still offering one of the most competitive rates on the high street.
"The changes to the living wage have resulted in robbing Peter to pay Paul," he said. "Companies are not going to take a hit on their profits, especially large companies with shareholders to answer to."
It was not just M&S but "most retailers", he said, making these changes. M&S is executing them in "an unfair and disproportionate way" that sends a negative signal to long-serving members of staff, he said.
"Every [business] is scrambling to fund this – realistically it's just going to be reorganisation [of wages]. Businesses have been forced by the change in legislation from the government, but how they chose to do this is up to them.
"Members of staff that are long-serving feel betrayed because you make decisions based on what your company has promised to pay you," he said.
He said the changes would negatively impact his future, and also those of his colleagues. "When I decided to have another child we sat down responsibly and decided based on what we could afford, and it's quite catastrophic."
He added: "For people who haven't been here long the proposals are fantastic for them – I have people who will earn an extra £200 a month, but others who will lose £400 – literally their mortgage."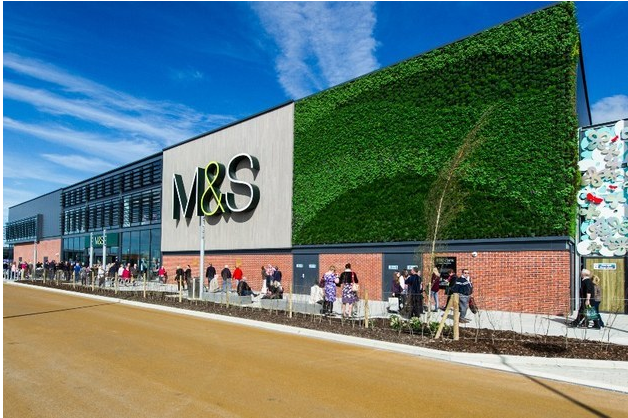 "A lot of people will be delighted with these proposals. [But] I have one guy whose rent is £450 a month and his child support is £400 a month," he added. He will be losing £450 – so does he choose not to pay his rent, or not to pay his child support? It's as stark as that."
Another store worker, who is financially supporting a family of four, said he would have to consider moving house to manage the dip in wages if the changes are imposed.
He also accused the compensation payment being offered by M&S, which is being offered in one lump sum to make up for the total amount of benefits lost over two years, was inadequate. It also failed to account for the future after those two years, he claimed.
Siobhain McDonagh MP, who has campaigned against wage cuts, hit out at the changes.
She tweeted this as yet unanswered open letter to Osborne outlining her concerns after 150 constituents petitioned him agains the changes being made by M&S.
She said: "These are exactly the low-paid workers politicians should be representing... Please let them know you are on their side."
BuzzFeed News reached out to the treasury but it had not responded at the time of writing.
Marks & Spencer is not alone in considering its pay structures.
As BuzzFeed News revealed, companies including B&Q, Caffe Nero, and Eat have also been accused of taken steps to offset the cost of increasing pay for staff.
Other supermarkets too, including Tesco and Asda, have recently changed their pay structures or staff perks, leading MPs to call on government to stop businesses from failing to act in the spirit of the legislation.
McDonagh claims M&S admitted in a meeting that 2,700 staff would lose at least £1,000 per year, with some, McDonagh claims, losing out on as much as £6,000.
"[Staff] should be rewarded and not penalised for their years of loyal service," she told BuzzFeed News.
"For many of them, there is no way that they can earn next year the amount that they earned last year. That's not good for their families, for employees' productivity, and ultimately for our economy."
A Marks & Spencer spokesperson defended the proposals and said they would create "fair and consistent" reward for all workers.
He said: "We believe our proposed new approach to pay and pensions would reward our people in a fair and consistent way, simplify and modernise our business and help us attract and retain the best talent so we can continue to provide great service for our customers.
"The proposals include one of highest pay rates and one of the best benefit packages in UK retail. We are now consulting with our colleagues and listening carefully to their feedback."
Marks & Spencer did not confirm exactly when the consultation will close but stressed that the proposals are still under consultation and are therefore not final.