The Boss Of The Former Parsons Green Suspect Says His Staff Now Fear A "Backlash"
"Everyone is scared that someone can just come in and do something terrible," Suleman Sarwar told BuzzFeed News.
Staff at the west London chicken shop that found itself at the unlikely centre of media coverage of the the terrorism investigation following the Parsons Green attack are too "frightened" to work, its owner has told BuzzFeed News.

Suleman Sarwar, who runs Aladdins takeaway in Hounslow, said he had been subject to a large number of racist threats and abuse since an employee, later named as Yahyah Farroukh, was arrested outside the restaurant on 16 September in connection with the attempted bombing of a District Line train the previous day.

Farroukh, a 21-year-old Syrian refugee, was one of seven people arrested so far in connection with the investigation. He was detained for almost a week before being released without charge on Friday.
One man, Ahmed Hassan, 18, of Sunbury, Surrey, has since been charged in connection with the attack, which injured 30 when a bomb partially detonated on a rush-hour tube train.

Farroukh was not named by police but was identified by his employers, media, and family after he was arrested by undercover police outside Aladdin's takeaway at the end of his shift.

Since the arrest, Sarwar said he has received a high volume of abusive calls. These had continued, he said, despite Farroukh's release.

"The last one was yesterday," he said, "which was 'you murderers'. Another one was: 'Do you deliver in Parsons Green? Get out of our country.' These are the sort of abuses and threats we have received in our shop and on Facebook – a lot of threats and horrible threats, it's not nice at all."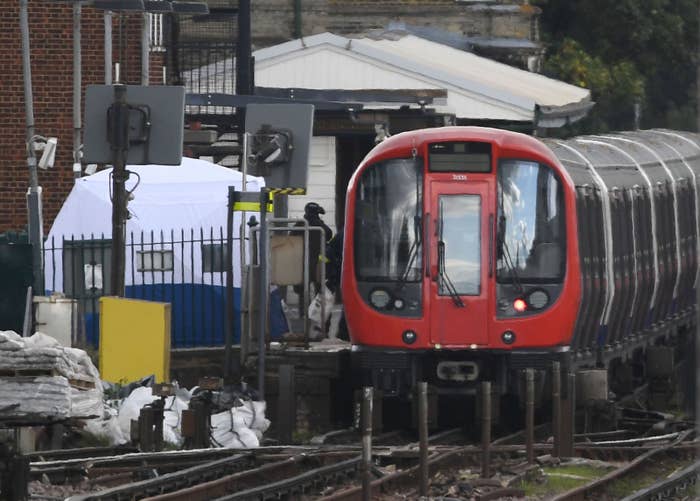 One member of staff had left and several others had said they considered leaving. "I've spoken to them and tried to reassure them it'll be OK," Sarwar told BuzzFeed News.

"It's because they were frightened. ... None of them wants to be associated in any way, shape, or form – it scares them that police are coming down about that to their place of employment."

He added: "Everyone is scared that someone can just come in and do something terrible. Some kind of backlash. You know, there's crazy people out there.

"Anyone can just walk in and just do anything."
Sarwar said business had been affected by the attention, and he is critical of the decision of some news organisations to publish Farroukh's name without police confirmation.
Sarwar has urged the media to now give the same level of attention to Farroukh's release to ensure that news gets through to members of the public.

He said Farroukh's release "hasn't had the same level of attention or the spotlight needed to clear his name, as well as us.

"[It] will take time for people to acknowledge that – they don't watch the details of the news, they just see the initial image [and] go with the soundbites and the image that's imprinted in their mind."

In a Facebook post published on Friday, Sarwar said the Muslim community had faced "animosity" and a "backlash" from the public as a result of the police investigation into the attack and subsequent media coverage.
Sarwar called for the police to issue an apology.

"The investigation brought Yahyah, his friends, family, place of employment; Aladdins Fried Chicken, and the wider Muslim community under scrutiny and indignity," he wrote.

"Nothing less than a fully unreserved apology from the head of the Met [police] should be expected due to the fact that they ... allowed his photo to be published nationally, labelling him as a terrorist to the world."
This apology, he said, should be extended to the Muslim community, who he said had "once again" received backlash and animosity from the public.

The post has received a significant amount of support, with over 1,500 shares and some people calling for those involved to be paid compensation and calling for a "public apology on the BBC, newspapers and on social media".

"The newspapers should say sorry to this lad for calling him a MUSLIM TERRORIST [and now] can call him A GOOD MUSLIM and pay compensation," another said.
Others defended the police and said that in a fast-moving investigation, they were "just doing their job".

At the time of publication, three individuals – a 20-year-old man, a 25-year-old man, and a 30-year-old man – remained in police custody in connection with the bombing.