Uber And Deliveroo's Use Of Self-Employed Drivers Has "Major Tax Benefits", The Author Of A Gig Economy Review Says
Matthew Taylor also said Uber and Deliveroo drivers "probably ought to be" classified as workers instead of self-employed.
Uber and Deliveroo favour a self-employment business model partly for the "major tax benefits" and overall cost savings, the official commissioned by Theresa May to review the UK's gig economy has said.
Matthew Taylor, a former adviser to Tony Blair who is the chief executive of the Royal Society of Arts, told BuzzFeed News that both companies were capitalising on a "double whammy" of benefits by classifying their thousands of drivers and couriers as self-employed.
"If you can classify someone as self-employed you don't have to pay for their basic employment protections, you don't have to pay a minimum wage, and you don't have to pay as much tax," he said. "So why wouldn't you want to do it?"

Taylor was speaking to BuzzFeed News after appearing in front of a joint business and pensions select committee hearing on his review of the gig economy and modern working practices, which he unveiled alongside Theresa May in July.
Taylor told MPs on the committee it was his view that couriers and drivers for Uber and Deliveroo "probably ought to be" classified not as self-employed, but as "workers" – a middling status between employee and self-employed that grants rights including holiday pay and the minimum wage.

Whether those working in the gig economy are genuinely self-employed is an issue being battled out in the courts. Uber and Deliveroo have both fought recent employment tribunal cases brought by individual drivers who claim they are in fact "workers" and are therefore due greater rights.

Under tax rules, a business has to pay national insurance contributions for its employees, but not for self-employed contractors working for them. There is a grey area that means a "worker" can be viewed as either employed or self-employed for the purposes of national insurance, depending on the circumstances.

However, Taylor said that despite the fact that "tax rules and employment rules are not totally aligned", his view is that HM Revenue and Customs would be "more likely" to seek national insurance contributions if drivers were classified as "workers".

He added: "But all of this would be subject to further inquiry and review, perhaps ending up in the tax tribunal."
How much money gig economy businesses could be saving by using a self-employment model was also the focus of the chair of the business select committee in an earlier session on Tuesday where Hermes, Uber, and Deliveroo bosses were put under the spotlight.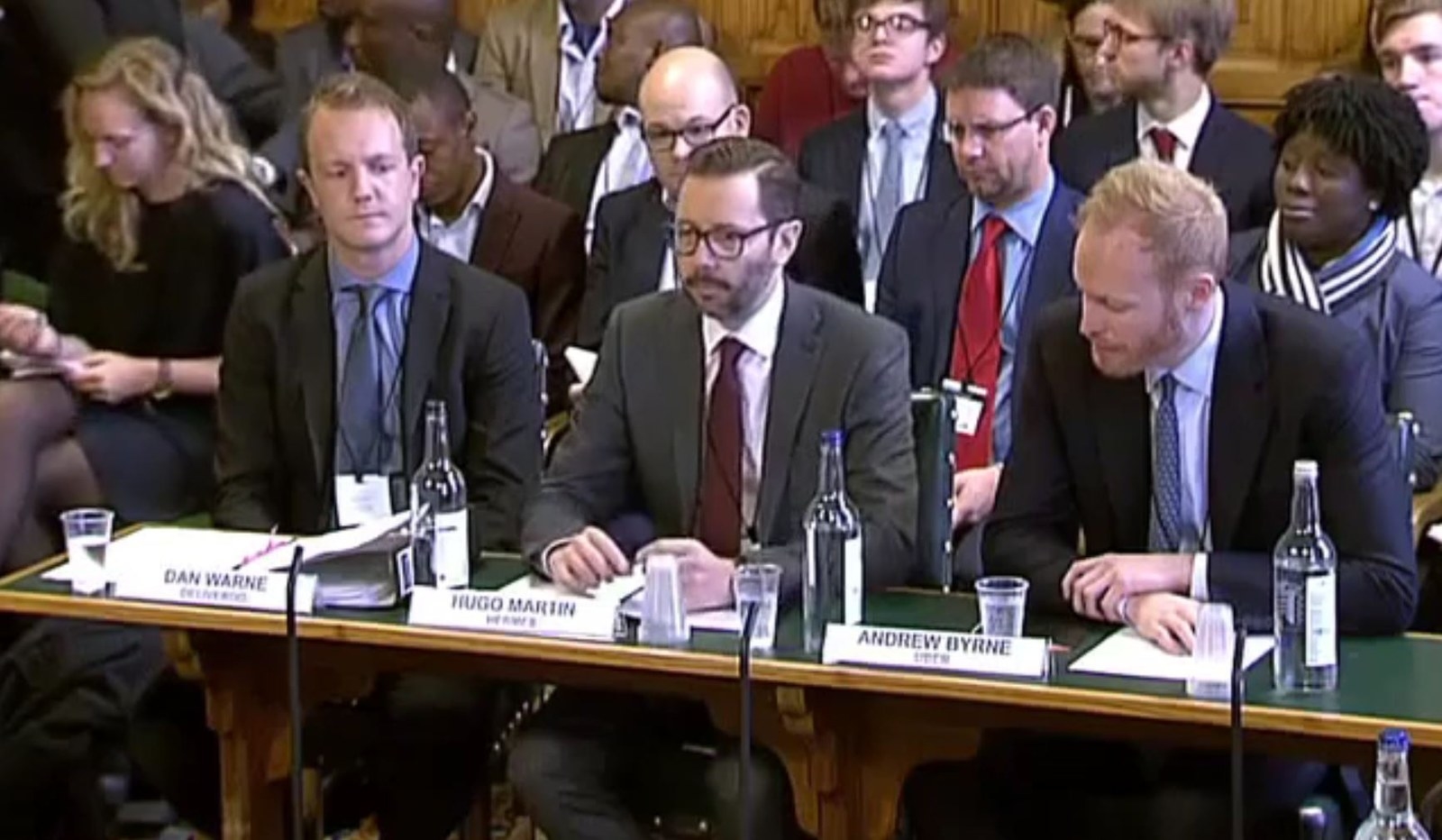 Rachel Reeves, Labour MP for Leeds West, repeatedly asked the companies' representatives how much they saved using self-employed workers on national insurance contributions and other benefits, like sick pay.

She tweeted after the session to say she was "still awaiting answers".

During the committee hearing on Wednesday, Taylor also cautioned on the unintended consequences that forcing worker status as the default might have. He said it could "be the end of on-demand work" if businesses reacted by enforcing shifts.

Taylor urged MPs look to form a new sub-category of worker status called "independent contractor" that would entitle a driver to sick pay and holiday benefits but not the minimum wage.

Businesses would need to prove in a typical shift a driver could earn at least 1.2X the minimum wage and warn people where they were unlikely to hit that in return, he said. Dropping the minimum wage requirement could prevent companies like Uber and Deliveroo from exerting more control on drivers, and prevent scenarios where drivers could log in at any time in the middle of the night and claim the minimum wage, even if there were no jobs.

But Reeves said allowing businesses not to pay the minimum wage would be a "slippery slope". Frank Field MP, pensions committee chair, also said: "I'm sorry all of us failed to get our head round your idea."
Taylor told BuzzFeed News he felt the committee seemed to be implying that if gig economy businesses had to change their business model, then "that's tough".

"And that's a perfectly legitimate view ... [but] I did not want to be in a situation where those companies immediately said, 'Well OK, that means we're going to have to move to shifts,' [and] many of their drivers and couriers said, 'Well, I don't want worker status then, it's not a price I want to pay.'"

A spokesperson for Deliveroo told BuzzFeed News: "Riders are self-employed for one reason only: it allows them to work flexibly, which is exactly what they want.
"If riders were classed as workers, they would be required to work in compulsory shifts arranged with us in advance and work exclusively with us during those shifts. This would limit the very flexibility riders tell us they value, which is why we don't want them to be reclassified."

They added: "In our submission to the Taylor Review, we called for employment law to be updated to allow us to offer riders certain benefits, such as sick and injury pay, without limiting the flexibility they value."

Uber declined to respond to Taylor's tax comments but said in a statement: "Almost all taxi and private hire drivers have been self-employed for decades before our app existed. With Uber drivers have more control and are totally free to choose if, when and where they drive with no shifts or minimum hours. The overwhelming majority of drivers say they want to keep the freedom of being their own boss.
"Last year drivers using our app made average fares of £15 per hour after our service fee. We've recently invested in a number of changes, including discounted illness and injury cover, paid waiting time and the ability to cash out fares at any time."