Tesco is trimming the curved corners from its own-label croissants.
Tesco has announced that it will no longer sell crescent-shaped (aka regular) croissants.
From Friday, all Tesco own-brand croissants will instead be sold in "straight" shapes only.
The retailer insisted to BuzzFeed News it was not an early April Fool's joke and that it had taken the decision to change the shape in response to customer demand.
It said a survey showed 75% of Tesco customers "preferred straight ones" because of the "spreadability factor", and because they looked more "sophisticated".
Demand had fallen because people in Britain find it too difficult to spread jam and other fillings on the crescent-shaped pastry, it said.
"With the crescent-shaped croissants, it's more fiddly and most people can take up to three attempts to achieve perfect coverage, which increases the potential for accidents involving sticky fingers and tables," said spokesman Harry Jones.
Some shoppers took to Twitter to express concern at the inability of many people to spread jam on a curved shape.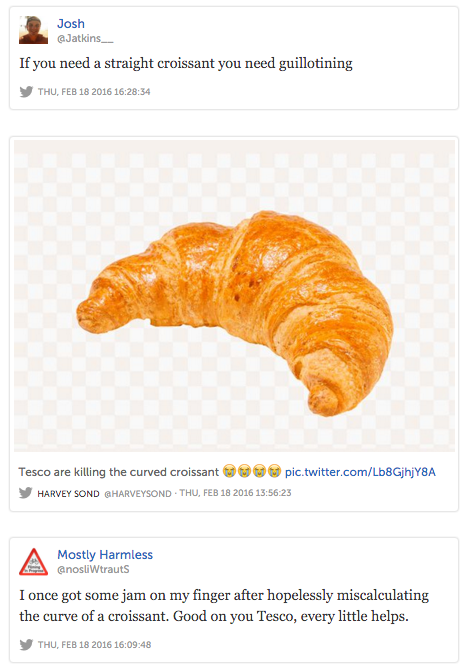 Others predicted it was another sign the UK is moving "further away from Europe".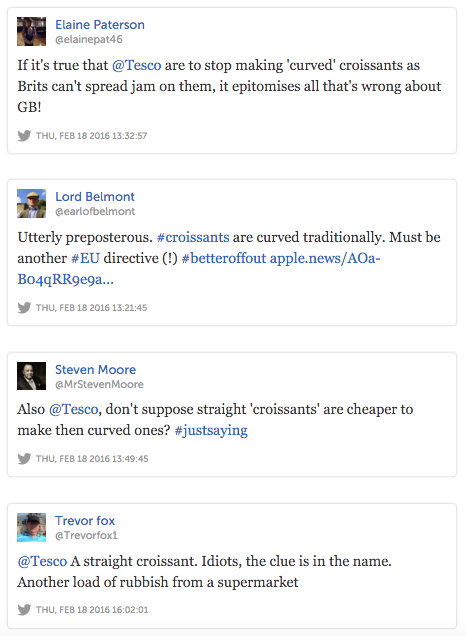 Tesco defended the move, saying: "At the heart of the move away from curved croissants is the spreadability factor.
"The majority of shoppers find it easier to spread jam, or their preferred filling, on a straighter shape with a single sweeping motion."