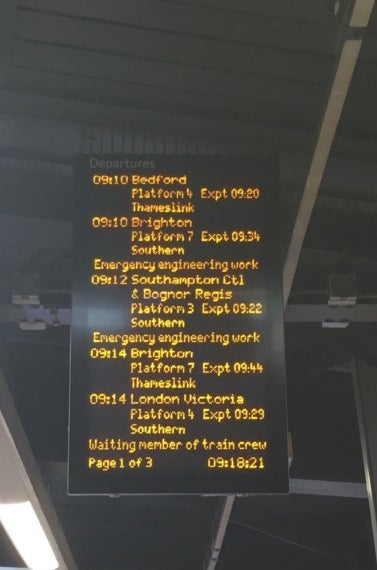 Southern Rail was hit with delays and cancellations on Monday as it launched a new, downsized timetable with 341 fewer daily services.
The train operator, which runs trains throughout London and along the south coast, as well as through Kent, Hampshire, and Sussex, said the reduced timetable would actually limit disruption.
The company has been plagued by delays and cancellations as a result of staff absence and industrial action over the role of train guards.
It imposed the new emergency timetable, with the support of the government, to "restore greater consistency".
A spokesperson told BuzzFeed 8% of trains had been delayed on Monday, but said services were "running well".
Southern's own service update tracker, however, showed the operator was battling delays on all lines, with one exception.
Commuters were using the hashtag #SouthernFail to complain of crammed trains and long journeys.
Commuters are planning a rush-hour protest at Victoria station on Monday evening against what they say is mismanagement.
Other commuters have threatened to withhold fares or occupy first-class carriages on crowded trains without first-class tickets.
Rail minister Claire Perry said "serious questions" had been raised over how parent company Govia Thameslink Railway was running the service.
She told BBC Radio 4's Today programme the service had not been satisfactory.
Perry said of Govia, which took over the franchise last year on a seven-year contract: "It's been quite clear to me that companies that cannot deliver a good service, particularly over the things they can control, should not be bidding for new franchises."
Network Rail performance analysis shows that in June more than 20% of trains experienced delays, making Govia the worst performing of all operators.
Last week, executives faced MPs to explain the cause of delays. The chief executive said he was "extremely sorry for the disruption" but that it was "a difficult and challenging franchise".
In a statement, a spokesperson for Southern Rail said the impact of the new timetable was "encouraging".
She said: "We know the service level in the last couple of months has not been good enough and we apologise unreservedly. This new timetable allows us to target our resources where they are needed most and at the same time give passengers a more predictable service which they can plan their lives around.
"It is a temporary measure while we work with the RMT [rail workers' union] to end the dispute and bring their members back to work and, while it should be judged over a few days, the first few hours of operation are encouraging."