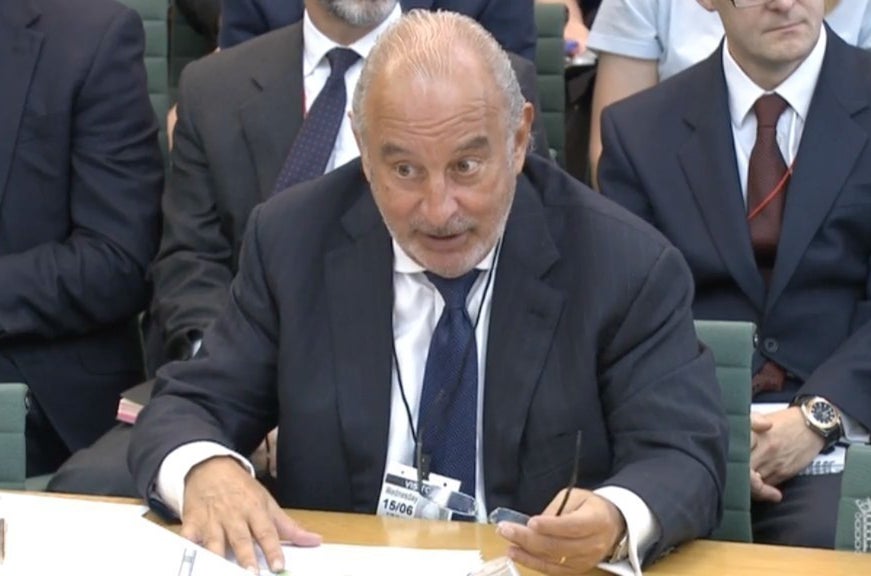 Sir Philip Green (left) and Richard Graham MP.
Sir Philip Green hit out at Richard Fuller MP, saying "Would you mind not staring me like that?", as he was questioned on the demise of BHS on Wednesday.
The retail billionaire, who sold BHS to three-times bankrupt Dominic Chappell for £1, paused to challenge Fuller as he was quizzed by the business select committee on his role in the subsequent collapse of the chain.
In a strained exchange, Green, chairman of the Arcadia group, which owns Topshop and Dorothy Perkins, repeatedly interrupted MPs during the hearing. He said Fuller made him feel uncomfortable, and accused Richard Graham MP of "beating [him] up" and bullying him with his line of questioning.
Press coverage of his involvement had been "rude" and "outrageous", he added. "I could be a murderer, the way they're writing about me."
Fuller apologised for what he called his "death stare", but said he had been brought up to look people in the eye.
Green began the session by apologising to the 11,000 BHS employees who are set to lose their jobs following the collapse of the business last month and said "nothing is more sad than how this has ended. I just want to apologise to all the BHS people."
The committee of MPs, led by Frank Field, who Green had repeatedly called on to step down over "leaping to conclusions", grilled the tycoon for more than two hours on Wednesday in the first half of a committee hearing about his role in the sale of BHS.
MPs probed Green over the handling of the BHS business during his 15-year ownership and his decision to sell to former racing driver Chappell and his business, Retail Acquisitions, which put the company into administration in April.
Green dismissed earlier accusations that he had starved BHS of investment and withdrawn £400 million in dividend payments, stating he had ploughed £800 million into the business, which he said was a victim of competition in the retail sector and "structurally was in the wrong shape".
He also claimed that had Chappell stuck to the business plan, the company could have been turned around.
When challenged on the £571 million pension deficit by Richard Graham MP, Green replied sharply: "Which bit of 'I don't remember' is difficult for you?"
He then claimed he was "not actively involved in pensions conversations and perhaps if I had have been we'd not be here".
"We can't trade backwards, we need to trade forwards," he told MPs. "I'm a big boy ... I'm not hiding, I can't answer you."
However, Green confirmed he was actively looking at a "solution" to avoid 20,000 pension holders losing out on up to 10% of the value of their investments.
"We want to find a solution for the 20,000 pensioners," he said, declining to give further details. "It is resolvable, sortable, and we will sort it."
Green also said he was not there to place blame on anyone, before pointing the finger at the pensions trustees, advisers, and regulators for their role in the handling of the pension scheme.
He also said he would "absolutely not" have sold BHS without the advice of Goldman Sachs.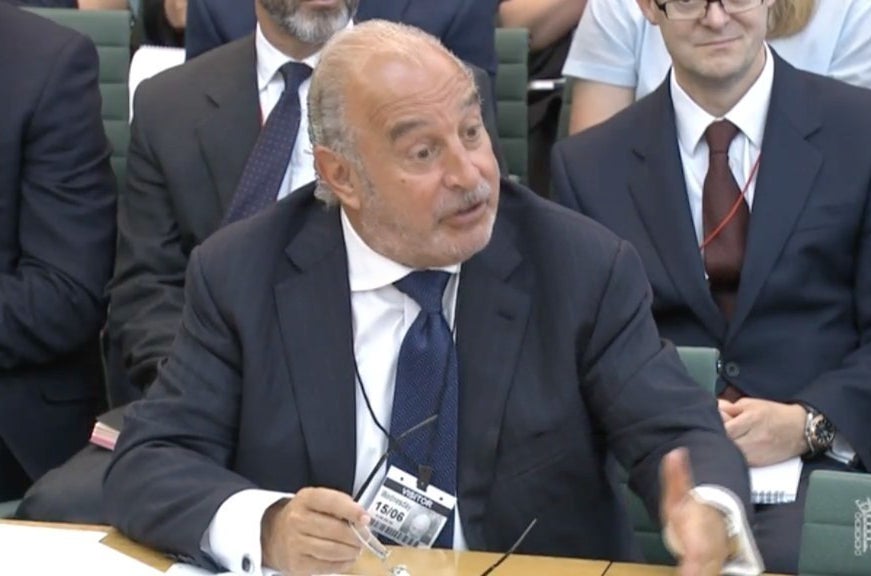 The Arcadia boss (left) and Frank Field MP.
MPs asked Green if he had suffered a lapse of judgment in making a deal with Chappell or whether it had been "convenient" to offload the multimillion-pound pension deficit.
Green called the question an "unnecessary statement" and demanded it be withdrawn. "It's very rude," he added.
He also asked Jeremy Quinn MP, "Why are you looking at me like that?" and told him "Put your glasses on – you look much better."
The businessman said he hadn't met Chappell until after he had been "cleared" by Goldman Sachs in February 2015, a month before the transaction. He said Chappell, a man with no retail experience and connections to a convicted fraudster, appeared to be a credible buyer with experienced advisers around him.
"What happened was beyond terrible and sad," Green added. "Unfortunately we found the wrong guy. There seems to be a lot of people who accepted this guy at face value, sadly it was the wrong owner. Would I do that deal again? No. Am I sorry I did it? Yes."
During the first five hours of the session, Green grew increasingly agitated and was accused by MPs of having a "thin skin".
"I don't like the way you're asking me the question," he said to Quinn, prompting MPs to ask whether he spoke to staff that way and whether the approach was indicative of the culture of his leadership, which he refused to answer.
They also asked him for detailed information surrounding the proposed sale of a building to Chappell, which Green pulled out of.
The deal, for the purchase of BHS's London head office, Marylebone House, was meant to enable Chappell to make a £10 million profit on the sale and inject it into the business.
To buy the property, Chappell had borrowed £35 million. Though the building sale did not go ahead, it has been claimed he used the funds – lent only on the basis of the purchase – to prove his credibility as a buyer to Arcadia.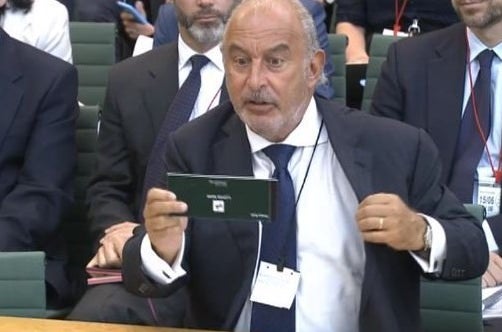 Sir Philip Green brandishing a chequebook and old Nokia mobile phone.
Asked about what had stopped a possible purchase of BHS by other businesses, Green pulled out a chequebook and said "one of these".
Asked about Sports Direct's apparent bid for the business he said that he and Mike Ashley, who owns the chain, were friends.
Chappell alleged in an earlier session that Green had blocked a deal by Sports Direct and went "insane" when he heard conversations were ongoing.
When Iain Wright MP asked him whether that was to do with his "ego", Green lost his temper: "I'm glad the meeting is ending and that's a sad way to end; that's out of order and you should apologise. It's laughable and you should give me an apology – I haven't been rude to you."
Green claimed that he had considered buying back BHS when it slipped into administration as it was "so cheap" but decided not to in case of further uproar.
Committee chair Frank Field asked him whether he would consider doing that now.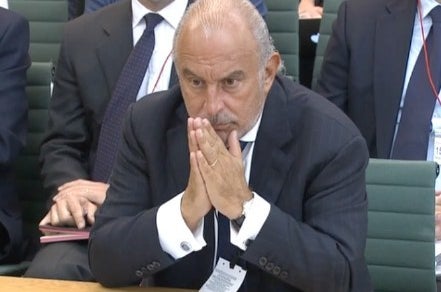 Sir Philip Green, responding to comments from Iain Wright MP about his "ego."
"Oh, life has moved on," Green said.
"Not for the 11,000 workers," Field replied. However Green said that many of the workers were part time and that there "are jobs out there."
"It is a very sad episode and everything that could have wrong went wrong," Green said. "I'm not here to blame others but some people who played roles in this have got something to answer for."
He admitted making a "bad call" in selling the business to Chappell but claimed a lot of things had been misrepresented in the public domain.
Green said the turn of events made him "sad", describing them as a "horrible ending" after 15 years with BHS.
He said: "You have commitment that I'm planning ASAP [to sort the pension fund] and I want to get this over with sooner than you, trust me."