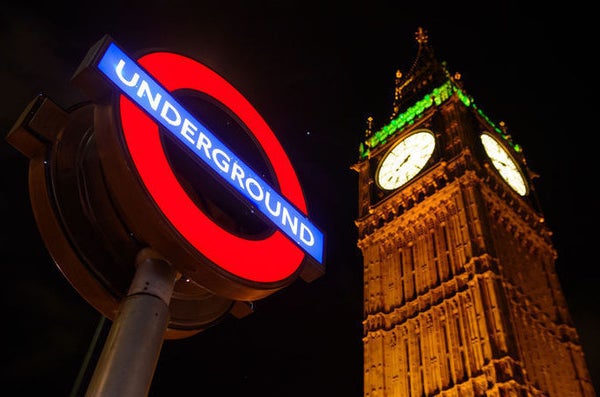 The number of arrests for indecent sexual behaviour on London's trains, tubes, and buses increased 40% last year, Transport for London (TfL) has revealed.
There were 438 arrests between April and December 2015, TfL said, compared with 311 during the same period in 2014.
Police also received 1,603 reports of indecent sexual behaviour on the transport network – including rubbing, groping, masturbation, leering, and sexual comments.
The number of complaints was up 36% from 1,117 the previous year.
TfL said greater efforts to encourage victims to report crimes via its "Report it to stop it" campaign, launched in 2014, had contributed to the rise.
The campaign was launched after it was claimed up to 90% of alleged incidents go unreported.
Today's figures also follow a report by BuzzFeed News that revealed reports of sex attacks on the tube had trebled in five years.
Five-year data, obtained from the British Transport Police through a freedom of information request, revealed a steady rise in instances of criminal sexual behaviour being reported on London's busiest transport network.
It showed there were nearly 2,000 reports about unwanted sexual behaviour on the London underground since 2010, 11 of which were reports of serious sexual assaults involving penetration.
The overwhelming majority of reported victims were adult women, though the figures included offences against 58 men and 23 children over the period.
BuzzFeed News developed a guide to reveal which stations had the most reported instances of unwanted sexual behaviour.
Paul Curry for BuzzFeed News / Via buzzfeed.com
Use our interactive tool to see how safe your commute is.
Chris Applegate for BuzzFeed News / Via buzzfeed.com
Use our interactive tool to see how safe your commute is.
Superintendent Chris Horton from the British Transport Police said: "Tackling all forms of unwanted sexual behaviour on public transport is an absolute priority for the BTP and we have worked hard in recent years to send a clear message to victims that they will be taken seriously and we will investigate offences.
"Despite the improved confidence in reporting we have we will continue to encourage people to report any form of behaviour that makes them feel uncomfortable – that could be rubbing, leering, sexual comments, indecent acts, or more serious sexual assault.
"We take every report of unwanted sexual behaviour seriously and our specially trained officers work hard to find those responsible, by speaking with witnesses and reviewing the extensive CCTV available to us on the rail network.
"If you are a victim of an offence, call the BTP on 0800 40 50 40 or text us on 61016. In an emergency, always call 999."