A National Lottery advert which claims there is more chance of winning a lottery game than finding a missing cat has received 70 complaints, the Advertising Standards Authority has confirmed.
The short video, which has only appeared online, shows a woman putting up a poster of her missing cat next to a busy road, with the words "no chance" appearing on the screen.
It then cuts to her playing the National Lottery app, which the ad claims there is a 1 in 4 chance of winning.
Viewers have taken to the National Lottery's Facebook page to express their anger at the clip, with some calling it "disgraceful" and "vile".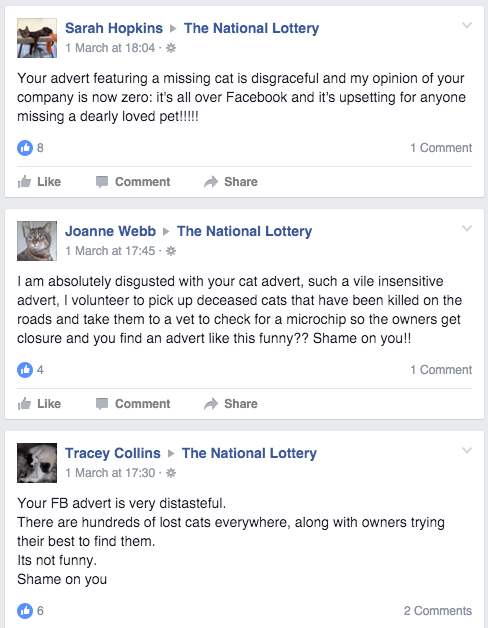 Responding to the criticism, National Lottery operator Camelot said in a statement:
The ad in question is one of a series of six different ads for our GameStore range of instant win games. Shown only on certain online channels and video-on-demand services, we wanted the campaign, which finishes this month, to come across as tongue-in-cheek and not to be taken too seriously.

The ad in question is entirely fictionalised and no cats actually appeared in it. Nonetheless, we are aware that a small number of people are unhappy about the ad and we're really sorry if we've unintentionally caused any offence or distress. We will certainly pass their feedback to the relevant teams here.
The UK's ad watchdog told BuzzFeed News it is now assessing whether there are grounds to officially investigate the advert, which is still live on YouTube.