Sadiq Khan Has Just Banned Body-Shaming Adverts From London Buses And The Tube
"No one's confidence or body image should be undermined," the London mayor said.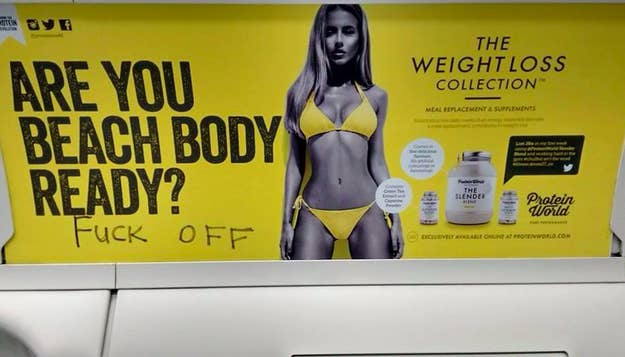 London mayor Sadiq Khan has banned adverts that could cause body confidence issues as part of new plans to "strengthen" Transport for London's (TfL) advertising rules.
He said he was "extremely concerned" about advertising that could demean people, particularly women, and make them "ashamed of their bodies" as he announced the move on Monday.
"Nobody should feel pressurised, while they travel on the tube or bus, into unrealistic expectations surrounding their bodies and I want to send a clear message to the advertising industry about this," he said.
As a result he will work with TfL and a new steering group to assess adverts with a view to preventing campaigns such as Protein World's widely criticised "Are you beach body ready?" billboard from appearing across the transport network.
The advert, which featured a slim woman in a bikini to promote its weight-loss supplements, received thousands of complaints, with the image widely parodied and defaced.
The move was broadly welcomed online after Khan tweeted the news.
However, some people took the piss and said he was a "cry baby".
Others went a step further and accused him of trying to introduce "Muslim values" to TfL and said he was in fact "banning adverts of uncovered women" by stealth.
Some criticised Khan, meanwhile, for failing to freeze all TfL ticket prices, which was a key election pledge.
TfL and Khan said the new rules would be introduced next month.
Graeme Craig, TfL's commercial development director, added: "Advertising on our network is unlike TV, online, and print media. Our customers cannot simply switch off or turn a page if an advertisement offends or upsets them and we have a duty to ensure the copy we carry reflects that unique environment.
"We want to encourage great advertising that engages people and enhances the transport network."
The company will run a steering group to assess proposed adverts and whether they could reasonably be seen as likely to cause pressure to conform to an unrealistic or unhealthy body shape, or as likely to create body confidence issues.