Police have arrested two men and a boy in connection with a hate incident on a tram in Manchester after footage of it appeared online.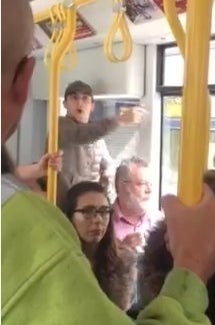 Greater Manchester police said they had arrested a 16-year-old boy and two men aged 18 and 20 on suspicion of affray. They remain in custody.
Chief Inspector Gareth Parkin said: "I would like to thank the public for their help and support in this investigation, which has led to the swift arrest of these three people.
"All hate incidents are treated with the upmost severity and this behaviour will not be tolerated in Greater Manchester."
In the footage, recorded by an onlooker on Tuesday morning, a group of young men can be seen telling a man to "get back to Africa" and throwing beer at him after he had confronted them for swearing.
The group are then seen approaching the man, prompting other shocked passengers to jump to his defence, labelling the young men "an absolute disgrace".
"I spent seven years in the military," the man can be heard saying in the video.
Police had earlier said the incident was a "disgusting display of abuse" and urged anyone who recognised the men to come forward.
Since the result of the EU referendum, there has been a growing number of reports and incidents of hate crime shared on social media.