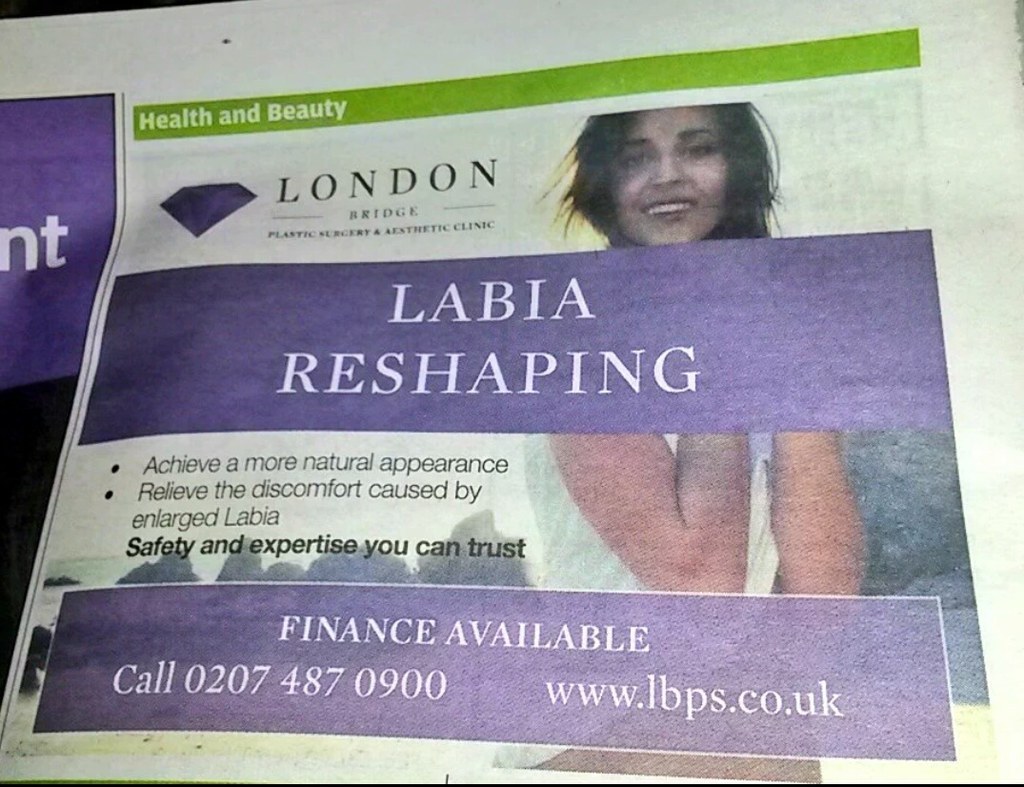 An advert that promoted surgery to help women achieve a "more natural [vagina] appearance" has been banned by the UK's advertising watchdog.
The print ad, for the London Bridge Plastic Surgery clinic, featured in the Metro newspaper in February and stated "LABIA RESHAPING. Achieve a more natural appearance" and "Relieve the discomfort caused by enlarged Labia".
Labiaplasty is a surgical procedure to reduce the size of the labia, that is most frequently carried out in private clinics for "cosmetic" reasons, according to the NHS website.
The Advertising Standards Authority said the advert "implied that the pre-surgery labia might be somehow 'unnatural' in appearance" and that it therefore was not socially responsible.
"It was irresponsible to imply that any part of a person's body was not natural in appearance," it said.
The clinic, which charges £3,700 for the procedure, defended the ad, and told BuzzFeed News: "We never impose on our patients our views of what natural is and never tell a patient what is normal. It is our patients who ask for a more natural or normal appearance and it is our role to tell them what or what is not possible."
On the clinic's site, it says that the surgery can "restore the appearance of the labia and improve self-image and self-confidence" and that 100% of the people who undergo the procedure are concerned about the aesthetic appearance of their labia.
However, a spokesman said that in ten years of carrying out the procedure it had only once done so when the patient came for cosmetic reasons; on the other occasions patients were "suffering with this condition for various reasons."
According to the clinic's site, these can include discomfort in clothes and while doing sport.
"There will always be people who will be offended but we put our patients safety and welfare before anything else," the spokesman added.
Women have 91% of all cosmetic surgery procedures in the UK, according to the British Association of Aesthetic Plastic Surgeons. The number of cosmetic surgery procedures also increased by 13% last year, according to figures from the body.