Some holidaymakers have had their plans dashed after the organisers of a summer-long "wellness" island festival in Croatia cancelled accommodation at late notice because of overbooking on the island.

Obonjan is a private island in Croatia that has been leased by the promoters behind the Hideout and Unknown festivals, along with Croatian investors, in order to host an annual summer-long, night, arts, music, and lifestyle event with DJs, wellness workshops, and yoga. Accommodation includes bell tents and sea-view forest lodges for up to €289 per night.

It labels itself Europe's dedicated arts and wellbeing island and is marketed as an idyllic getaway. But it has faced a range of problems since opening in 2016.

One disgruntled customer, 19-year-old Polly Rose, tweeted to express her disappointment after her trip was cancelled this month, a week before she was due to arrive in Croatia.

She told BuzzFeed News that she and three friends were "really excited" about going to the island, until the booking was cancelled.
She tried for two hours to get through to customer services, she claimed, and when a person called back, "the man on the phone said the island has been booked out by a partner company through another booking platform and they've only just seen this overlap".
In correspondence sent to her by the company it states that her booking was made available "in error".
Another person, who did not wish to be named because they were in the process of being compensated, said customer services in London "let slip" that a "company had booked the whole island and they had made a mistake and overbooked".
The last-minute cancellation "seemed strange" because there had been "emails going back and forward up to that time, about finer details" of the booking, they said.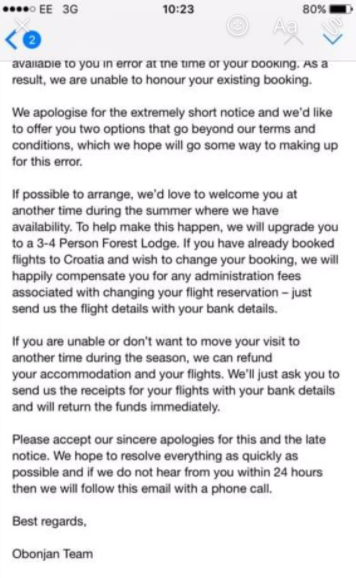 A search online reveals Obonjan has in the past been rented out to entire corporate events, including a global summit in May.

Obonjan confirmed in a statement to BuzzFeed News that it did take corporate and group bookings through the season "and in this instance the accommodation was misallocated" owing to "an overbooking issue in our reservation system".

But it declined to confirm whether any reservations had been cancelled to make way for a large corporate booking, or whether any large group booking had preceded other customer reservations.
"Unfortunately a small number of guests due to stay with us between the dates 23 June and 2 July have had their holiday affected," a spokesperson said. "We are in the process of contacting and compensating each person."

BuzzFeed News phoned Dan Blackledge, Obonjan's organiser, and gave him the opportunity to respond to questions.

Speaking from Croatia, he said, "We've given you a statement and that's all we're going to give you.
"You can go and speak to all the customers individually, and see what
they tell you but you won't be getting any more answers out of us."
Customers had, he said, now been compensated and were happy with how cancellations had been dealt with.
BuzzFeed News understands customers have been compensated with offers including free upgrades, free stays at a later date, and free treatments and meals.

Customers described how they were "appalled" when they first learned of their cancellations.

Some tweeted the company or commented on its Instagram posts to make similar complaints, with one person saying they were due to be on honeymoon on the island when their booking was cancelled.
Obonjan boasts of a flurry of positive press reviews on its website, including one that states "we wouldn't mind being stranded on this island".

But when it opened last year, disgruntled customers instead labelled it "an utter shambles" and accused it of being "chaotic" in its opening weeks.

BuzzFeed News reported year that holidaymakers were left stranded in Croatia after organisers were forced to text, email, and call guests to deliver the news overnight that the opening had been delayed by five days owing to power supply issues on the island.

Due to the late notice, some ticket holders who spoke to BuzzFeed News were already in Croatia and complained of being able to get in touch with the company and of slow refunds.

People who did make it there claimed that while they did enjoy the holiday, food and supplies including cigarettes had been scarce, with restaurants overloaded, running out of gas, and struggling to cope with the demand.

Obonjan at the time acknowledged to BuzzFeed News that the company had been overwhelmed and apologised for delays in responding to guests. A spokesperson said the decision to postpone was "extremely disappointing" and "heartbreaking".

One person who had their booking cancelled this year added: "After all their issues they had when they opened in 2016, we had naively thought they would have ironed them out this year but obviously it appears not."
Commenting on the late cancellations, an Obonjan spokesperson added: "We are deeply sorry for the inconvenience this has caused some of our guests, and are doing everything we can to make it up to all those affected."