People Are Turning To E-Cigarettes Instead Of Quitting Smoking This New Year
Data seen by BuzzFeed News has revealed a sharp increase in the number of people switching to e-cigarettes – and major tobacco firms are cashing in.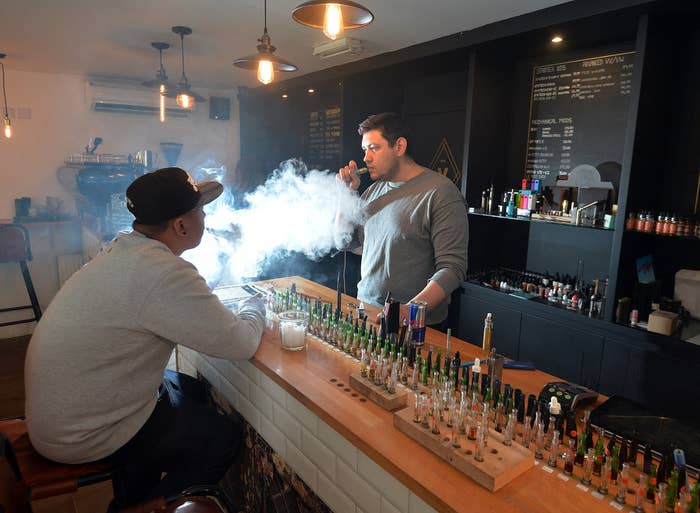 British smokers are switching to vaping in rapidly increasing numbers, according to exclusive data seen by BuzzFeed News that reveals that e-cigarette sales rocketed 24% in 2015.
As Public Health England launches its annual anti-smoking campaign, the data, from market research firm IRI, shows that rather than trying to quit completely, smokers are opting for e-cigarettes rather than tobacco alternatives such as patches. One million fewer quit-smoking aids were sold in the UK in 2015 than the previous year.
Sales of one e-cig brand, Blu, grew 347% this year after being snapped up by Imperial Tobacco.
Once the preserve of small-time entrepreneurs, the vaping market is now dominated by giant tobacco manufacturers who own each of the top five best-selling brands, the IRI data shows. The owners of Marlboro, Camel, and Richmond are among those cashing in.
The involvement of tobacco giants has added to fears about the long-term health effects of vaping. While experts agree unanimously that tobacco is toxic, there is a lack of agreement on the potential harmful effects of e-cigarettes, which can be flavoured to taste like almost anything from mint to "peach breeze".
While e-cigarette manufacturers dismiss the concerns as scaremongering, studies linking vaping to cancer have been popping up frequently over the past year, and some scientists have said there is an alarming lack of evidence either way.
Most recently a study by Veterans Affairs San Diego Healthcare System found two popular brands contained toxins that could spark tumour growth. Other studies have produced similar findings, though these have often been criticised for being too narrow to be credible.
In this context the involvement of big tobacco firms in vaping leaves a bitter taste in the mouth for many – including Public Health England, which gave e-cigarettes a stamp of approval in August with a report claiming they are 95% safer than tobacco.
"We share the concerns of our public health partners about the involvement of the tobacco industry in the manufacture of e-cigarettes," Martin Dockrell, head of tobacco control at Public Health England, told BuzzFeed News.
"However the health of smokers has to be the primary consideration. We want to see smokers provided with a choice of safe and effective e-cigarette products that they want to use to quit smoking for good."
The concern shared among expert bodies is that "big tobacco" should not have a monopoly on the market. But on the flipside, there is a general acceptance that, next to smoking, e-cigarettes are the lesser of two evils.
Ash, an anti-smoking group founded by the Royal College of Physicians, argues e-cigarettes are a safer "route out of smoking", but acknowledges there is a question mark over the involvement of tobacco companies that rely on people smoking cigarettes.
"Given the high level of health risks from smoking, any reduction in consumption is beneficial, although quitting completely is obviously the ideal," said Ash spokesperson Amanda Sandford, though she noted it was clear tobacco companies had a "vested interest in keeping people smoking because that's how they stay in business".
But because the long-term effects of vaping are still unknown, some experts are uneasy about advocating their use altogether.
Martin McKee, professor of European public health at the London School of Hygiene and Tropical Medicine, dismissed Public Health England's estimate that e-cigarettes are 95% safer as having "little credibility".
"We simply don't know if e-cigarettes are safe, but there is considerable reason for caution," he told BuzzFeed News. "They contain many products such as food flavourings, whose long-term effects when inhaled are completely unknown."
"Given that the business model of the tobacco companies, which now dominate the e-cigarette market, is to keep selling cigarettes, there are certainly major grounds for concern. If they were [part of the solution] they would just stop manufacturing cigarettes and only make e-cigarettes. But they won't."
McKee's fear is that tobacco manufacturers are using e-cigarettes to help "rehabilitate their reputation", but that in the long term they will remain committed to funnelling money into growing tobacco smoking.
He also points to recent TV advertising of e-cigarettes such as Vype and Kik and the impact it has had on "normalising" smoking.
It has been illegal to promote tobacco since the 1990s, but e-cigarette manufacturers are enjoying a loophole while regulators catch up.
Any sales benefit will be short-lived, however, because legislation will ban advertising from May 2016 when e-cigarettes will be classified as tobacco-related products under the EU Tobacco Products Directive.
From 2016, e-cigarettes that make health claims will also need to be licensed as a medicine, meaning the NHS could soon start making them available on prescription, a move that McKee warns could ultimately line the pockets of the tobacco manufacturers that own them.
The Tobacco Manufacturers' Association, which represents cigarette companies in the UK, was contacted by BuzzFeed News for comment, but had not responded by the time of publication.
Tom Pruen, chief scientific officer at the Electronic Cigarette Industry Trade Association (ECITA), defended e-cigarettes as a safe way to stop smoking and said moves to regulate them further would damage the diversity of the industry.
"ECITA takes the view that switching to e-cigs is giving up," he said. "The vast majority of the harm caused by cigarettes is caused by the smoke – this is the important thing to avoid, and reducing or stopping nicotine use is much less important, particularly if continuing to use an e-cig avoids the risk of relapse to smoking."