Fresh flooding is expected to hit Cumbria, south and central Scotland, and Northern Ireland on Tuesday night as Storm Frank brings heavy rain and high winds across northern regions.
The Environment Agency has 51 weather warnings in place, including nine severe flood warnings for areas where there could be a threat to life, with gales and downpours expected from 9pm on Tuesday.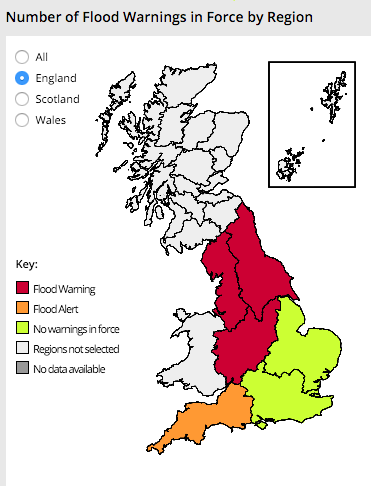 As residents braced themselves for gales of up to 80mph, Environment Agency teams were deployed to areas most at risk. Environment secretary Elizabeth Truss, who chaired a meeting of the Cobra emergency committee on Tuesday morning, warned communities in Cumbria, Lancashire, and Yorkshire to remain vigilant.
Floods minister Rory Stewart, who represents a Cumbria constituency, said he was "very concerned" about the prospect of more heavy rainfall.
"I'm now working my way across Yorkshire, heading back up to Cumbria," he told BBC Radio 4's Today programme. "People have barely had a break for three and a half weeks because this has been going continually since early December.
"There's another front coming in, there could be more flooding again so we really need emergency services, voluntary groups, mountain rescue to rest to be ready for what could be a very bad situation Wednesday, Thursday."
With the storm expected to sweep through parts of the country through Wednesday the head of the Environment Agency, Sir Philip Dilley, who has been on holiday since the storms hit last week, is returning to the UK from the Caribbean.
According to the Met Office, Storm Frank will first hit Northern Ireland tonight before progressing across northern England and central Scotland.
The worst-affected places are expected to include Yorkshire, Cumbria, Merseyside, and Chester.
Scotland has one flood warning, around Glen Lyon in the Perth and Kinross region, and a further 14 alerts that flooding is possible.