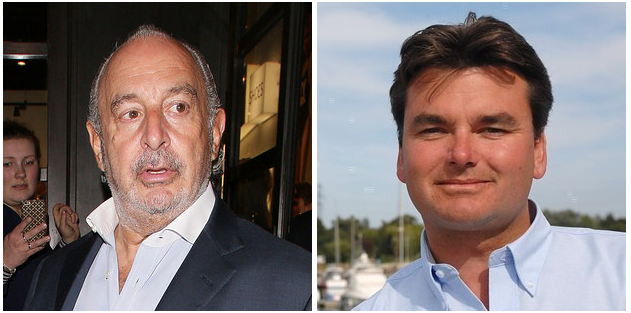 The Serious Fraud Office (SFO) has said it is "reviewing material" on BHS after MPs handed it unpublished evidence gathered as part of a House of Commons business committee inquiry into the collapsed retailer.
Franks Field MP, co-chair of the parliamentary inquiry into the sale and failure of BHS, revealed on Friday that he has met the SFO, which investigates complex fraud, to "discuss the sale of BHS and [former owner] Sir Philip Green".
Field said he had concerns over the "rushed sale" of the business, which was sold for £1 in March 2015 to a little-known investor, Dominic Chappell, with no retail experience. In addition, he said billionaire Green "personally drove it [the sale] through".
The discussion with the SFO, Field said, centred on concerns over assurances made about Chappell's firm, Retail Acquisitions, and the extent to which the pension trustees and board members of both companies were aware of funds being brought to the deal.
During the course of the inquiry, led by both the business, innovation, and skills and work and pensions committees, MPs challenged whether Retail Acquisitions had enough money or experience to run the business – which collapsed in June.

"I was reassured by the tone of the discussions and the approach the SFO is taking," said Field. "They of course operate independently and we assured them again of our absolute non-interference: We will simply send them all the evidence we have not published to consider and use as they will."
The SFO told BuzzFeed News: "If the director considers there are reasonable grounds to suspect serious or complex fraud which meets his criteria he will open a criminal investigation."
The meeting follows a stinging report into the events that led to the collapse of BHS, published last month. It investigated the events that led to the liquidation of BHS, which resulted in the loss of up to 11,000 jobs and 20,000 hanging in the balance.
"Sir Philip Green drove the deal forward. He sought to sell a chain that had become a financial millstone and threatened his reputation," the report concluded.
The report was also critical that many of those closest to the decisions that led to the collapse of BHS have walked away "greatly enriched" despite the company's failure. The saga represented "the unacceptable face of capitalism", it said.
Field has been locked in a public spat with Green, who unsuccessfully called for the MP to resign from the inquiry when it was in motion and has since accused him of having "disgusting standards" and seeking to create a "false narrative" about his role in the collapse of the company.
A spokesman for Green declined to comment.