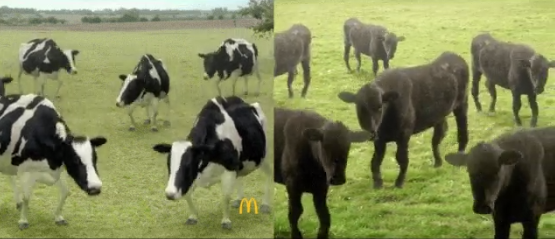 McDonald's has pulled a TV advert airing in Latin America after a British animator pointed out similarities with a video he made six years ago.
Cyriak Harris shared a GIF from his video – which was created in 2010 and has been viewed more than 39 million times – alongside a section of the advert.
He accused McDonald's of "copying" his work in a tweet retweeted 12,000 times and liked more than 19,000 times.
McDonald's confirmed to BuzzFeed News on Wednesday that the advert has now been pulled.
And this is a still from the McDonald's advert, which has now deleted from Vimeo, showing similar distinctive bendy knees.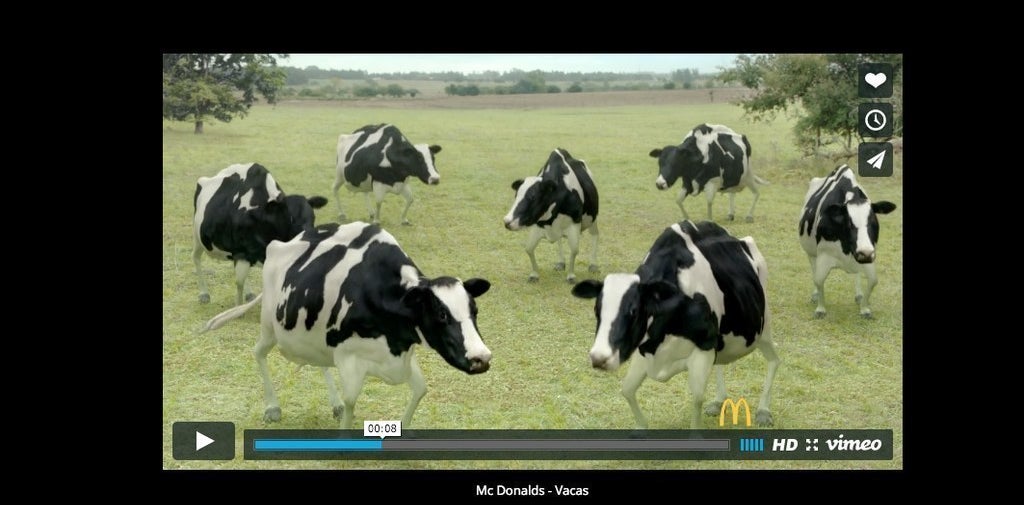 Harris told BuzzFeed News he discovered the advert after someone tweeted him the link.
He said he had also seen an online forum where the creators of the advert, from a production house called JuanSolo, appear to be discussing the similarities themselves.
Here is a screenshot of the comments, made on a forum. An ad agency director appears to have said his client "loved" the reference to Harris' work.
"Actually Cyriak was the reference for this Spot [advert],"said Leandro Pedrouzo, a director from JuanSolo, the company that made the clip for McDonald's.
"The director and I wanted to go a bit more realistic but the client loved the [reference]."
After Harris tweeted the resemblance, some followers accused McDonald's of "just adding spots to the cow" and called on the company to pay him for his work.
Harris told BuzzFeed News it was "frustrating" and that he felt it was "blatantly referencing the original."
"I've had a few things like this happen over the years, even previously with McDonald's," he claimed.
He showed BuzzFeed News an animated GIF he had created, and then another McDonald's advert that he said copied the design.
He also claimed his work had also been used in this 2008 advert for McDonald's Sweden.
Harris's website shows he made the original GIF in 2007.
But the agency behind the 2008 clip, DDB Stockholm, said at the time that it was a coincidence.
"We have never seen your clip before," a senior exec said in an email to Harris.
"Why would we steal a beard coming out of a beard when we can do whatever we want for this campaign? Pure coincidence that the technique used for this is the same as yours, but claiming the idea 'a beard coming out of a beard' as your own? That's bizarre."
But Harris insists it is common for agencies to use his and others' work as inspiration.
"In general they get away with it because it is expensive and stressful to fight back, and because they are re-creating the visuals it is often no more than a similarity, even if it is blatantly referencing the original," he said.
DDB Stockholm declined to comment, but the advertising agency responsible for commissioning the cow advert for the Latin America McDonald's franchise, DPZ&T, told BuzzFeed News it was "common to use creative references in the advertising industry" and defended the work.
A spokeswoman said that the agency had come up with the idea before seeing Harris's viral hit.
She did acknowledge, however, "that in this particular case, the final result shows some similarities with the work of the artist in question."
Therefore the advert had been removed from air and the agency had reached out to Harris to "resolving the issue as soon as possible amicably".
"The frustrating thing is that in an ideal world artists and advertisers form a symbiotic relationship where each helps the other," Harris said. "And I've done plenty of work for advertisers who uphold this point of view."
BuzzFeed News reached out to McDonald's but the company declined to comment. JuanSolo had not responded at the time of writing.