In 2016 John Lewis became the first major UK retailer to ditch gender-specific labelling on its clothing range for boys and girls.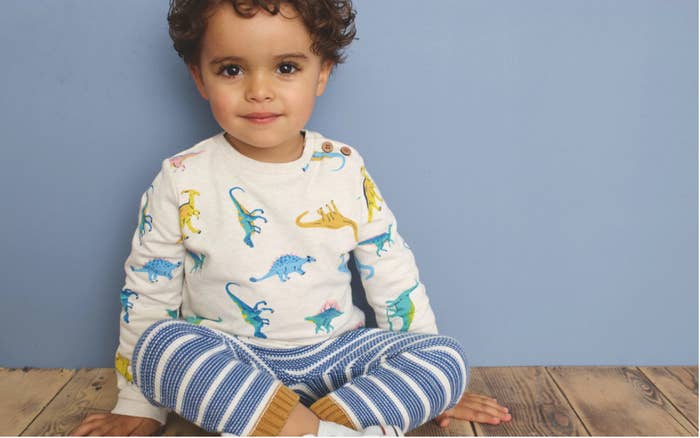 That meant all the clothes were labelled "for boys and girls" or "for girls and boys", and the retailer removed gender-specific signs from its children's departments in stores.
Campaigners have long been calling for brands to end stereotyping: Clarks faced a backlash last month after one parent complained shoes aimed at girls were not as sturdy as those aimed at boys. Gap was also criticised after marketing material for one of its T-shirt ranges called girls "social butterflies" and boys "little scholars".

But this weekend the Daily Mail noticed the change.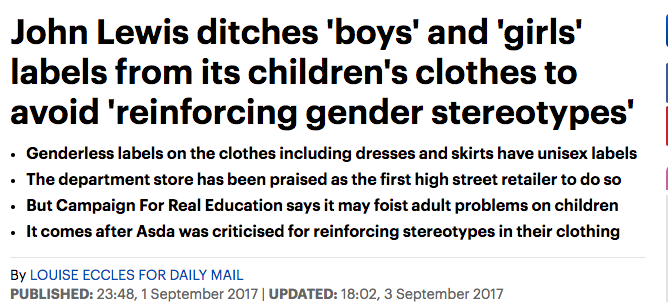 And since then some people have lost their shit over the move, accusing the retailer of "pandering to the PC brigade".
Others, however, have leapt to the retailer's defence, describing the initiative as a victory for "common sense".
Let Clothes Be Clothes, a group that campaigns for gender-neutral clothing, praised John Lewis.
Francesca Mallen of the campaign group said: "When you see science and engineering are pitched at boys and looks and being beautiful being pitched at girls there's something really wrong there. They are messages that retailers shouldn't be pushing on our children."
In a statement, a spokesperson for John Lewis said the company was surprised by the sudden furore over its labels.

"We're surprised by the reaction these changes have received this weekend because they were introduced over a year ago," the statement said.
"We want to provide greater choice and variety to our customers so that parents or children can choose what they would like to wear."
But as with all John Lewis controversies, the person who deserves most sympathy is the real John Lewis, of Blacksburg, Virginia, who has once again found himself on the receiving end of tweets from people furious with the retailer.