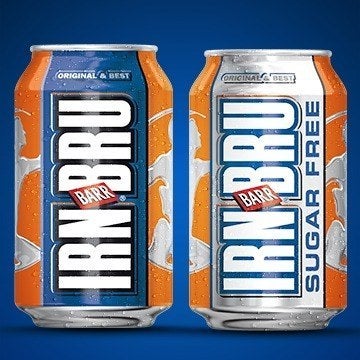 AG Barr, which makes Irn-Bru and Rubicon, said in its annual results on Tuesday that it would continue to strip out sugar from its brands in line with changing consumer tastes.
The company reported sales for the year to 30 January 2016 were down marginally on 2015 (0.8%) from £260.9 million to £258.6 million, with profits up 7%, and said it delivered a "credible" performance in a tough market.
Posting its results AG Barr revealed that to "ensure success in the UK" it would now focus its marketing efforts on low- and no-sugar variants and would also "substantially" reduce the sugar in its drinks to reflect the changing preferences of shoppers.
It had already reduced the calories by 8.8% over four years, it said, and expected to go further.
"We anticipate the scale of this change to accelerate over the next year as we reduce our overall exposure to high-sugar products where appropriate," the company said, though it did not disclose by how much it planned to reduce sugar or for which brands.
"We remain convinced that our decisive actions, and the progress we have made to date, demonstrate that we are playing an important part in addressing the complex and very important UK consumer health issues."
CEO Roger White said changes in consumer tastes, for example towards lower- and no-sugar drinks, presented "challenges and opportunities in equal measure" but that he didn't expect market conditions for soft drinks to change substantially.
He said any financial impact of the sugary drinks tax – a measure announced in chancellor George Osborne's Budget earlier this month – would be minimised because people were loyal to its brands.
Pressure has been building on soft drinks manufacturers to reduce the amount of sugar in their beverages. Health campaigners have long been calling for a sugar tax.
Jamie Oliver, who has also campaigned on the issue, told BuzzFeed News in an exclusive interview on Friday that introducing the tax is the first time the government has proved to the food industry it has "bollocks".
He also said the tax, which excludes milkshakes, fruit juices, and smoothies, should include any drinks with added sugar.