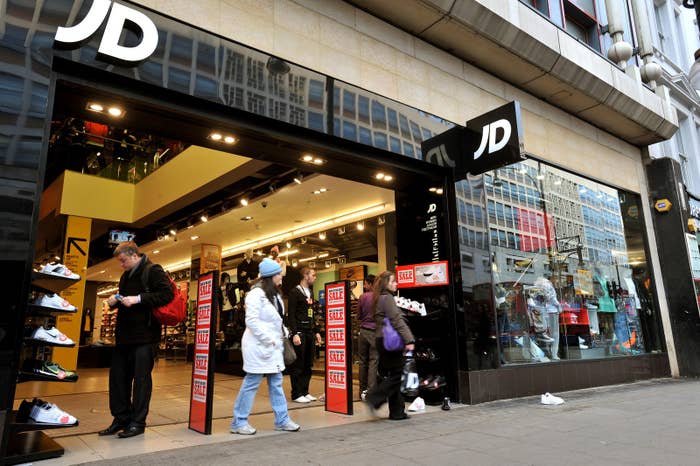 The MP Iain Wright, chair of the business, energy, and industrial strategy committee, has said he wants to question JD Sports over allegations of "undignified" working conditions at the sportswear brand's Rochdale warehouse.

Wright, who is chairing an upcoming parliamentary inquiry into modern working conditions, made the comments in response to a Channel 4 undercover investigation which uncovered allegations of poor staff conditions.

In a programme to be aired on Wednesday night, Channel 4 News will claim that workers in Rochdale face poor working conditions.

It will allege that workers can be dismissed at short notice, are subject to rigorous security searches, that agency staff are "effectively paid below the minimum wage" and that the warehouse operates a "3 strikes and you're sacked policy".

The Channel 4 News undercover footage claims to shows a team leader boasting of dismissing workers on the spot for exhaustion.
Iain Wright told the programme he believed there were parallels with Sports Direct, which has faced a catalogue of accusations over working conditions. The investigation follows a series of media exposés into working conditions at companies including Asos, Hermes, Amazon, Uber, and Deliveroo.

"I would like to see JD Sports in front of us," he said. "But what really worries me if I'm honest, [is that] this is getting to be a longer and longer list.

"The number of company bosses that have to explain their actions and explain their working practices, and explain why they use agencies that exploit that abuse, is really getting longer.

"I think there is a cultural and structural issue in Britain. We treat our low-paid workers in this country like scum. We don't give them any dignity or respect."

Wright also previously told BuzzFeed News that Asos "should be looked at" as part of the committee's forthcoming Future World of Work inquiry into employment structures, to be launched in January.

He made the comment in response to a three-month BuzzFeed News investigation into the firm's Barnsley warehouse that uncovered allegations around the use of annualised and agency contracts, an overbearing security regime, and stressed workers at Asos's warehouse in Barnsley, which the company said are "inaccurate".

BuzzFeed News contacted JD Sports, which said in a statement:

"A number of Channel 4's key claims are simply not true. Most importantly, we categorically do not operate a 'strike' system and our workers cannot get fired 'on the spot'."

A spokeswoman said the company had a "fully outlined" disciplinary procedure and appeal process in place and that its time and attendance "system" was designed to ensure all workers are paid for the time it takes to go through security on leaving the site. It said it paid all employees in full "who are up to 15 minutes late on arrival".

She added: "It is very disappointing that Channel 4 have not taken account of our detailed response, including factual evidence, which clearly stated this."