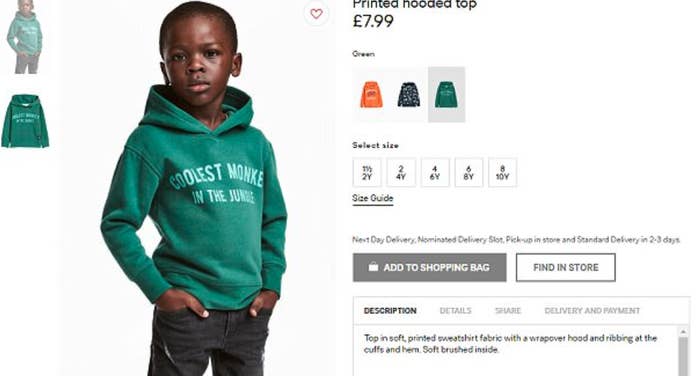 H&M has been forced to apologise and remove an image of a black child wearing a hoodie with the word "monkey" on it from its website after customers called for a boycott.

The fashion retailer used the image of the child modelling a jumper with the slogan "coolest monkey in the jungle" on its websites in the UK and US.
Several customers tweeted to say the company had "missed the mark" and called the choice "racist" and "irresponsible".

Others called for a boycott of the company, while some questioned who had signed off on the idea, pointing out that comparing black people to monkeys has long been used as a racial slur.

H&M has since changed the advert to feature only a jumper without anyone wearing it. However, accusations followed that the response came too late, with others calling the apology "empty".
An H&M spokesperson told BuzzFeed News in a statement: "This image has been removed from all H&M channels and we sincerely apologise for any offence this has caused.
"It was never our intention for this image to be perceived in this way and we will be reviewing our internal routines to ensure that such a misjudgement does not happen again."