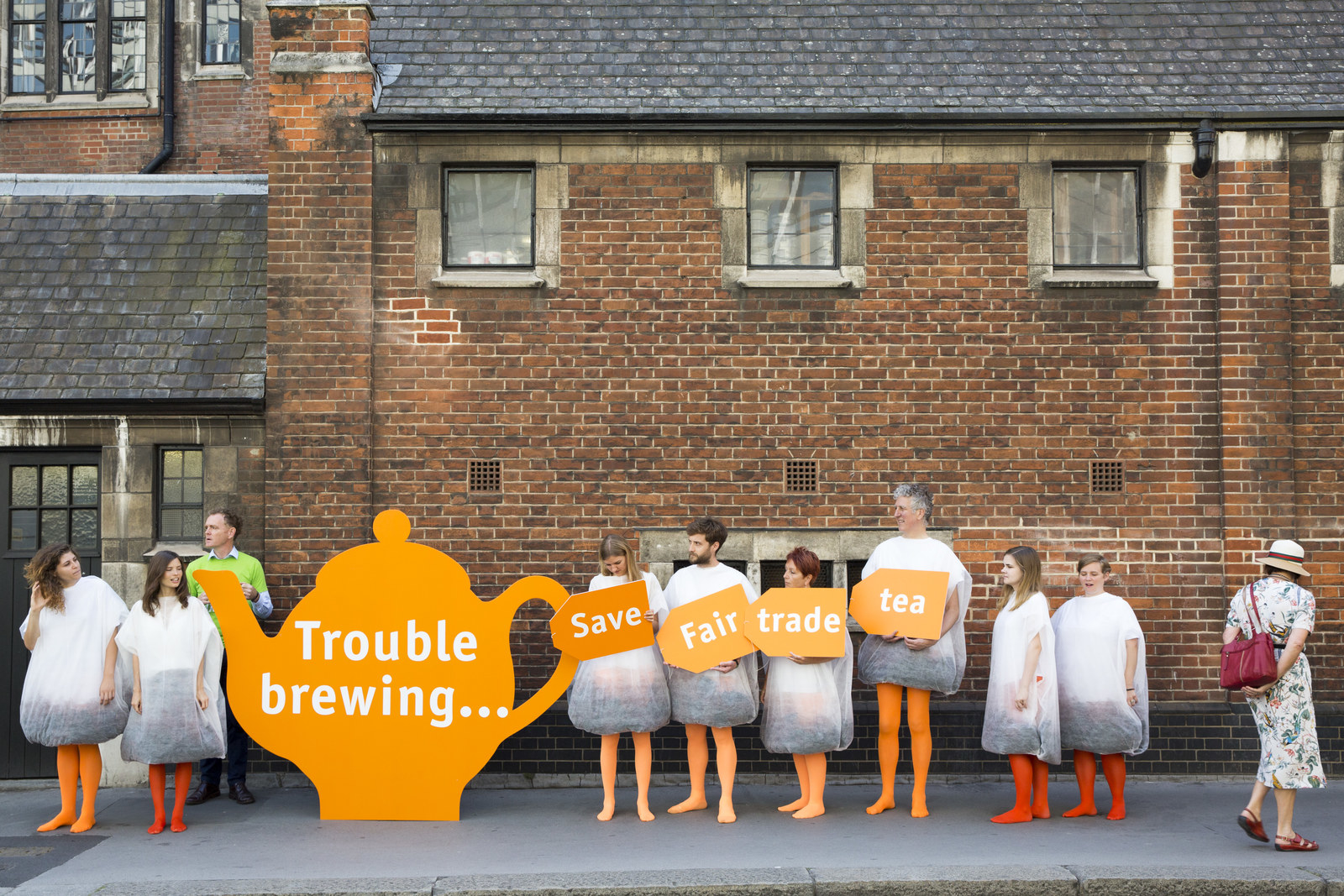 A row has erupted between Sainsbury's and Fairtrade, Oxfam, and the charity CAFOD after the supermarket dropped the Fairtrade logo from its own-brand tea range.

Campaigners dressed in giant teabags protested outside Sainsbury's annual general meeting on Wednesday over the supermarket's decision to replace the logo with its own new mark, called "Fairly Traded".
Oxfam and CAFOD – founding members of the Fairtrade movement – arranged the protest and have accused Sainsbury's of placing "a lifeline to poor tea producers and farmers" under threat by taking its own-label tea out of Fairtrade.
The move will pile more pressure on Sainsbury's, which announced in May it had dropped the Fairtrade logo from its own-brand tea in an open-ended "trial". Thousands of people have already called on the supermarket to reinstate it.

Sainsbury's claims its Fairly Traded mark offers a better deal to farmers and would be independently audited. Campaigners are concerned that a self-managed scheme could be less transparent, and that the supermarket – the largest retailer of Fairtrade goods – could eventually ditch Fairtrade from other food products, such as bananas or cocoa.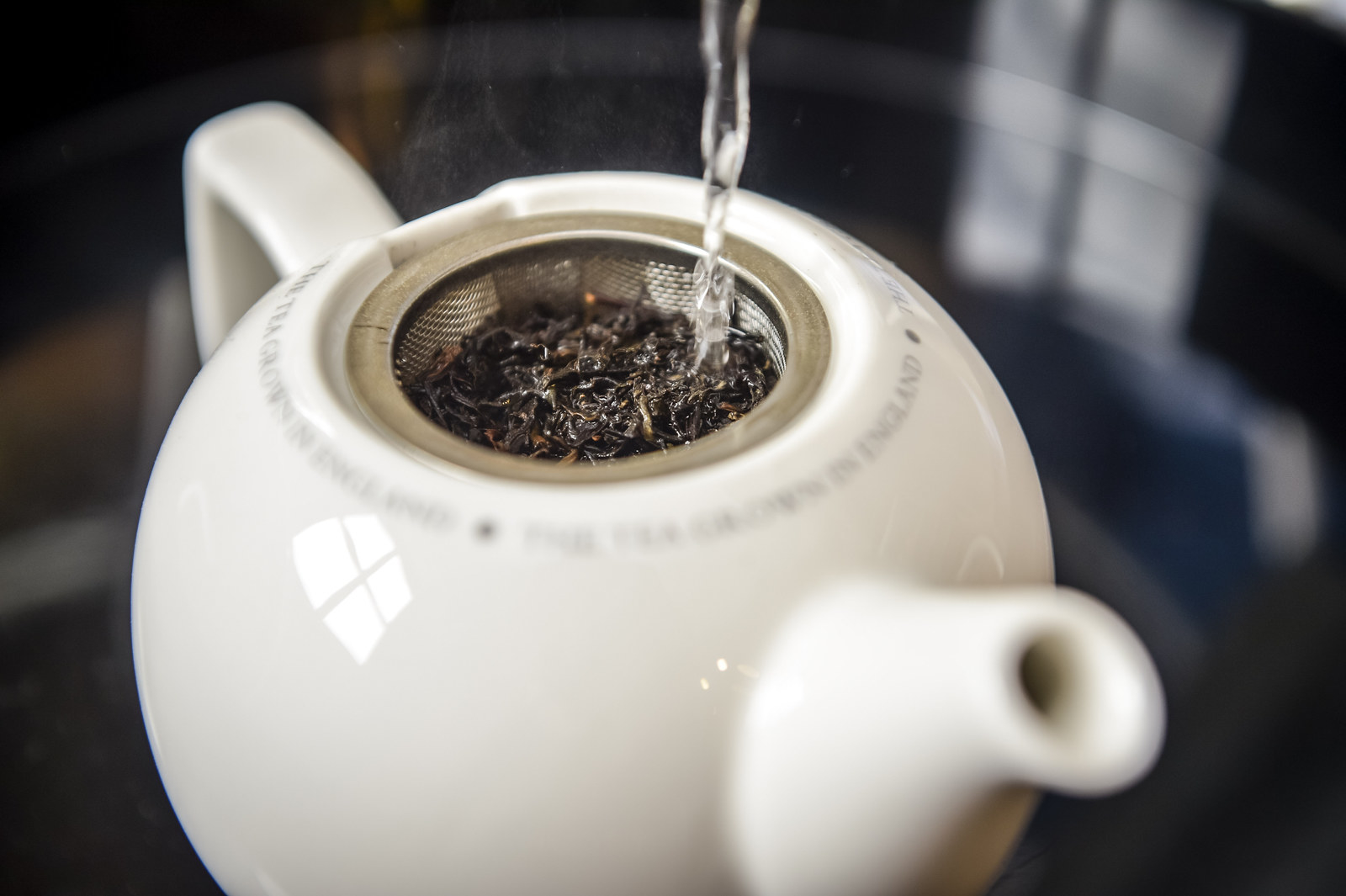 Retailers currently pay a premium on Fairtrade goods, which is then paid to cooperatives of small farmers. Those groups, ranging in size from hundreds to thousands of individual farmers, decide how the funds are spent. Fairtrade says the system is a "democratic" process and, in some instances, is used to fund hospitals and schools, or buy new crop varieties.

But Sainsbury's wants more control over the funds so that it can allocate them directly to farmers rather than it being decided via a cooperative. It said that arrangement, which is being trialled with Fairly Traded, would benefit farmers and enable them to have a closer relationship with the business.
Ethical trading was, a Sainsbury's spokesperson said, an important part of the supermarket chain's history. He dismissed any suggestion that the move was a "commercial decision" as "grasping at straws" because, he claimed, it would not save the business any money.
"Fairtrade haven't just found out that we're doing this," a spokesperson said. "But the fact is, the message [from Fairtrade] has been loud and clear: You do it our way or not at all."

He also accused Fairtrade of being motivated by self-interest because it would be missing out on a licence fee for the logo.

But CAFOD and Oxfam labelled Sainsbury's move as a "power grab [that] turns an effective trade partnership into old-school charitable grants".

Tim Aldred, head of policy and research at the Fairtrade Foundation, said he had concerns over a lack of detail and "transparency" about the Sainsbury's scheme, and said the issue of the premium payment structure was the crux of the "sad disagreement" between the supermarket and the NGO.

Aldred told BuzzFeed News farmers currently choose where to channel funds in a "democratic process" but fear if they moved to they system trialled by Sainsbury's, they would lose "a lot of control over that, and I think they feel it's a bit like having to reapply for your own salary".

"Sainsbury's believes that it can do a better job by taking control and directing how investments are made and we don't agree," he added.

"We were keen to work with them to see if we could support [their scheme] but we felt what they put on the table just doesn't feel like something we're able to support."

Responding to the supermarket's suggestion that the foundation was motivated by self-interest, he said: "We wouldn't risk a big public argument if we didn't think it was important, and neither would we do it just because of our organisation's self-interest – there are too many risks involved to take a step like that."
Sainsbury's told BuzzFeed News it would be "transparent" about the findings of its trial.