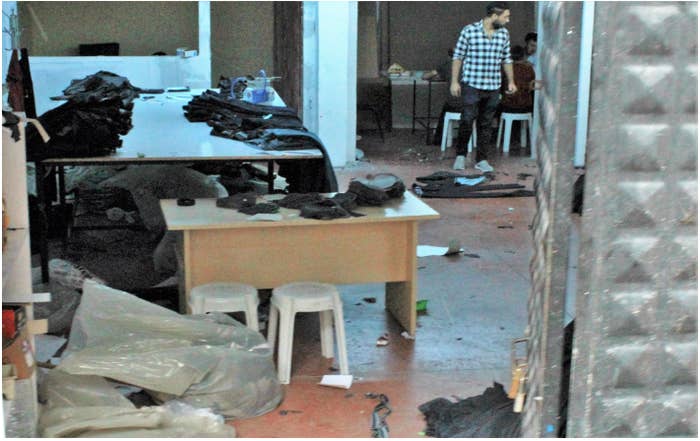 A report by a campaign group has said the exploitation of refugees is widespread across the Turkish supply chain and the problem of them being used in factories making clothes for the UK's biggest fashion brands is "endemic".
Yesterday a BBC Panorama investigation claimed garments for companies including Marks & Spencer, Zara, Mango, and Asos were being made by refugees working illegally and usually paid less £1 an hour.
Now a report by the Business and Human Rights Resource Centre has ranked 38 brands according to the steps they have in place to eradicate exploitation.
The report found that over the past six months, 10 brands, which it did not name, found unregistered Syrian refugees in their supply chain. It said there was a large gap between some forward-thinking businesses that were proactively tackling the issue and others that were lagging behind.
The Panorama documentary alleged that refugees making jeans for Mango and Zara had to spray hazardous chemicals to bleach them, even though most of the workers did not even have a basic face mask.
One factory supplying M&S was alleged to have employed a 15-year-old boy who worked 12-hour days ironing garments for the retailer before they were shipped to UK stores. In one workshop in Istanbul, the programme found several Syrian children hard at work and an Asos sample in the office.
BuzzFeed News reached out to the brands in question and all said they took the allegations seriously.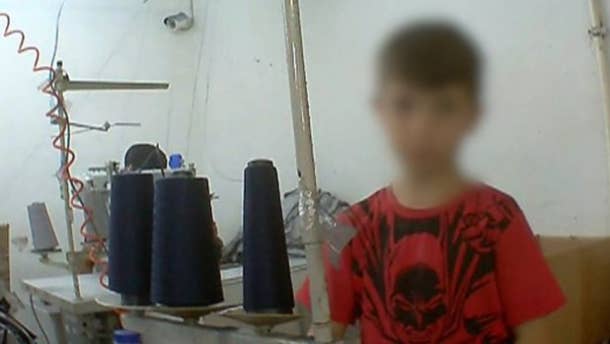 So why is this happening and who is to blame?
The refugee crisis stemming from the war in Syria has led to a huge influx of migrant workers in neighbouring Turkey, where an estimated 3 million refugees have fled.
A large number of Syrians are thought to be working in Turkey without work permits, meaning they are vulnerable to exploitation and often have little choice but to work in poor conditions, often in the garment industry, for less than the minimum wage.
Turkey is a major supplier of clothes to high street shops because its position in Europe means "fast fashion" can be delivered to the high street, Phil Bloomer, a director at the Business and Human Rights Resource Centre, said.
He blamed the rise in fast fashion for putting pressure on the supply chain and giving rise to the need for cheap labour on demand.
Brands typically deal with their major contracted suppliers in the country. But to cope with order fluctuations, those factories wuld often enlist smaller third-party factories to help them fulfil orders, and those factories can then also outsource some of the work. It is often at that point that refugee labour is introduced, Bloomer said.
While businesses say these workers are hard to find, he said, the Business and Human Rights Resource Centre was able to find them with relative ease on a recent research trip to Turkey – even though it was the same day as the failed July coup attempt.
And while all businesses did conduct audit inspections, he said, too often these would be announced inspections to suppliers to take place on a specified date, and only of "tier one" key suppliers – rather than the smaller, sometimes unofficial, factories and subcontractors.
"The majority of companies have yet to really do enough," he said. "This is a fast-fashion industry – there used to be four seasons for fashion, now every day there are new items on the rack and they behave like they are in intense competition.
"That message is passed right back to the supplier. The churn of fast fashion and demand for cheap labour is creating this."
What are brands doing to ensure workers are not exploited?
Brands including Asos, Gap, Tesco, and Primark have began to develop forward-thinking policies that identify unregistered refugees to help them get work permits – rather than dismissing them, which is "the worst outcome for their welfare", the report said.
New Look, Next, and Mothercare went further, with detailed plans that are triggered when a refugee is found to ensure they are protected and treated fairly, the report said.
Bloomer said UK brands had an important role to play in helping any refugees found in the supply chain to obtain an official work permit, which are often hard to secure.
He stressed that these steps did not make these businesses immune to the issue of illegal refugee labour, but that they indicated some companies were doing more than others to invest in tackling the issue.
He urged other companies across the industry to do the same.
"Business as usual in Turkey is not an option for high street brands," he said. "A handful of leading brands demonstrate it is a moral imperative, and commercially viable, to treat refugees with respect. The great majority of brands are doing too little. They should outlaw abuse of refugees in their supply chains and insist their suppliers provide decent work for all their workers."
A spokesperson for Asos, which found 11 Syrian adults and three Syrian children working in an unapproved factory, said it audited all tier one and tier two suppliers. Its challenge was to "know where all our products are made, and that's a big task", they said.
Asos took the issues "incredibly seriously and they concern us deeply", the spokesperson added.
BuzzFeed News contacted other brands featured in the BBC investigation and all, except for Mango, which did not respond to requests for comment, said they had programmes in place to support Syrian refugees in gaining legal employment and took the issue of exploitation seriously.
Mango told Panorama the factory in question was working as a sub-contractor without its knowledge and that there were no Syrian workers on subsequent inspection.
M&S said it would be taking remedial action, including offering permanent legal employment to Syrian workers.
"We had previously found no evidence of Syrian workers employed in factories that supply us" a spokesperson said, "so we were very disappointed by these findings, which are extremely serious and are unacceptable to M&S."
Zara said it had a "rigorous audit process" in place, and had given the supplier in question until December to improve. It also had a programme in place to help Syrian workers to legalise their work status, a spokesperson added.
Bloomer welcomed the commitments but stressed: "Syrian refugees are some of the most vulnerable people on our planet. They deserve better from the lucrative rag trade, and consumers will demand more as their plight is uncovered."