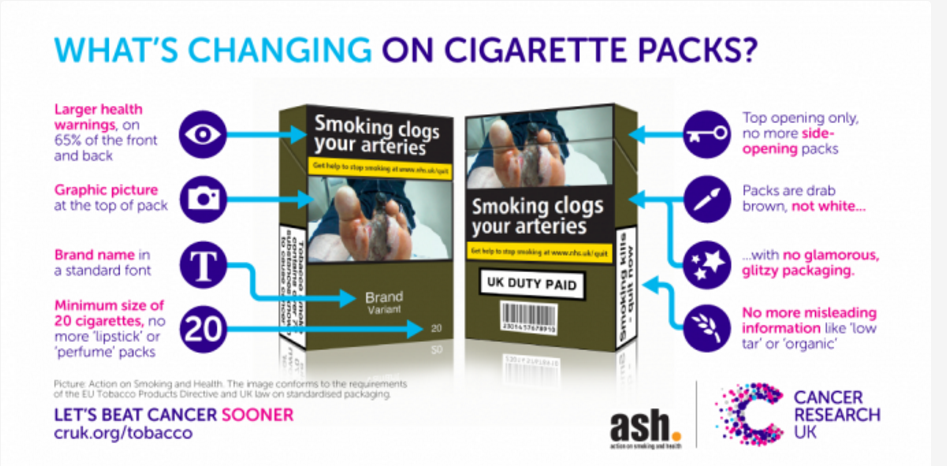 The government is imposing a raft of changes to the way cigarettes are sold in the UK, in what campaigners have labelled "a major step forward" for public health.
New rules being implemented mean that from today tobacco companies must phase out the sale of flavoured products such as menthols, as well as tobacco pouches that are smaller than 30g, and packs of 10 cigarettes.
The changes, which are part of the Tobacco Products Directive, also rule that tobacco products must be sold in standardised plain packaging, with 65% of the surface covered by health warnings.
The new tobacco packs are unlikely to be seen immediately because companies have one year to sell out of existing stock, and until 2020 to stop selling flavoured cigarettes. They will, however, need to adhere to the new rules in the manufacture of new packets.
Advertising of e-cigarettes, widely thought to be far less harmful, will also be restricted and will be allowed on posters and billboards only, and must not be marketed as a smoking cessation aid without a licence.
The devices, which have seen rapid growth, will also have the amount of nicotine they can dispense capped.
The advertising changes to e-cigarettes will come into effect today, while brands will have until November this year before they must start manufacturing goods to the new specifications. By May 2017, like tobacco, all products must comply.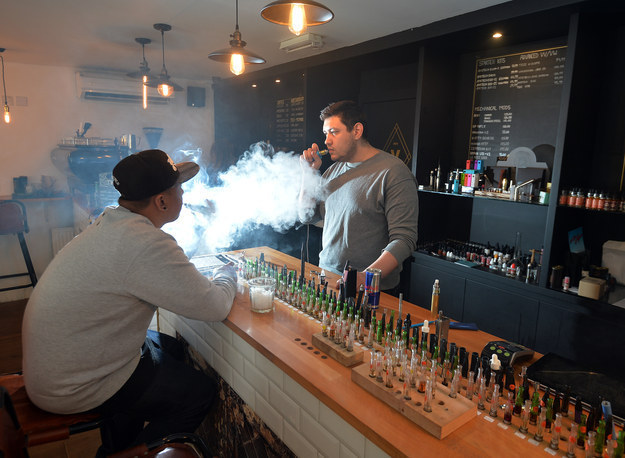 The changes by the government are designed to make smoking less appealing and will effectively end the distinctive colours and designs of brands like Marlboro, Richmond, and Benson & Hedges.
Tobacco manufacturers have therefore lobbied hard against the new rules but were on Thursday dealt a blow by the high court, which rejected their complaint that the imposition of new rules was unlawful.
The industry, led by Japan Tobacco International, British American Tobacco, Philip Morris and Imperial Tobacco, challenged whether plain packs introduced in other countries like Australia had been effective, and whether plain packs breached intellectual property rights.
The arguments had previously been made to the European Court of Justice, which also found in favour of the government earlier this month.
Manufacturers will now decide whether to appeal.
"The fact remains that our branding has been eradicated and we maintain that this is unlawful," Japan Tobacco International managing director Daniel Sciamma said in a statement – confirming his company would appeal.
British American Tobacco also said the high court was "by no means the final word" on the issue and Imperial Tobacco said it was considering next steps.
Philip Morris International, meanwhile, has said it will not appeal against the decision.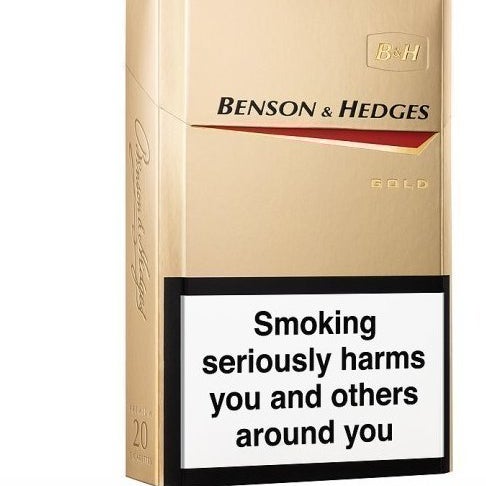 Tobacco packets will have to be printed in plain, standardised packaging, with just the name of the brand on the front. Sixty-five per cent of the packet will be covered with health warnings.
The Department of Health called the decision a "victory".
Jane Ellison MP, the public health minister, said it was a win for a generation "that will grow up smoke-free".
"Standardised packaging will reduce smoking rates and save lives, which will always be a top priority for this government," she said. "We will never allow the tobacco industry to dictate our policies."
Deborah Arnott, CEO of anti-smoking group ASH, who attended the court case and has been campaigning for the changes since 2008, told BuzzFeed News that she counted 45 lawyers in attendance for the tobacco companies, compared with around 10 representing the government.
This, she said, showed how strongly the industry was fighting the changes. But she said the high court decision was an "overwhelming judgment".
"They [the tobacco manufacturers] tried to sink the court with paper," she said.
"They will try to appeal but that tactic is to discourage other countries [by applying legal pressure]," she accused.
She applauded the decision as a major step toward making tobacco less appealing and said the health benefit would be most felt by children born today, who would not grow up with the attraction of branded packs.
She said she was sceptical about the use of flavours such as menthol because they made smoking easier, and therefore more appealing and easier to smoke.
"Of course they [the tobacco industry] know that," she said.
"This landmark judgment is a crushing defeat for the tobacco industry and fully justifies the government's determination to go ahead with the introduction of standardised packaging. Millions of pounds have been spent on some of the country's most expensive lawyers in the hope of blocking the policy.
"This disgraceful effort to privilege tobacco business interests over public health has rightly failed."
Sir Harpal Kumar, Cancer Research UK's chief executive, added: "This is an important milestone in our efforts to reduce the devastating toll that tobacco exerts on so many families every day. It's the beginning of the end for packaging that masks a deadly and addictive product."
But while the move to make changes to tobacco has been widely hailed by health campaigners, the restriction of e-cigarettes has divided opinion
Last night, Lord Callanan proposed a motion to halt the changes in a last-ditch bid. He said that proposed changes were "so severe that they could force vapers back to smoking and create a black market with harmful products".
The Department of Heath said it stood by the restrictions because while the body believes e-cigarettes are safer than tobacco, it only wants people to use them to quit smoking.
Looks like there are no comments yet.
Be the first to comment!