Tributes For Labour MP Jo Cox Pour In Following News Of Her Death
There has been an outpouring of grief for the human rights campaigner, who was shot on Thursday.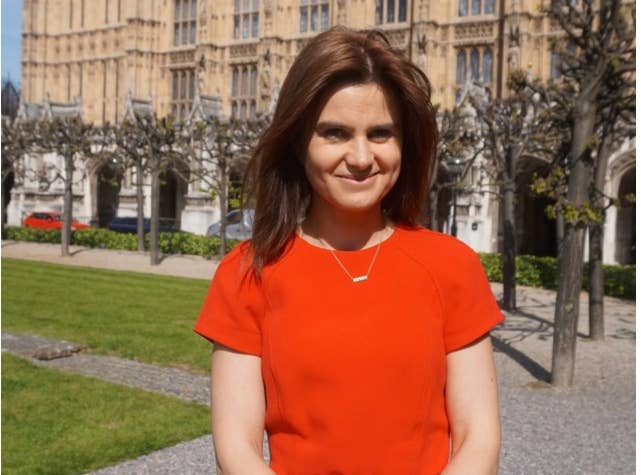 Friends, colleagues, and members of the public have shared their grief online following the news that Labour MP Jo Cox died on Thursday after being shot.
Cox was attacked in Birstall, West Yorkshire, on her way to a constituency surgery just before 1pm, before dying of her injuries less than an hour later. A 52-year-old man has been arrested in connection with the incident.
Police confirmed that she had died as a result of her injuries. A 77-year-old man was also injured, though police said his injuries were not threatening.
Cox, a mother of two, had been the Labour MP for Batley and Spen for just over a year, after being elected in May 2015.
Before the news of her death was made public her husband, Brendan, tweeted a picture of his wife as people wished him "courage and strength".
Labour leader Jeremy Corbyn MP led tributes from the party and said Cox was "universally liked" in Westminster.
"Jo had a lifelong record of public service and a deep commitment to humanity," he said in a statement.
"Jo was dedicated to getting us to live up to our promises to support the developing world and strengthen human rights – and she brought those values and principles with her when she became an MP.
"Jo died doing her public duty at the heart of our democracy, listening to and representing the people she was elected to serve. It is a profoundly important cause for us all. Jo was universally liked at Westminster, not just by her Labour colleagues, but across parliament.
"In the coming days, there will be questions to answer about how and why she died. But for now all our thoughts are with Jo's husband Brendan and their two young children.
"They will grow up without their mum, but can be immensely proud of what she did, what she achieved and what she stood for.
"We send them our deepest condolences. We have lost a much loved colleague, a real talent and a dedicated campaigner for social justice and peace. But they have lost a wife and a mother, and our hearts go out to them."
Prime minister David Cameron called Cox's death "absolutely tragic" and said British politics had lost a "great star".
Labour MP Yvette Cooper praised Cox as brave, lively, and passionate, and Jess Phillips MP called her an "amazing brave giant".
Friends and colleagues praised her, extending their deepest sympathies to her family.
The archbishop of Canterbury said he was "deeply shocked", while Cambridge University and Oxfam said they were devastated and saddened to hear of her death.
Batley and Spen's Labour youth officer, Jawad Khan, said Cox had helped him "to believe in myself".
Scottish Labour leader Kezia Dugdale said Cox was an "extraordinary" woman.
She said: "There will be time to talk about what the savage murder of an elected representative means for our democracy but that's for another day. Today we mourn the loss of one of our own.
"Jo was an extraordinary woman. She devoted her life to helping people in the darkest places in our world. Our hearts are broken by the loss of one of our country's brightest hopes. We mourn not just the woman she was but the loss of everything she would have achieved."
Fellow MPs and politicians, including the president of the European Commission, expressed shock and sadness at the shooting earlier today and extended prayers to Cox's husband and two children before news of her death was confirmed.
Former Liberal Democrat leader Nick Clegg was at a pro-EU rally in Edinburgh with other political figures as reports of the shooting filtered out.
Andrea Jenkyns, the MP for Morley and Outwood, released a statement saying she was praying for Cox.
She said: "I am very upset by this appalling incident involving my constituency neighbour and colleague Jo Cox. We are all praying for her and thoughts and prayers go out to her family at this incredibly difficult time.
"Jo is a hugely committed campaigner and advocate for Batley and Spen and the causes she supports. No MP should be at risk of attack. MPs put themselves in the public eye to stand up for their constituents and their beliefs and should not be put at risk from doing so. British politics is better than this."
The prime minister of Australia also offered his condolences.