Food Companies Just Warned Prices Will Rise After Brexit Without EU Migrant Workers
In an open letter to the government, industry groups representing the UK's biggest food brands and supermarkets have warned prices will go up if EU workers are forced to leave the UK.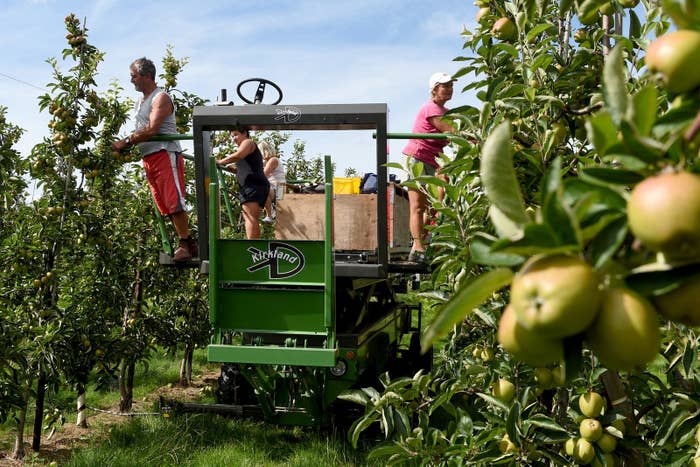 Membership bodies representing the food and drink industry – from supermarkets such as Tesco, to pub chain Wetherspoons and Coca-Cola – have warned food prices will rise if migrant workers leave the UK in the wake of Brexit.

In an open letter to the government, 30 industry groups, also representing farmers, coffee manufacturers, bakers, and butchers, made an "unprecedented" joint call for Theresa May to take action to "restore labour market confidence."

The group said it was making the call in the "national interest."

Their letter warns low food prices were reliant on migrants in the UK working in agriculture and the supply chain, and said some had already begun to leave the UK since Britain voted to leave European Union in June.

"The issues at the heart of the UK's future relationship with the EU are beginning to crystallise and so it is imperative that the strategic importance of food and drink to our nation's economic and physical wellbeing is recognised and its future secured," the letter says.

It says that up until now "shop prices for food" have been kept low but that if that is to continue, the government must act now on clarifying its position on migrant workers, which the sector heavily relies on.
"EU migrants provide a reservoir of skilled, semi-skilled and unskilled labour without which the industry could not function."
"A significant element in our ability to deliver affordable and high-quality food and drink is the part played by workers from the European Union," it continued.

"Some of these people are already leaving the UK in the wake of the referendum result and the devaluation of sterling. The government can address this issue directly. It should offer unambiguous reassurance to EU workers throughout our supply chain about their right to remain here."
EU migrants, it added, "provide a reservoir of skilled, semi-skilled and unskilled labour without which the industry could not function."
If worker status was not secured and a plan made, "the UK will face less food choice and higher food prices." All "options" should be explored, including a points based system for workers and a guest permit system for temporary workers.
Statistics provided to BuzzFeed News by one association, the Food and Drink Federation, showed almost almost 85% of its members employed EU migrant workers, and that 40% of members overall said they were concerned about access to labour as a result of Brexit.

They also warned migrant staff had already expressed concerns about their status int the UK after the referendum vote.
One business in the anonymous survey said: ""Our EU employees feel very unwanted and uncomfortable. Some have said that they will return to their home country as soon as they can."

Another said 20% of its staff were non-UK nationals. "One has been verbally abused in the street. They are all looking to me for answers.

"Employees have voiced concerns and we have reassured them that in the short term nothing changes," added one employer. "If there is any attempt to remove their rights to stay – many have been with us for 5 years or more – then we shall fight for all of our team members."

A spokesperson for the Home Office said it wanted to see migration "fall".


"The UK needs a fair and controlled immigration policy and that is exactly what this government will deliver," she said.

"We want to see net migration to the UK fall to sustainable levels – the tens of thousands. But we recognise this is a complex issue and that there is no quick fix.
"We are determined to get the best deal for the UK in our negotiations to leave the EU, not least for our world-leading food and farming industry which is a key part of our nation's economic success."