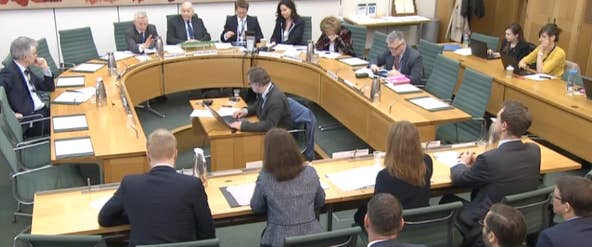 Deliveroo rowed back on a controversial contract clause on Wednesday as it gave evidence to MPs alongside executives from Amazon, Uber, and Hermes.

Dan Warne, MD of Deliveroo in the UK, said the company would scrap a clause in its contract, first reported by BuzzFeed News last year, that is intended to prevent riders from making a claim in an employment tribunal or court "in which it is contended you are either an employee or a worker".
Facing questions from Frank Field MP, Commons work and pensions committee chair, and Heidi Allen MP, Warne said the clause would be removed in coming weeks because, "This is not something that's enforced, so there's no need to have it in there."

The contract, which has been seen by BuzzFeed News, currently specifies riders can make "no claim" against the company related to employment status.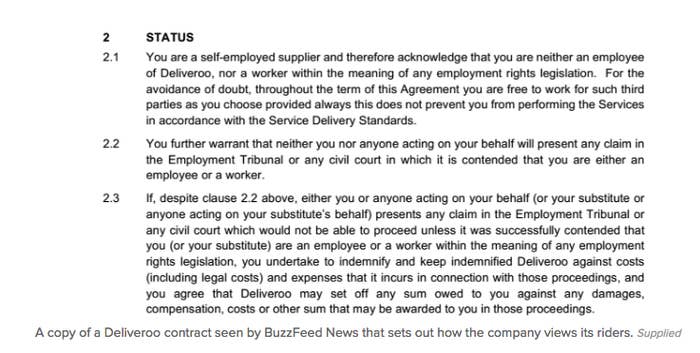 Warne – alongside Andrew Byrne, head of public policy at Uber; Lesley Smith, director of public policy at Amazon; and Carole Woodhead, CEO of Hermes – answered questions for almost two hours as part of a work and pensions inquiry into the impact of self-employment and the gig economy.

The committee is investigating the concept of "pseudo self-employment" and is seeking to establish to what extent the self-employment model, which removes the need for companies to pay sick pay, pensions, or national insurance, may benefit companies but adversely impact workers and tax payers.
The inquiry was launched in December amid a series of media exposés into claims of poor working conditions. It also runs in tandem with two further separate inquiries into the issue, one led by the business select committee and another review into modern working led by former Tony Blair adviser Matthew Taylor.

During the hearing, committee chair Field told executives: "It's a marvellous [business] model if you can get away with it, isn't it?"
He added: "You all have core employees here, that's quite clear, now the question is why should the taxpayers pick up the bill for core employees when you're in fact employing them full time? Why should you steal a march on every other employer by claiming that you're special and they're self employed?"
The companies have faced a range of criticisms for using large numbers of "self-employed" contractors, but have insisted workers benefit from the flexibility of the arrangements, which also exempt them from certain protections such as against unfair dismissal and the minimum wage.

Warne also appeared to throw the MPs briefly into confusion by suggesting Deliveroo riders often work for more than one company each hour, a point he raised to illustrate his claim that couriers use Deliveroo to "top up" their wages and have a good earning potential.

"So they take off your kit, put on another kit, and do a delivery for another company within an hour?" Karen Buck MP asked.

"You must have some sense of how that happens – if you're otherwise saying it's simply possible, it's meaningless in effect," James Cartlidge MP said. "For you to say something as important as that you really have to substantiate it."
"They could do, it's very hard for me to explain now," Warne said, agreeing to write in to the committee to provide evidence and data to support the claim.
The businesses were also asked by MPs whether they would be able to continue to operate without using self-employed contracts, to which they all said they could. However, restricting flexibility could have a negative effect on workers, they said.
Hermes CEO Carole Woodhouse said if forced to change its business model, the company would probably employ fewer employees than it currently does self-employed couriers.

She also said in response to questioning that if a courier could not attend their shift, they were expected to arrange and pay for a substitute.

She said that in times of "family emergency" they would also be asked to find a replacement, though if they were unable to provide one the company would make arrangements on their behalf. Field remarked that he felt that arrangement was "strange self-employment".

In the past, Hermes has faced allegations from some of its drivers that they were threatened with losing work when they took time off sick or to care for seriously ill relatives, as reported in a BuzzFeed News investigation in 2016.

To indicate there was a good level of satisfaction in the workforce, Woodhouse said 12% of Hermes couriers had provided "services" to the company for more than a decade, adding they "have the choice to do something else if that doesn't work for them".
MP James Cartlidge, however, also pointed out that those long-term workers also would have "accrued no benefits" over their tenure at the company.

He said: "I run my own business and I entirely understand the profit-making motive which you're welcome to say, even though you haven't so far, that this is one of the reasons you do this.

"But we all see that once you stray into the area of expectations of [people] being available or having [to provide a] substitute, you are asking people effectively to commit to your company yet you are not committing to them.
"In other words, you're pushing the boundary pretty thin there. And that's what's concerning us."

The Department for Work and Pensions, he continued, pays "many billions" in benefits to people who "fall on the state" as a result of not having things like company sick pay or a pension.

"What concerns us," he said, "is if you don't take up your responsibilities for people who are effectively employed, then the state will have to."
Uber, which insisted that the majority of its workers wanted a flexibility the app provided, said it was "characteristic of the [private hire] industry" to have self-employed drivers.

Amazon, meanwhile, said it did not deal with self-employed delivery drivers directly but did so through agencies – adding that it stipulates that drivers must earn at least the minimum wage.

Addressing the executives, Field said: "There was an opening for you and you've all seized it.

"It's just whether we should call the whistle on where you're acting unfairly to employees, to other employers, and to the state, taxpayer – to all of us – in pursuing this business model."