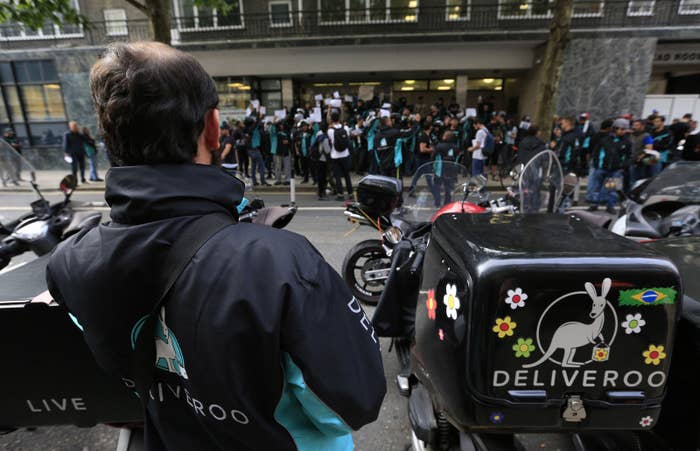 Deliveroo drivers in London are to be given helmet-mounted cameras following a series of acid attacks in the capital.
Drivers in Hackney, east London, will be given the cameras as part of a trial after many drivers refused to deliver to certain locations over safety fears.
The takeaway app said 71 drivers, most in London but also in Manchester and elsewhere, have "unassigned" themselves from delivering to some areas after a number of acid attacks last month, including one upon a Deliveroo driver.

A Deliveroo driver told BuzzFeed News last month that the job had become "dangerous", while according to the Hackney Gazette drivers are sharing "no go" areas on WhatsApp.
Deliveroo said footage from the cameras, part of a number of new safety measures, could be passed to police and used as evidence in the event of further attacks.
The company said it has also hired 50 new staff across the UK who will have a focus on rider safety and act as a "dedicated point of contact" about safety concerns, while drivers can now also flag problem hotspots via the app itself.
UK managing director Dan Warne said: "We are working closely with the police and local councils, and sharing all the information our riders give us in order to help tackle crime against our riders."
Last month, drivers from Deliveroo and UberEats were among five people attacked with acid in one night in London. BuzzFeed News also established that another Deliveroo driver was also attacked by would-be thieves trying to steal his moped, although he was not attacked with acid.

"It was kind of burning on my face, like a stream of fire on my face," UberEats rider Jabed Hussain told BuzzFeed News. "I was just like, 'My face is gone.' I was like, 'It's getting worse, more hot, more stream.'"
Following the attacks, drivers from a range of delivery companies including Deliveroo and UberEats protested in Westminster, London, demanding police be given extra resources to better protect them from attacks while working.