A married couple from Reading have been jailed for life for plotting a terror attack in London to coincide with the 10th anniversary of the 7 July bombings.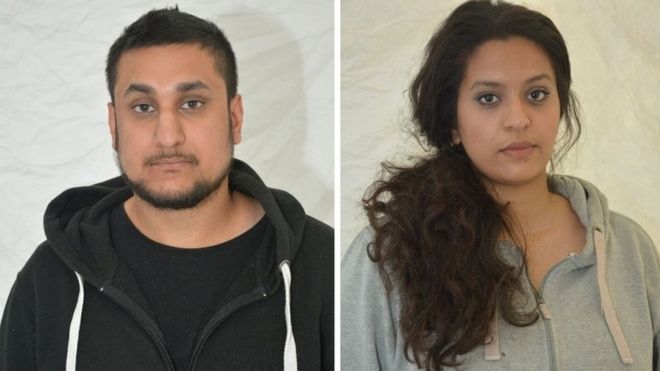 Mohammed Rehman, 25, and Sana Ahmed Khan, 24, were convicted on Tuesday of planning the attack using homemade explosive devices that Rehman experimented with in his garden.
Rehman, an Islamist fanatic who dubbed himself the "Silent Bomber" on social media, asked Twitter users "Westfield or London Underground? Any advice would be appreciated greatly", the court was told.
He had stockpiled the chemicals needed to make a large bomb – all financed and purchased by his wife. He had filmed himself detonating a small explosion in his garden and sent the video to Ahmed Khan.
The pair were found guilty of preparing terrorist acts at the Old Bailey and were reportedly expressionless as they were told they would serve at least 27 and 25 years respectively.
Sentencing, Mr Justice Baker said they were a significant danger to the public. He said: "You may never be released from custody, and will only be when the parole board is sure it is no longer necessary for the protection of the public that you are confined."
According to The Guardian, he added: "Once you had gained that mindset, I am satisfied that you determined to fulfil the Islamic State's call for Jihad; not like some, by travelling to Syria or elsewhere to take part in the conflict in those areas, but by carrying out an act of terrorism within the United Kingdom.
"The type of act which you envisaged not only encompassed the use of explosive substances which would be used to maximum effect so as to cause multiple injuries and fatalities, but specifically included a suicide bombing; an act which envisaged martyrdom, a notion specifically resurrected by Islamic State in order to encourage this type of venture."
Rehman was close to completing the bomb, which would have caused serious casualties had the plan not been exposed, the prosecution said.
Police began monitoring the couple in May after they repeatedly searched for videos related to the London bombings and purchased highly explosive chemicals.
Prosecutors said the couple had repeatedly accessed the martyrdom video of one of the 7/7 bombers, Shehzad Tanweer, for inspiration.
After the verdict on Tuesday, Susan Hemming, head of the Crown Prosecution Service counter-terrorism division, said: "The intention to carry out some form of terrorism attack was clear from the threatening statements made in Rehman's tweets. It was these tweets that led to his and his wife's arrest.
"Investigations found that Rehman and Ahmed Khan had carried out huge amounts of research relating to terrorist attacks – repeatedly searching the internet for videos relating to the London bombings. 10kg of urea nitrate were found at Rehman's house, a highly explosive chemical, which if detonated would have caused multiple fatalities on the London underground.
"The pair had been very close to carrying out an attack; all they required was to purchase the chemicals to make a detonator. There is little doubt that, had Rehman and Ahmed Khan not been stopped when they were, they would have attempted to carry out an act of terrorism in London."