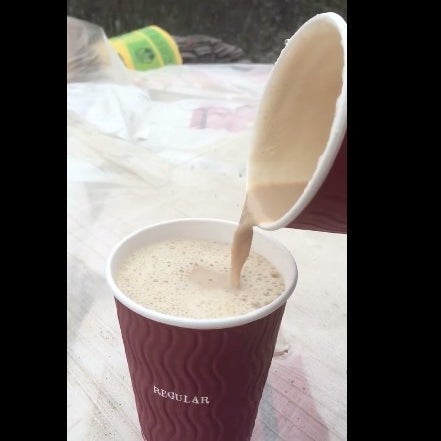 A large Costa coffee (right cup) being poured into a regular (left cup).
Costa Coffee customers have accused the company of deceiving them after a video appearing to show a large Costa coffee fitting into a regular cup went viral on Facebook.
Paul Hopkinson, a builder from Surrey who made the video, told BuzzFeed News he noticed a large Costa coffee cup, which costs 30p more than a regular, was thinner and taller but contained roughly the same amount of liquid.
He posted the video to the brand's Facebook page on Friday, prompting users to claim they had been ripped off. It has been viewed over 9 million times and shared more than 160,000 times.
Costa has moved to distance itself from the video and defended the 30p price difference because the larger drink contains an extra shot of coffee and 4oz of drink. It also said it leaves a 2cm gap at the top of regular cups for safety.
But some customers claimed the cups are "designed to have a deceptive appearance" and said people were being "visually duped" because the difference in size was in fact minimal.
Others, though, defended Costa and said they didn't mind paying extra for an extra shot of coffee and were happy with the size difference.
Hopkinson, who also appeared on Channel 4's The Island reality show, claimed Costa had deleted the video at first but he reposted it.
"I put it back on Saturday night about 8pm and then it went crazy viral. I honestly, genuinely cannot believe how much of a fuss this has caused," he said.
He said Costa had reached out to him, including the customer manager from Whitbread Group, which owns the brand.
In a statement, Costa Coffee said: "Costa can assure customers that when purchasing a large Costa Express drink you are receiving an extra shot of coffee and additional drink, compared to a regular size.
"We never fill any size drink to the top of the cup in order to prevent our customers or baristas getting burnt."
A spokesperson also denied it deleted the video.
This is not the first time a coffee company has riled consumers over the amount of coffee in its cups.
In the US, customers have filed a class action lawsuit against Starbucks for "under-filling" its lattes. The customers argue the coffee giant does not fill to the specified size on its menus, but Starbucks said the suit is "without merit".