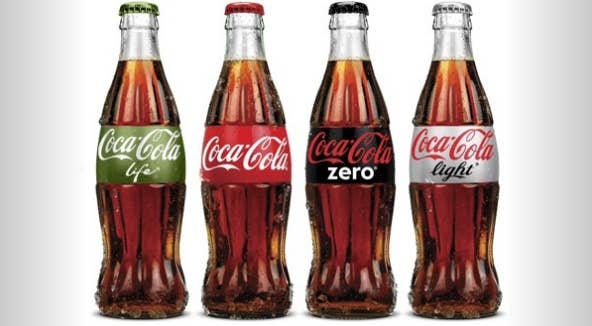 Coke Life may be fizzing out of popularity after an initial good reception, data provided to BuzzFeed News show.
Sales of the lower-sugar drink, which launched in the UK in September 2014, declined in almost every month in 2015.
In November, Coca-Cola Life sales were at £1.1m - a 72% drop from October 2014, when sales peaked at £4.1m before dropping to £2.6m a month later, according to data available from global market insight company IRI.
It indicates a trajectory of decline for Coke Life in the year to November 2015. Sales fell every month except for in April and May when there was a brief increase.
But despite the relative slow down in growth over the period, a spokeswoman for Coca-Cola said the business was pleased with the performance of the brand.
"Coca-Cola Life is a relatively new addition to the range and we have been pleased with the performance of it to date which is now worth £35 million in sales since launch," she said. "[It} remains an important part of our overall strategy to offer choice and grow sales of lower and no calorie colas."

Coke Life was the first new product launched under the Coca-Cola brand since Coke Zero in 2006. The product contains a third less sugar, natural sweeteners derived from a South American plant, and is designed to tap into the trend for healthier alternatives to soft drinks with high amounts of sugar or artificial sweeteners like aspartame.
According to Kiti Soininen, head of UK food and drink at analysts Mintel, consumers are drinking less fizzy drinks than they did a year ago.
She said 29% of people who drink full-sugar drinks say they are consuming fewer than they did a year ago and 23% who drink diet or lighter soft drink also say they are drinking less.
This has contributed to an overall fall in sales of carbonated soft drinks that can be "attributed to consumers cutting back" thanks to concerns over sugar.
It was therefore "essential" brands like Coca-Cola continued to invest in "brands [that] offer diet or light variants and these are widely available."
Coke Life is part of the company's strategy to garner more than 50% of sales from no and lower sugar drinks by 2020.
At the launch of Coke Life, UK general manager Jon Woods said: "It gives people a new option with fewer calories and complements our existing brands. We're providing people with another choice of Coke, so they can choose the one which best suits their lifestyle."
A Coca-Cola spokesperson said: "We offer people a wide variety of drinks in Great Britain where we make 96 different products across our 19 different brands including sparkling soft drinks, juices and waters. Coca-Cola continues to be the number one grocery brand in the UK and Coca-Cola and Diet Coke are the top two cola brands on the market."