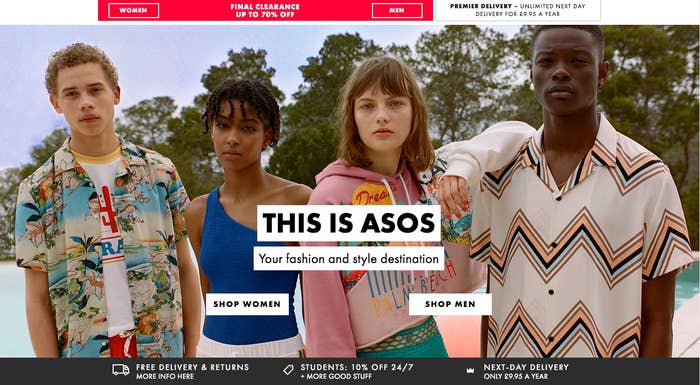 Asos is opening a warehouse in Atlanta, Georgia, that will be big enough to process 10 million items and will "significantly enhance" its offering in the US.
The online fashion retailer, headquartered in London, announced the new fulfilment centre would open next year.

It will provide "more cost effective, faster and more flexible delivery options" for North America, the company said, and Asos will initially plough $40 million in the facility.

CEO Nick Beighton described the move as a "major step forward" for the business that demonstrated the "opportunity" for the brand in the US market, which saw sales grow 39% in the first half of the year.

"Our US fulfilment centre will enable us to significantly develop our proposition for our 20-something US customers supporting our continued growth and future ambitions," he said.

In the UK, Asos has faced criticism from MPs and unions over allegations of poor working practices at its main warehouse in Barnsley, Yorkshire, reported in a three-month BuzzFeed News investigation in 2016 that was disputed by the retail giant as "misleading" and "inaccurate".

BuzzFeed News interviewed current and former Asos warehouse employees and obtained internal documents, text messages, and phone recordings that unearthed allegations of exploitative contracts, an overbearing security regime, and stressed workers.
Agency staff told BuzzFeed News they were kept on contracts they believe are exploitative as they allow for them to have assignments ended without notice, and permanent staff on annualised hours contracts called "flex" claimed they worked under arrangements that resulted in them "essentially" being given time off rather than money for overtime worked.

Workers also complained of spot security checks and CCTV on site, and of what they said were onerous order picking and packing targets.

Since the investigation was published, Asos has made a number of changes to working practices at the warehouse in Barnsley, including dropping plans to install individual CCTV cameras on workstations where orders are packed.
It has also reduced the probation period for workers from six to three months, and extended a pay rise to all warehouse workers who have passed a three-month probation, from September.

However, correspondence from a union sent to members at the site, obtained by BuzzFeed News in March, indicated workers on "flex" contracts have continued to have concerns about their working arrangements.
Asos has stated in the past that any business changes are made as a result of ongoing dialogue with colleagues, not as a result of a "kneejerk" reaction to media coverage.

The new US warehouse will open in autumn 2018, the company said.