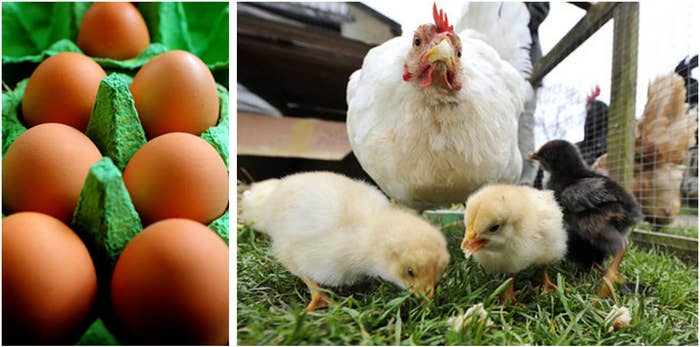 Asda has confirmed to BuzzFeed News that it will stop selling eggs that come from hens in cages by 2025.
The move comes after mounting pressure for Asda, which is the last major UK supermarket to announce the move, to follow its competitors in selling barn-reared and free-range eggs only.
Asda's parent company, Walmart, announced a company-wide policy to phase out caged eggs by 2025 in April but at the time Asda remained tight-lipped on whether it planned to follow suit.
But after inquiries from BuzzFeed News, a spokeswoman confirmed on Friday that Asda would phase out the eggs in line with its parent company.
"In the meantime, customers can be assured that we always work closely with industry bodies to ensure best practice in farming and with all our farmers to maintain strict animal welfare standards," she said.
She also claimed the "vast majority" of eggs sold were already free-range. Like other supermarkets, however, Asda's pledge refers to whole-shell eggs only, which excludes those used in the manufacturing of other foods.
The announcement follows a petition this week started by 14-year-old schoolgirl Lucy Gavaghan calling for Asda CEO Sean Clarke to phase out the eggs. It gained 185,000 signatures.
She also launched a successful petition against Morrisons and market leader Tesco, which told BuzzFeed News her campaign, signed by 280,000 people, helped bring "focus" to a pre-existing plan to make the change.
In 2012 Sainsbury's became the first major retailer to stop using enriched cages – which campaigners claim can hold up to 90 birds and have small perches and a small nesting area – for whole-shell eggs.
Enriched cages became widespread after the banning of "battery" cages in the EU in the same year.