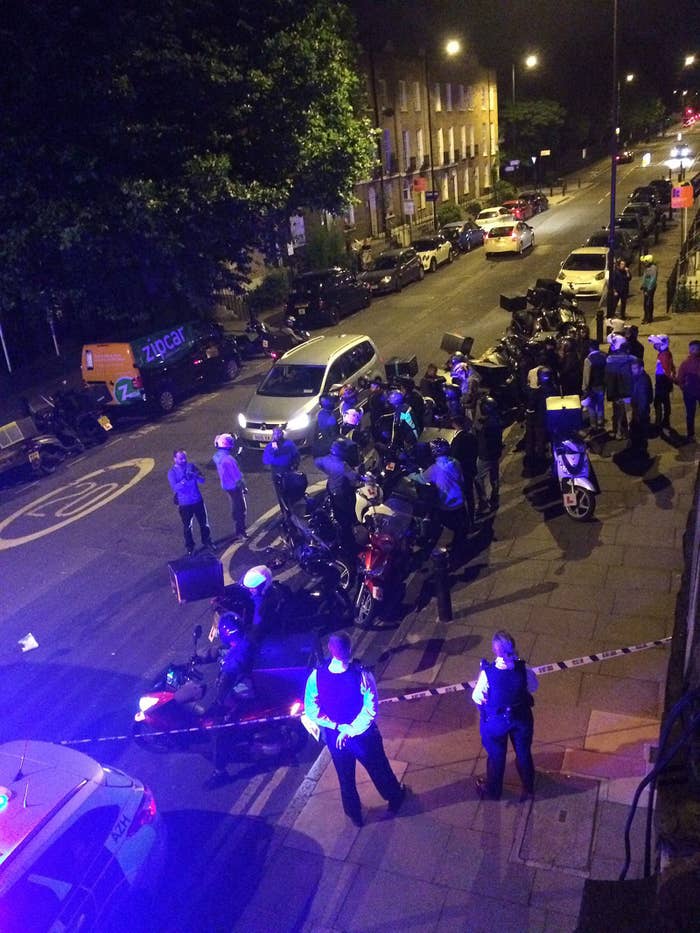 A Deliveroo driver who was delivering food to a customer was one of five people attacked with acid in north London on Thursday, the company has confirmed to BuzzFeed News.

The company told BuzzFeed News it was "in touch with the rider and will be providing him with support".

A teenager has been arrested in connection with the attacks, which all happened within 90 minutes in Hackney, Stoke Newington, and Islington. Police are treating them as connected.
The 16-year-old, who has not been named, was arrested on suspicion of grievous bodily harm and robbery. He remains in custody at an east London police station.

"These are truly shocking attacks and we are working with the authorities to help bring the perpetrators to justice," a Deliveroo spokesperson told BuzzFeed News.

He said Deliveroo had been working with the Metropolitan police "for a number of months" to address "these issues" and had held a number of meetings with groups of riders recently "to better understand and deal with their safety concerns".

"We have been in touch with all riders who were working in these areas at the time of last night's attacks to check whether they were a victim of these horrific crimes and to gather further information that might help the police with their inquiries," he added.

In a separate incident, BuzzFeed News has established that another driver was attacked when would-be thieves unsuccessfully attempted to steal his moped on Thursday.

It is understood the driver was not attacked with acid and has since returned to work. Deliveroo confirmed it was offering "support" to the driver. It is not known whether the incident was related to the acid attacks.

"We are working urgently with the police to establish the full details of last night's attacks but we are not yet in a position to confirm any details," a spokesperson added.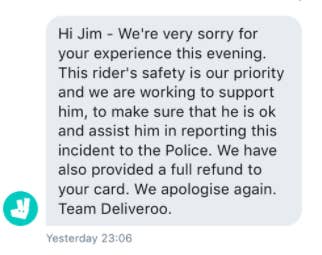 Local London newspaper the Hackney Gazette reported last month that Deliveroo drivers in London had started a WhatsApp group to share updates with each other about potential dangers after a spate of violent attacks.

The paper reported drivers "feared" driving to certain London estates at night and were refusing to deliver to certain areas after reports of some drivers being stabbed while teenagers demanded they hand over their mopeds.

BuzzFeed News spoke to one Deliveroo worker, Meg Brown, who is also an organiser for the union IWGB. She said while she had not experienced any violence or intimidation herself, "It's generally very concerning and we just hope the police will do something about it. In general it's just a dangerous job."

A Deliveroo spokesperson said: "If riders feel unsafe working in a particular area then they are of course able to stop working there and move to any other area.

"We always advise them to contact the police and us if they feel in danger."

The number of acid attacks has been on the rise, according to the Met police, and in London has risen to more than one incident a day.

In the UK there are growing calls for the legislation and criminal sentencing around these assaults to be reviewed.

The Deliveroo spokesperson added: "The safety of our riders is of paramount importance to us and we will work with the police to help bring anyone who has attacked one of our riders to justice."